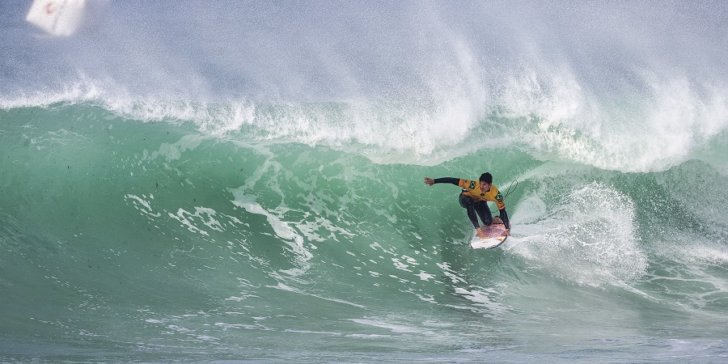 – MEDINA ADVANCES INTO QUARTERFINALS, WILSON STILL UP IN REMAINING ROUND 4 HEAT
– DURU ELIMINATES WORLD NO. 2 TOLEDO IN ROUND 3
2014 WSL Champion Gabriel Medina (BRA) is through to the Quarterfinals and on the hunt for his second World Title at the MEO Rip Curl Pro Portugal.
Credit: © WSL / Masurel
| | |
| --- | --- |
| Location:    |    Peniche, Portugal |
| Event window: |    October 16 – 27, 2018 |
| Today's Call: |    Rounds 3 & Round 4 (H1-3) complete |
| Conditions: |    8 – 10 feet  |
PENICHE, Portugal (Thursday, October 18, 2018)  – The penultimate event on the Men's World Surf League (WSL) Championship Tour (CT), the MEO Rip Curl Pro Portugal, resumed in firing eight-to-ten foot surf (2.5 – 3 metre) for a third full day of action to decide the event's first Quarterfinalists at Supertubos. The day witnessed incredible performances from the world's best surfers, heavy wipeouts as competitors chased big barrels, and a major upset in the World Title campaign.
In order to stop current World No. 1 Gabriel Medina (BRA) from winning the title at the MEO Rip Curl Pro Portugal, No. 2 Filipe Toledo (BRA) had to win his Round 3 heat to guarantee a 9th place finish. In a dramatic turn of events, World No. 33 Joan Duru (FRA) upset Toledo's World Title plans with a win in their Round 3 matchup.
Duru started well with a smaller backhand barrel for a 6.50 (out of a possible 10) to take the lead with a minor backup score. Toledo reacted and got a clean – but short – tube, complemented with a couple of turns for a 5.43. He quickly found a better wave to post a 6.67 to turn the heat with a combination of four good turns. But the Frenchman got one final opportunity where he locked in a quick barrel and finished the wave with three turns for a 6.00 to upset the World Title contender right on the buzzer.
"This morning was a really tough heat and I was stoked to make it through," Duru said. "Waves are similar to what we surf at home but the rips are much stronger. If you get taken in it there's really nothing to surf, so it's all about trying to stay just outside in clean waters. I'm not focused on rankings at all, I really have nothing to lose. I feel like I've been unlucky a lot this year and I couldn't really show what I can do, so in these last two events I really want to just surf as well as I can and enjoy competing."
With Toledo now eliminated from the competition, Medina has one less opponent to stop him from clinching the title early in Peniche. Current World No. 3 Julian Wilson (AUS) needs to make the Semifinals in order to push the World Title race to the Billabong Pipe Masters this December. Toledo could also lose his No. 2 spot if Wilson keeps his excellent form and posts another big result in Portugal.

 Filipe Toledo (BRA) has been eliminated from MEO Rip Curl Pro Portugal.
Credit: © WSL / Poullenot
By the time Round 4 hit the water, the tide had dropped and some of the waves squared off to provide huge drops into Pipeline-esque barrels. The second heat of Round 4 carried huge World Title implications as Medina took on Michel Bourez (PYF) and local hero Frederico Morais (PRT). Medina, 2014 World Champion and Jeep Leader, was the first surfer to find a couple of decent waves to exploit on his backhand with quick turns for two 5.00 point rides for the lead. He continued to build momentum and found a 6.67 to strengthen his position. Behind him, Bourez found a couple of small scores to place second and unfortunately for the huge crowds, Morais could never find any score in a difficult lineup.
"That was a tricky heat and we were all just looking for anything," Medina stated. "I found a few and I'm happy to make it through. That was an important round with good points. Hopefully, it gets better and we can finish this contest in good waves. I have family here and my good friend Neymar came today, it's good to have that kind of support. We're chasing the same thing, being the best at what we do and he's an inspiration for me."
Medina advancing into the Quarters means he still has a chance to clinch his second World Title early when competition continues.
The Men's World Title scenarios are as follows:
– Only Medina can claim the title in Portugal by winning the event.
– If Medina wins the event, Toledo will need a 9th or better and Wilson a 3rd or better to take the World Title decision to Hawaii;
– If Medina finishes 2nd or worse in Portugal, the WSL Title will be decided in Hawaii.

Neymar cheers on Medina as he advances through to the Quarterfinals at the MEO Rip Curl Pro Portugal.
Credit: © WSL / Poullenot
Wilson made sure to advance through to Round 4 to have a shot at stopping Medina's possible title run in Peniche. The Australian, fresh off a win in France, locked into a long and deep barrel on his forehand to post the day's highest single number of 8.67 and take a crucial win over Ian Gouveia (BRA).
"Conditions have been amazing with so many beautiful waves coming through," Wilson said. "The tide's getting low, and it's getting pretty scary out there but this is what we come here to surf. I've had many barrels like that one here and if you don't come out clean it just takes your head off. On that one I just kind of widened my stance and had five pumps in the barrel chasing that thing down and I was so relieved to come out."
The other standout of Round 3 was his compatriot Owen Wright (AUS) who tied with Wilson with an 8.67 of his own, for a late drop into a cavern on his backhand, coming out with the spit and into a big snap for the win into Round 4. Adrian Buchan (AUS) will join Wilson and Wright in the last heat of Round 4 when the event resumes.
Round 4 Heat 1, between Italo Ferreira (BRA), Matt Wilkinson (AUS) and Ezekiel Lau (HAW), offered a few great waves, starting with Ferreira's 7.33 backhand barrel. The Brasilian backed up his main score with a two-turn combo for a 7.27 and a firm hold on the lead. Wilkinson found a similar left to lay two big turns for a 7.47 for second place. Lau, on the other hand, committed to a couple of big drops to deep barrels but couldn't find the exits and finished his heat with two minimal scores, eliminated in Equal 9th.
"It's so good to be in the Quarters again," Ferreira said. "That was a good heat, I caught a lot of waves and tried my best on every single one. There's a lot of current out there, it's hard to find a wave that's why I caught a lot of them to try different maneuvers and try to get barreled."
The third heat of Round 4 wrapped up the action for the day with a battle between Kanoa Igarashi (JPN), Wade Carmichael (AUS), and Duru. Duru and Igarashi shared the action for the first twenty minutes, building a healthy scoreboard each, while Carmichael stood patiently in the lineup only opting to surf his first wave with ten minutes remaining. Duru's backhand vertical attack gave him the lead with 11.50 over Igarashi's 9.10. Carmichael only came back extremely late in the heat and didn't have enough time for a second decent score, ultimately placing Equal 9th.
Duru advanced into the Quarterfinals for the first time this season and will need a strong finish in Portugal and Hawaii if he wants to keep his spot amongst the Top 34 next season. He is currently ranked 33rd on the Jeep Leaderboard with only the Top 22 earning places on the men's Championship Tour.
A few other surfers lost big in Round 3, starting with World No. 10 Kolohe Andino (USA), who collected a second consecutive 13th place after France, after finding an in-form Lau on his way. Andino and Lau tied for first place but the Hawaiian's highest single score gave him the win.
World No. 5 Jordy Smith (ZAF) suffered a similar fate, losing to Wilkinson by a mere .06 points, despite scoring the heat's best wave. Conner Coffin (USA) joined the list of shocking early exits in Round 3, as the Californian couldn't match the power of Morais and flair in shifty supertubes.
Event officials will reconvene tomorrow morning, Friday, October 19, at 8:00 a.m. WEST to reassess conditions and decide the day's schedule.
Mid size WNW swell fills in further on Thursday before fading Friday. Breezy side-offshore N to NNE wind is expected both days. The weekend should bring another fun size NW swell, with lighter and more favorable wind. Another fun size pulse of WNW swell looks increasingly likely early next week, with much slower surf for the final few days of the event window. Surfline
MEO Rip Curl Pro Portugal Round 3 Results:
Heat 1: Italo Ferreira (BRA) 13.66 def. Jesse Mendes (BRA) 13.30
Heat 2: Ezekiel Lau (HAW) 13.40 def. Kolohe Andino (USA) 13.40
Heat 3: Matt Wilkinson (AUS) 12.83 def. Jordy Smith (ZAF) 12.77
Heat 4: Frederico Morais (PRT) 11.33 def. Conner Coffin (USA) 10.40
Heat 5: Michel Bourez (PYF) 12.33 def. Michael Rodrigues (BRA) 11.14
Heat 6: Gabriel Medina (BRA) 13.60 def. Ryan Callinan (AUS) 7.33
Heat 7: Joan Duru (FRA) 12.50 def. Filipe Toledo (BRA) 12.10
Heat 8: Kanoa Igarashi (JPN) 13.60 def. Jeremy Flores (FRA) 9.77
Heat 9: Wade Carmichael (AUS) 10.17 def. Tomas Hermes (BRA) 5.30
Heat 10: Owen Wright (AUS) 15.27 def. Patrick Gudauskas (USA) 6.97
Heat 11: Adrian Buchan (AUS) 9.66 def. Willian Cardoso (BRA) 7.03
Heat 12: Julian Wilson (AUS) 13.90 def. Ian Gouveia (BRA) 7.17
MEO Rip Curl Pro Portugal Round 4 (H1-3) Results:
Heat 1: Italo Ferreira (BRA) 14.60, Matt Wilkinson (AUS) 13.30, Ezekiel Lau (HAW) 6.00
Heat 2: Gabriel Medina (BRA) 11.67, Michel Bourez (PYF) 7.84, Frederico Morais (PRT) 3.63
Heat 3: Joan Duru (FRA) 11.50, Kanoa Igarashi (JPN) 9.10, Wade Carmichael (AUS) 7.93
MEO Rip Curl Pro Portugal Remaining Round 4 (H4) Matchups:
Heat 4: Owen Wright (AUS), Adrian Buchan (AUS), Julian Wilson (AUS)