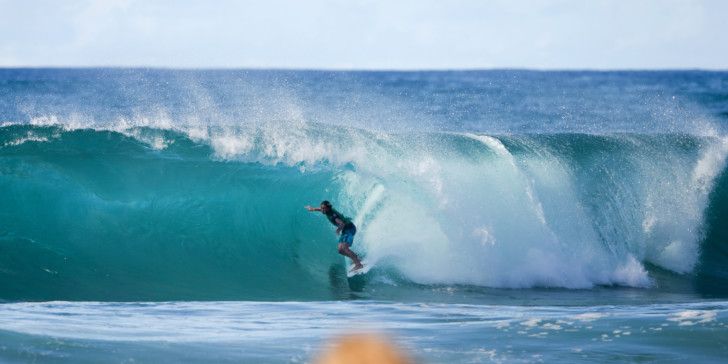 SURF IS 2-3′ WITH LIGHT ONSHORE NORTH WINDS. WAVES ARE WEAK & CRUMBLY. A NEW NNE FILLS WEDNESDAY BRINGING SELECT REEFS TO 4′ WRAP WITH LIGHT ENE TRADES RETURNING. LARGE 12-14 SEC NW FILLS FAST ON FRIDAY WITH SKETCHY KONA WINDS AND WEATHER. BEST SHOT IS SUNDAY-MONDAY ON A 4-6+ NW. SNN. 596-SURF. 
MONDAYS UPDATE- 16 YEAR OLD FINN MCGILL CLAIMS PIPE INVITATIONAL VICTORY.HAWAII'S  BESCHEN TO JOIN WORLD'S BEST IN BILLABONG PIPE MASTERS LIKELY FRIDAY.
 Hawaiian Finn McGill takes the win at the Pipe Invitational, earning himself a spot in the Billabong Pipe Masters in Memory of Andy Irons. McGill will surf against Jordy Smith (ZAF) and Keanu Asing (HAW) in Round 1 Heat 4.
Image: © WSL /  Heff
| | |
| --- | --- |
| Location:    |   Banzai Pipeline, Oahu, Hawaii  |
| Event window: |   December 8 – 20, 2016 |
| Today's call: |   Pipe Invitational complete |
| Conditions: |   4 – 6 foot (1 – 2 metre) |
BANZAI PIPELINE, Oahu/Hawaii (Monday, December 12, 2016) – Finn McGill (HAW)claimed the Pipe Invitational today after besting a specialist field of 32 to take the prestigious win and earn one of two coveted wildcard entries into the Billabong Pipe Masters in Memory of Andy Irons. Gavin Beschen (HAW) will also advance into the main event after earning the runner-up finish in the Pipe Invitational.
The final event of the Samsung Galaxy World Surf League (WSL) Championship Tour (CT) and the Vans Triple Crown of Surfing, the Billabong Pipe Masters will showcase the world's best surfers at one of the most famed waves on the planet, Banzai Pipeline located on the North Shore of Oahu.
16-year-old McGill came away with the win after turning in excellent tube rides throughout the event, including his 8.60 score that locked in his victory in the Finals and his near-perfect 9.50 in the dying seconds of the Semifinal. McGill will face Jordy Smith (ZAF) and Keanu Asing (HAW) in Round 1 Heat 3 of the Billabong Pipe Masters.
"I cannot even believe this is happening right now," said McGill. "I've been surfing here my whole life and wanted to get some waves with only three other guys out. That was my mentality going into this event. I am so stoked to face Jordy [Smith] and Keanu [Asing] in the Billabong Pipe Masters."
This win marks McGill's first victory on the elite stage, while 2016 also marks his inaugural experience in the Vans Triple Crown after a standout season on the Junior Qualifying Series (JQS). McGill will represent Hawaii in the upcoming World Junior Championship this January and also kick start the new year competing at Sunset Beach, his home break, for the Sunset Pro Open QS1,000 and Pro Junior. The teen qualified for the Pipe Invitational through the International QS after his respectable finishes at the Hawaiian Pro and Vans World Cup of Surfing, the first two events of the Vans Triple Crown of Surfing.
"When I heard I was going to be in this contest, I was just so stoked," McGill continued. "I have been wanting to be in the Pipe Masters my whole life and I have been coming down to this event since I was three years old. I went to school across the street and I remember sitting in class and listening to the scores, wishing I could be there."
The Final witnessed no shortage of excitement as McGill, Beschen, Joshua Moniz (HAW) and Victor Bernardo (BRA) hunted down tubes in building four-to-six foot (1 – 2 metre) waves at Pipeline. McGill got off to a strong start by finding a solid barrel for a 5.33 and a 4.83 backup score. The young Hawaii surfer continued to fire with an excellent 8.60 to further his lead. Beschen managed to earn a 6.10 combined score for the second-place position. Under pressure, sets out the back gave Moniz and Bernardo one last opportunity to battle back, but they were not able to complete the rides for the necessary scores.
Beschen took the place of legendary surfer Bruce Irons (HAW) who received a replacement spot into the main event, which allowed Beschen the opportunity to compete after being next in line off the 2016 Volcom Pipe Pro results.
"Today was very special and a great honor just to be amongst all the competitors here," said Beschen post Final. "I never thought I'd be able to get into this event. Just getting this far was good enough for me. Any chance to get to surf Pipeline is just a beautiful and magical thing."
A style master from San Clemente, Beschen has taken up residency on the North Shore for many years and dedicated his career to chasing the ultimate rides at Pipe and Backdoor. His relaxed surfing was well suited for the playful conditions today, but his superior wave knowledge was the ticket that secured his slot into the Billabong Pipe Masters. Despite a 20+ age difference, the Final was a well-rounded field of competitors.
"These kids are nothing but the greatest, so it's the ultimate match up," continued Beschen. "It's just a great inspiration for me. They are all my friends and I've watched them grow up. They are all just amazing individuals, and I respect them tremendously."
Beschen will face newly crowned WSL Champion John John Florence (HAW) and Jadson Andre (BRA) in Round 1 Heat 6 of the main event.
2015 Pipe Invitational winner Jack Robinson (AUS) delivered impressive performances in both Round 1 and the Quarterfinals today, where he turned in a 17.33 heat total, the highest of the day, before being eliminated in the Semifinals.
Frederico Morais (PRT) leads the Vans Triple Crown of Surfing rankings ahead of Florence and current No. 3 on the Jeep Leaderboard Smith. Morais, 2013 Vans Triple Crown Rookie of the Year, claimed runner-up finishes at both the the Hawaiian Pro and Vans World Cup to secure his place on the Championship Tour in 2017. Morais will faceMatt Wilkinson (AUS) and Nat Young (USA) in Round 1.
Matt Banting (AUS) and Alejo Muniz (BRA) have withdrawn from the event. They will be replaced by former Pipe Master Irons and Morais in the main event.
Event organizers will reconvene at 7:30 a.m. (local time) tomorrow to assess conditions and make the next call.
We expect the swell/surf to increase throughout the day on Monday, with a peak in swell Monday evening through Tuesday morning. As the swell peaks we'll look for overhead surf at Pipe/Backdoor, with sets running to a few feet overhead. N wind continue to look likely, but pretty light on Monday and trending more NNE/NE on Tuesday as it strengthens.    
Look for small leftovers by Wednesday, with surf likely small into Thursday (although local wind does look likely to improve).
The end of the week (Thur PM-Fri-Sat) is very slowly coming into better focus, although uncertainty remains regarding exact swell size and local wind. Our first source of a swell, a storm off Japan, is pulling together now and at this early stage, is behaving very close to model guidance. There is a chance for secondary, mid period swell around the same time from a nearby/Kona low that will develop later this week (and will also impact local wind). Surfline.
The Billabong Pipe Masters will be webcast LIVE on WorldSurfLeague.com
The event is also being carried by the WSL's LIVE broadcast partner Oceanic Time Warner Cable 250 & 1250
Men's Pipeline Invitational Final Results:
1 – Finn McGill (HAW) 13.93
2 – Gavin Beschen (HAW) 6.10
3 – Joshua Moniz (HAW) 5.07
4 – Victor Bernardo (BRA) 4.16
Men's Pipeline Invitational Semifinal Results:
SF 1: Gavin Beschen (HAW) 11.40, Victor Bernardo (BRA) 10.34, Jack Robinson (AUS) 5.37, Cody Young (HAW) 1.87
SF 2: Joshua Moniz (HAW) 15.90, Finn McGill (HAW) 11.67, Nathan Florence (HAW) 8.73, Ezekiel Lau (HAW) 6.23
Men's Pipeline Invitational Quarterfinal Results:
QF 1: Jack Robinson (AUS) 11.00, Victor Bernardo (BRA) 6.00, Keoni Yan (HAW) 3.26, Chris Foster (HAW) 0.93
QF 2: Cody Young (HAW) 12.67, Gavin Beschen (HAW) 11.34, Tanner Hendrickson (HAW) 6.07, Kalani Chapman (HAW) 4.10
QF 3: Joshua Moniz (HAW) 10.33, Finn McGill (HAW) 6.33, Koa Smith (HAW) 4.70, Jamie O'Brien (HAW) 2.96
QF 4: Nathan Florence (HAW) 7.50, Ezekiel Lau (HAW) 6.90, Kaimana Jaquias (HAW) 6.73, Seth Moniz (HAW) 1.50
Men's Pipeline Invitational Round 1 Results:
Heat 1: Keoni Yan (HAW) 3.57, Kalani Chapman (HAW) 2.80, Reef McIntosh (HAW) 2.44, Makai McNamara (HAW) 1.43
Heat 2: Jack Robinson (AUS) 14.00, Cody Young (HAW) 7.17, Billy Kemper (HAW) 6.30, Eala Stewart (HAW) 3.34
Heat 3: Gavin Beschen (HAW) 8.66, Victor Bernardo (BRA) 8.66, Eli Olson (HAW) 2.76, Myles Padaca (HAW) 1.00
Heat 4: Tanner Hendrickson (HAW) 7.37, Chris Foster (HAW) 4.26, Griffin Colapinto (USA) 3.16, Takayuki Wakita (HAW) 1.87
Heat 5: Jamie O'Brien (HAW) 11.33, Ezekiel Lau (HAW) 6.26, Mikey Bruneau (HAW) 4.00, Kaito Kino (HAW) 3.27
Heat 6: Koa Smith (HAW) 9.20, Kaimana Jaquias (HAW) 5.23, Kai Mana Henry (HAW) 3.53, Kiron Jabour (HAW) 3.50
Heat 7: Nathan Florence (HAW) 5.40, Joshua Moniz (HAW) 4.94, Mason Ho (HAW) 4.50, Noa Mizuno (HAW) 4.30
Heat 8: Seth Moniz (HAW) 12.43, Finn McGill (HAW) 11.20,Torrey Meister (HAW) 5.23, Gavin Gillette (HAW) 4.83
Billabong Pipe Masters Round 1 Match-Ups:
Heat 1: Julian Wilson (AUS), Wiggolly Dantas (BRA), Ryan Callinan (AUS)
Heat 2: Kolohe Andino (USA), Miguel Pupo (BRA), Bede Durbidge (AUS)
Heat 3: Matt Wilkinson (AUS), Nat Young (USA), TBD
Heat 4: Jordy Smith (ZAF), Keanu Asing (HAW), TBD
Heat 5: Gabriel Medina (BRA), Kanoa Igarashi (USA), TBD
Heat 6: John John Florence (HAW), Jadson Andre (BRA), TBD
Heat 7: Adriano de Souza (BRA), Conner Coffin (USA), Alex Ribeiro (BRA)
Heat 8: Joel Parkinson (AUS), Stuart Kennedy (AUS),  Jeremy Flores (FRA)
Heat 9: Filipe Toledo (BRA), Josh Kerr (AUS), Adam Melling (AUS)
Heat 10: Kelly Slater (USA), Caio Ibelli (BRA), Kai Otton (AUS)
Heat 11: Sebastian Zietz (HAW), Italo Ferreira (BRA), Jack Freestone (AUS)
Heat 12: Adrian Buchan (AUS), Michel Bourez (PYF), Davey Cathels (AUS)