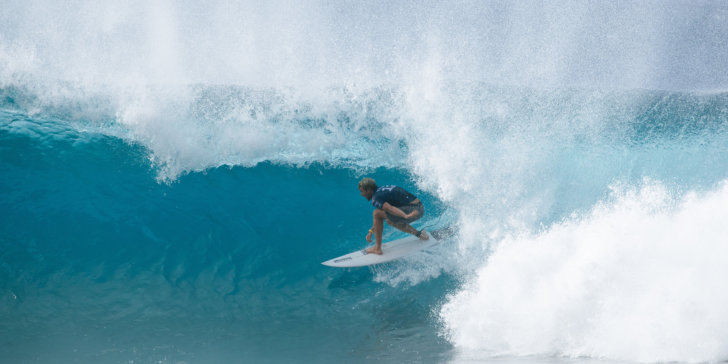 Robinson beats Leo Fioravanti
Moore takes down Tyler Wright
Super Windy Wednesday with NE Trades 20-35mph. Surf declined through the day and ended with 2-3'+ NW with 14 sec along with crossed up NE wrap. It was a challenging and scrapy comp. SNN
PRIOR UPDATE
John John Florence Goes Near-Perfect in His Backyard
World Champions Slater, Medina, and Ferreira Accept Early Elimination
Men's Quarterfinalists Decided Amidst Upsets and World-Class Performances
The surf ended-up pumping 3-5'+ for a large part of the day and performances rose to the occasion.
JJF pulls off one of the best Houdini acts at Backdoor EVER in final heat of the day.
Gabriel Medina taken out by Jack Robinson in heat7.
Italo and Kelly out and more…
Pictured: Two-time World Champion John John Florence (HAW) earned the highest single wave and heat total of the Billabong Pro Pipeline so far. Credit: © WSL /  Heff
BANZAI PIPELINE, Oahu, Hawaii, USA (Tuesday, February 7, 2023) – The men's Quarterfinalists have been decided after a full day of competition at the Billabong Pro Pipeline, the first stop on the World Surf League (WSL) 2023 Championship Tour (CT). The men's Round of 32 and Round of 16 saw huge upsets as top seeds and previous event winners were eliminated, with now only eight men remaining in the competition.
Two-time World Champion and 2020 event winner John John Florence (HAW) reminded everyone how dangerous his local knowledge and experience are at Pipeline with a near-perfect performance. Jack Robinson (AUS) secured his spot in the Quarterfinals after taking down three-time World Champion Gabriel Medina (BRA). Defending event winner and 11-time World Champion Kelly Slater (USA) and World Champion Italo Ferreira (BRA) also faced similar fates as Medina as were eliminated.
The men's Quarterfinalists and women's Semifinalists will now eagerly await Finals Day. The next call will be made tomorrow, Wednesday, February 8, at 7:45 a.m.
John John Florence Goes Near-Perfect in His Backyard  
John John Florence (HAW) was absolutely thriving in his backyard, showing no signs of nerves and appearing to be having fun. Florence performed a disappearing act in the Round of 16, coming out of a Backdoor barrel long after what seemed possible and earning a near-perfect 9.93 (out of possible 10). He then took to the air on his following wave to notch a 9.40 and the highest heat total of the day, a 19.33 (out of possible 20). 
"It was exciting and I had fun out there," said Florence. "That wave was interesting. It got kind of stretched out but kept giving me a clean wall to pump on and then I made it and I was stoked. The second wave had a kink in it and looked like it was going to pinch so I just leaned back and rode over the pinch and then did a little air so I'm stoked. I think it may be a little smaller tomorrow but hopefully there will be some fun little Backdoor waves, and should be nice and clean."
World Champions Slater, Medina and Ferreira Accept Early Elimination  
In the biggest upset of the day, Yago Dora (BRA) eliminated Kelly Slater (USA) in the Round of 32, Heat 10. The ocean took a breather during the matchup and provided little opportunity for high-scoring waves. As the clock wound down, Dora was able to take out the 11-time Champion with a 5.66 heat total (out of a possible 20).
"I was out of sync in my free surfs and two nights ago I broke a fever, I was really sick, and yesterday I didn't know if I was going to be able to surf," said Slater. "I felt fine today and felt pretty relaxed, I was just patient and then I thought we might be fighting for three's here so I was trying to make something happen at Backdoor. Then I took one of the first waves of that set toward the five-minute mark and I just got hammered by like 15 waves. Sometimes it's just not your time, last year was my time, but not this year."
In a surprising turn of events, Gabriel Medina (BRA) was taken down by an in-form Jack Robinson. Medina was on a roll in his Round of 32, claiming one of the highest scores of the day, a 9.33. But Robinson was in-tune with the ocean in their Round of 16 matchup and was able to best the World Champion with two solid barrel and turn combinations. Robinson will now face Joao Chianca (BRA) in the Quarterfinals.

The day started with another major upset as rookie Ian Gentil (HAW) took down World Champion and former event winner Italo Ferreira (BRA). Ferreira controlled a majority of the heat, but with just three minutes left, Gentil found a Backdoor barrel to earn a 6.50 and take the heat lead.
Men's Quarterfinalists Decided Amidst Upsets and World-Class Performances
Tour veteran Jordy Smith (RSA) claimed the first spot in the Quarterfinals after overcoming rookie Gentil in the Round of 16, Heat 1. Smith performed consistently all day, starting with a win over California's Nat Young in the Round of 32. This will be Smith's fifth Quarterfinal of his career at Pipeline.
"I'm pretty happy, a few ups and downs in that heat, but super stoked to make the Quarters," said Smith. "I ended up breaking a board in my heat, but I went back down to the 6'4, which felt even better. I'm just really stoked that the conditions turned around for us. This morning was a tough one with the winds. It's great to start well, but it's not how you start, it's how you finish. This just gives you that confidence, and I've put in a lot of the work in the offseason, and there's no second guessing myself.
Leonardo Fioravanti (ITA) will make his second Billabong Pro Pipeline Quarterfinals appearance of his career after winning his Round of 16 match against Callum Robson (AUS). Fioravanti had a big win earlier in the day, taking out top seed Griffin Collapinto (USA) in the Round of 16.
Liam O'Brien (AUS) proved he belongs amongst the best in the world, taking down two event threats on his way to the Quarterfinals. O'Brien first eliminated fellow Australian and Final 5 competitor Ethan Ewing after a close battle in the Round of 32. He then went on to defeat last year's event runner-up Seth Moniz (HAW), in the Round of 16. O'Brien qualified for the CT last year but missed the entire season due to injury. His Quarterfinal appearance comes as a huge redemption for the tour newcomer.

"It's a pretty weird turnaround, I was just happy to surf a heat this year so it's been cool to get through a few," said O'Brien. "Just to get another session out there with no one out is a big incentive to make a heat. Seth is obviously one of the best guys out there. I was lucky to get mine, but I'll take it."

Caio Ibelli (BRA) continued his winning momentum from the Opening Round, defeating Hawaiis' Ezekiel Lau in the Round of 32. Even after suffering an interference on Lau, Ibelli was able to take the heat win by finding a Backdoor barrel that earned him a 7.00. He then had a close clash with Australia's Ryan Callinan in the Round of 16. Ibelli and O'Brien will now meet in the Quarterfinals.
Current World Champion, Filipe Toledo (BRA) is off to a good start in his mission to hold onto the top spot on the leaderboard. After leaving Carlos Munoz (CRC) in a combination situation in the Round of 32, Toledo then went on to face Dora in the Round of 16. Dora controlled a majority of the heat, but with seven minutes left to go, Toledo successfully navigated a Backdoor barrel to flip the heat.

"I knew it was going to be hard, Yago always puts really good results here at Pipe," said Toledo. "We had those lulls in between sets, and I knew he was going to go for the airs and knew I had to wait for a good wave. Then that Backdoor wave came, but the foam ball usually pushes you out, and this one didn't, so I was happy to find that little Pipeline wave. I'm really happy to be in the Quarters, to start the year with a fifth is really good."

Joao Chianca (BRA) will make his second-consecutive Quarterfinal appearance after a day of exceptional surfing. He started his day by notching an excellent 8.67 in his Round of 32 matchup against Final 5 competitor Kanoa Igarashi (JPN). Chianca then continued his winning streak, defeating rookie Rio Waida (INA) in the Round of 16. He will now have to face none other than Florence in the Quarterfinals.

For more information, please visit WorldSurfLeague.com
Billabong Pro Pipeline Men's Round of 32 Results:
HEAT 1: Ian Gentil (HAW) 7.97 DEF. Italo Ferreira (BRA) 7.83
HEAT 2: Jordy Smith (RSA) 13.00 DEF. Nat Young (USA) 1.74
HEAT 3: Leonardo Fioravanti (ITA) 13.00 DEF. Griffin Colapinto (USA) 1.00
HEAT 4: Callum Robson (AUS) 7.44 DEF. Jackson Baker (AUS) 6.10
HEAT 5: Liam O'Brien (AUS) 10.17 DEF. Ethan Ewing (AUS) 9.83
HEAT 6: Seth Moniz (HAW) 10.26 DEF. Barron Mamiya (HAW) 6.94
HEAT 7: Caio Ibelli (BRA) 7.00 DEF. Ezekiel Lau (HAW) 6.60
HEAT 8: Ryan Callinan (AUS) 13.16 DEF. Samuel Pupo (BRA) 8.76
HEAT 9: Filipe Toledo (BRA) 7.83 DEF. Carlos Munoz (CRC) 1.74
HEAT 10: Yago Dora (BRA) 5.66 DEF. Kelly Slater (USA) 2.43
HEAT 11: Rio Waida (INA) 13.60 DEF. Connor O'Leary (AUS) 8.03
HEAT 12: Joao Chianca (BRA) 12.00 DEF. Kanoa Igarashi (JPN) 2.87
HEAT 13: Jack Robinson (AUS) 14.33 DEF. Michael Rodrigues (BRA) 0.97
HEAT 14: Gabriel Medina (BRA) 15.50 DEF. Jake Marshall (USA) 10.83
HEAT 15: John John Florence (HAW) 13.66 DEF. Kolohe Andino (USA) 2.83
HEAT 16: Miguel Pupo (BRA) 13.00 DEF. Maxime Huscenot (FRA) 12.14
Billabong Pro Pipeline Men's Round of 16 Results:
HEAT 1: Jordy Smith (RSA) 13.50 DEF. Ian Gentil (HAW) 9.10
HEAT 2: Leonardo Fioravanti (ITA) 10.83 DEF. Callum Robson (AUS) 1.86
HEAT 3: Liam O'Brien (AUS) 7.53 DEF. Seth Moniz (HAW) 3.90
HEAT 4: Caio Ibelli (BRA) 10.57 DEF. Ryan Callinan (AUS) 9.47
HEAT 5: Filipe Toledo (BRA) 9.03 DEF. Yago Dora (BRA) 6.53
HEAT 6: Joao Chianca (BRA) 10.03 DEF. Rio Waida (INA) 8.20
HEAT 7: Jack Robinson (AUS) 11.50 DEF. Gabriel Medina (BRA) 10.40
HEAT 8: John John Florence (HAW) 19.33 DEF. Miguel Pupo (BRA) 7.67
Billabong Pro Pipeline Men's Quarterfinals Matchups:
HEAT 1: Jordy Smith (RSA) vs. Leonardo Fioravanti (ITA)
HEAT 2: Liam O'Brien (AUS) vs. Caio Ibelli (BRA)
HEAT 3: Filipe Toledo (BRA) vs. Joao Chianca (BRA)
HEAT 4: Jack Robinson (AUS) vs. John John Florence (HAW)
Billabong Pro Pipeline Women's Semifinals Matchups: 
HEAT 1: Lakey Peterson (USA) vs. Tyler Wright (AUS)
HEAT 2: Carissa Moore (HAW) vs. Bettylou Sakura Johnson (HAW)