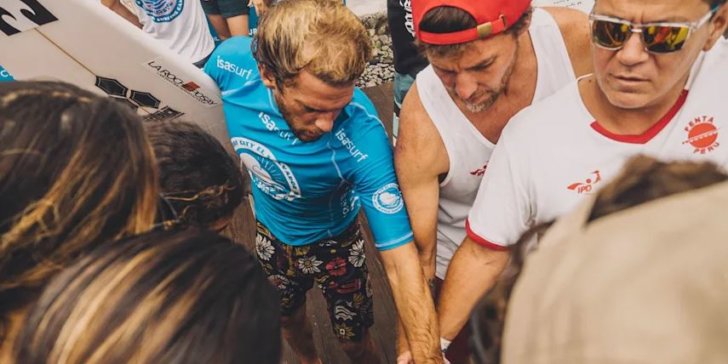 Alan Cleland, Tatiana Weston-Webb and Peru win world titles at 2023 ISA World Surfing Games as two more Paris 2024 quotas are awarded

Peru clinched team gold while Alan Cleland and Tatiana Weston-Webb won the individual titles.The two remaining tickets to Paris 2024 were also handed out with France's Kauli Vaast and Japan's Kanoa Igarashi bound for the Olympic surfing competition in Tahiti.
Lightning, thunder and heavy rain lashed La Bocana on the morning of the finals at the 2023 ISA World Surfing Games, causing an almost two-hour delay in the start times. But neither the weather nor top-ranked opponents were enough to stop Mexican underdog Alan Cleland from winning his first world title.Draped in the Mexican flag, an emotional Cleland could not have wished for a better ending: winning gold, beating defending champion and Olympic silver medallist Kanoa Igarashi, and setting the top wave score of the competition, among men or women, all in one final."It means everything. It's something that I've worked for and put my time in since I started surfing and something that I wanted," Cleland told Olympics.com. "It's something that I strived (for), I dreamed, I put all my work into it. It came true and I can't stop smiling. I'm just grateful."Brazil's Tatiana Weston-Webb claimed the women's world title, her career's fourth, while Peru won as a team with two athletes, Luca Mesinas and Miguel Tudela, also taking medals on the final day of competition.
Alan Cleland: Underdog becomes champion
At 21 years old and low in the pack on the Men's Challenger Series, Cleland was not among the headliners when he arrived in El Salvador for the 2023 ISA World Surfing Games, but as the eight-day competition progressed, the Mexican showed that he is not one to be taken lightly.
Cleland finished the competition with three entries among the Top 10 highest-scoring waves, including the 9.73-point scorcher he saved for the final against Igarashi and Peru's Luca Mesinas and Miguel Tudela.
Now qualified to the Santiago 2023 Pan American Games, Cleland's performance in El Salvador also got him closer to qualifying for his first Olympic Games.
If South Africa's Jordy Smith, who received the ticket to Paris 2024 on Day 6 of competition, qualifies again through the World Championship Tour, Cleland would become the top candidate to replace Smith for the quota from the 2023 ISA World Surfing Games.
"It's been a huge goal of mine, getting to the Olympics, that's why I came here," Cleland said. "I knew this wasn't a qualifier, but I wanted to surf against the Olympians and I want to be here and show that I can do it.
"I felt like the underdog the whole time. I knew I had the talent, I knew I had the drive, I knew I had the fire, and now it shows."
2023 ISA World Surfing Games: Team title for Peru
Peru's Luca Mesinas finished second in the final against Cleland, while his teammate Miguel Tudela was third.
With Sol Aguirre also in contention for the women's title until the final rounds, Peru collected enough points to win the team title, surpassing France and Brazil.
This marks the second time that Peru wins the team title. Their previous victory was in Costa Rica in 2016.
Tatiana Weston-Webb: First for Brazil
While Cleland celebrated his first ISA world title, it was the third for Brazil's Tatiana Weston-Webb, a two-time ISA U-18 world junior champion. What made it more special, however, is that it was the first title the surfer, who grew up in Hawaii, won while representing Brazil.
Weston-Webb also secured her quota for Santiago 2023 while in El Salvador and is now looking ahead to more victories and her ultimate goal, winning gold at the Olympic Games.
"Surfing is soaring and with it now being in the Olympics…it's just elevated our sport to a different level," she said. "It's given people from all over the world dreams to be Olympic gold medallists and for me, that's my biggest dream so I'm going to keep fighting until I can hopefully get one."
Weston-Webb made solid progress through the competition, never leaving the main round, but it looked like her dominant run would end in the final. She trailed in the back of the four-woman heat and struggled to catch a good wave until posting double 7.50 scores in the final minutes.
HEAT 1 – WOMEN FINAL
Pts
P
Tati Weston Webb

BRA

15.00
1
Johanne Defay

FRA

13.54
3
Erin Brooks

CAN

14.36
2
Vahiné Fierro

FRA

12.30
4
HEAT 1 – MEN FINAL
Pts
P
Kanoa Igarashi

JPN

14.80
4
Lucca Mesinas

PER

16.17
2
Alan Cleland

MEX

18.23
1
Miguel Tudela

PER

14.96
3
They're 4 hours ahead of us….
Five Paris 2024 Olympians Confirmed on Day 6 of the 2023 Surf City El Salvador ISA World Surfing Games
June 5th, 2023
South Africans Jordy Smith and Sarah Baum, New Zealanders Saffi Vette and Billy Stairmand, and Japan's Shino Matsuda qualify for Paris 2024 Olympic Games
Three Olympic Games slots remain, one each for Asian Men and European Men and Women athletes
Carlos Muñoz (CRC) takes inspiration from Irons Brothers, boosts giant straight air
Local Salvadoran Porfirio Miranda excels to make home nation proud