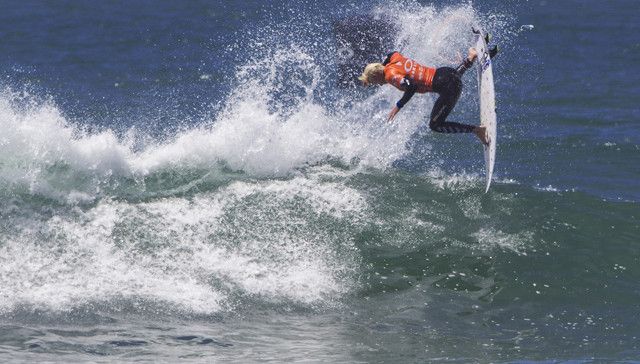 Full story coming as Felipe beats Jeremy Florence by turning 6's into 8's
PIC: Jack Freestone © WSL
Oakley Lowers Pro  LIVE HERE
WSL QS10000 Men's Event
Lower Trestles, California
28 April – 2 May 2015
Thrills and upsets at the Oakley Lowers Pro on Day 3
Surf News Network, 1 May, 2015. Lowers – The Oakley Lowers Pro, the first World Surf League (WSL) QS10000 of the 2015 season, ran through Round 3 and the opening four heats of Round 4 today in three-to-four foot surf. The event pits a selection of Championship Tour (CT) elite surfers against an array of up-and-coming talent looking to break through to the world's best.
The form surfer of the event and current no. 2 on the CT rankings, Filipe Toledo (BRA), earned his place in the Quarterfinals today after a thrilling match-up against Conner Coffin (USA). Toledo went to town during the heat, delivering another impressive performance and posting a 7.10 and a 9.27 to put on a thrilling display at Lower Trestles. Coffin came back with an 8.23 of his own to stay in contention, but the Brazilian improved his score, delighting the crowd with his aerial acrobatics, to take the win.
"I've been watching Conner (Coffin) surfing at this event and he's been ripping," said Toledo. "In the first five minutes of the heat I tried to get really busy and catch lots of waves. I knew if I landed some maneuvers I would get a good score. After that I was too excited so I had to take a deep breath, calm down and start again. It's great to get through and I'm the happiest guy ever because I'm at home and surfing Lowers."

Yadin Nicol © WSL
In the upset of the day, CT surfer Adam Melling (AUS) eliminated 11-time world champion Kelly Slater (USA) in Round 3. With a disappointing start to the year, Melling is currently ranked joint 26th on the CT rankings, but today's result sees him move through to Round 4 thanks to an excellent 9.17 for an exhibition of power surfing. Opponent Jeremy Flores (FRA) will also move through to the next round after securing a second-place finish.
"I got pretty lucky with that wave," said Melling. "Jeremy (Flores) had priority but was just a bit too deep. I'm pretty happy to get that win. It was a bit slow at the start but I got lucky and got the best wave of the heat. I definitely got a bit excited at the end of the wave and pushed a bit too hard and skipped out. Luckily I had all the work done. You have to be light footed out there, tag it and throw spray. The Brazilians are going pretty mad at the moment and I think it's really fired the Australians up."
"Looking back it was a bad choice to take that last wave with priority," Slater said. "If I had finished that wave out and made my last turn, I probably would have got the score I needed. I was kind of bummed on that wave and I kind of gave up. As I fell, I thought to myself that I should have finished it off. There weren't too many chances in the heat so it was tough. I've loved this wave since I was a little kid. I first came here when I was 12, and fell in love with the place."
Maui's Dusty Payne (HAW), who rejoined the CT in 2015, faced former CT surfer and current no. 2 on the QS, Alejo Muniz (BRA) in Round 4. The pair were neck-and-neck though the heat, but a crucial exchange in the final moments saw Payne earn a 9.07 for a series of huge power turns while Muniz was awarded an 8.30. The Hawaiian took the win and an advancement to the Quarterfinals.

Kelly Slater © WSL
"The last wave gave me three sections and I've never seen a left do that for me here before," said Payne. "When I saw Alejo (Muniz) get his last wave, I knew I would need a 9 to get the win. I'm doing what I love to do and trying not to stress myself out. It doesn't get any better than this, so I'm having a good time."
Jack Freestone (AUS), current no. 6 on the QS rankings, looked in fine form as he posted the day's highest two-wave heat total, a 17.54, in his Round 3 heat against CT surfer Miguel Pupo (BRA) and local surfer Patrick Gudauskas (USA). An excellent 9.27 sees him advance through to Round 4 where he will battle Wade Carmichael (AUS) for a place in the Quarterfinals.
"I saw on the wall as I was walking in that there's only been one other Australian to win the event, and that was Nathan Hedge in 2000," said Freestone. "It would be nice to be on the wall alongside him and everyone else who's won it. My main inspiration right now is Filipe (Toledo). Just look what he's done this year. It's so hard for anyone to surf a heat against him."
San Clemente local and former event finalist Tanner Gudauskas (USA) looked strong during his Round 3 heat against Nathan Hedge (AUS) and Wade Carmichael (AUS). Gudauskas will face Miguel Pupo (BRA) in Round 4 tomorrow in a rematch of their 2011 Final.
"I'm stoked to be back in a jersey," Gudauskas said. "This is the first contest I've done this year and I think the break has been good. I was excited about the draw because Nate (Hedge) and Wade (Carmichael) are both really good. I thought it would be fun to go hammer and nails and do it for the power boys. Last year both Pat and I did a lot of events but I never made it past the Round of 48. Whatever happens, it's already been a good run and I'm stoked."

Jeremy Flores © WSL
OAKLEY PRO LOWERS REMAINING ROUND 2 RESULTS:
Heat 11: Kelly Slater (USA) 15.60, Michael Dunphy (USA) 12.50, Willian Cardoso (BRA) 12.50, Alex Ribeiro (BRA) 12.27
Heat 12: Ryan Callinan (AUS) 13.50, Jeremy Flores (FRA) 11.73, Ricardo Christie (NZL) 11.33, Perth Standlick (AUS) 7.44
OAKLEY PRO LOWERS ROUND 3 RESULTS:
Heat 1: Filipe Toledo (BRA) 16.13, Charles Martin (GLP) 13.60, Tanner Hendrickson (HAW) 11.23
Heat 2: Stu Kennedy (AUS) 14.66, Conner Coffin (USA) 11.93, Brett Simpson (USA) 8.87
Heat 3: Alejo Muniz (BRA) 17.26, Joan Duru (FRA) 14.16, Ezekiel Lau (HAW) 13.43
Heat 4: Yadin Nicol (AUS) 14.94, Dusty Payne (HAW) 14.00, Davey Cathels (AUS) 11.60
Heat 5: Jack Freestone (AUS) 17.54, Miguel Pupo (BRA) 15.47, Patrick Gudauskas (USA) 13.50
Heat 6: Tanner Gudauskas (USA) 17.00, Wade Carmichael (AUS) 16.00, Nathan Hedge (AUS) 13.90
Heat 7: Adam Melling (AUS) 15.00, Jeremy Flores (FRA) 13.24, Kelly Slater (USA) 12.97
Heat 8: Michael Rodrigues (BRA) 14.24, Michael Dunphy (USA) 11.00, Ryan Callinan (AUS) 9.00
OAKLEY LOWERS PRO ROUND 4 RESULTS:
Heat 1: Filipe Toledo (BRA) 16.94 def. Conner Coffin (USA) 14.90
Heat 2: Charles Martin (GLP) 16.63 def. Stu Kennedy (AUS) 11.73
Heat 3: Dusty Payne (HAW) 17.14 def. Alejo Muniz (BRA) 16.90
Heat 4: Yadin Nicol (AUS) 13.16 def. Joan Duru (FRA) 7.47
OAKLEY LOWERS PRO REMAINING ROUND 4 MATCH-UPS:
Heat 5: Jack Freestone (AUS) vs. Wade Carmichael (AUS)
Heat 6: Tanner Gudauskas (USA) vs. Miguel Pupo (BRA)
Heat 7: Adam Melling (AUS) vs. Michael Dunphy (USA)
Heat 8: Michael Rodrigues (BRA) vs. Jeremy Flores (FRA)
Oakley Lowers Pro  LIVE HERE