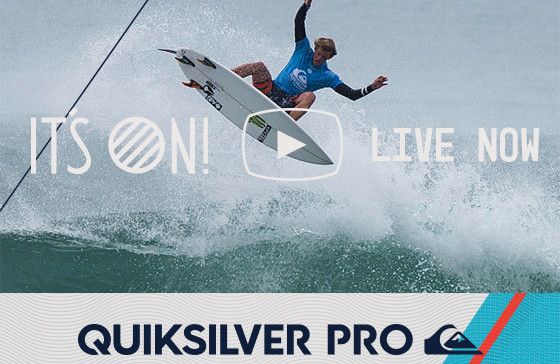 – MEN'S QUARTERFINALS START AT 8:30AM IN PUMPING SURF
– MEN'S AND WOMEN'S FINALS ON STANDBY FOR A PROBABLY START TODAY
– SOLID SWELL ARRIVES FOR CULMINATION OF QUIKSILVER AND ROXY PRO FRANCE
– WATCH  THE WORLD'S BEST LIVE AT WORLDSURFLEAGUE.COM
Reigning WSL Champion Gabriel Medina (BRA) will face defending event winner John John Florence (HAW) in a superheat during the Quarterfinals of the Quiksilver Pro France.
Image: WSL / Kirstin
| | |
| --- | --- |
| Location:    | Seignosse/Hossegor/Capbreton, Landes, Aquitaine, France |
| Event window: | October 6 – 17, 2015 |
| Today's call: | Finals Day – Men's Quarterfinals starts @ 8:30am |
| Conditions: | 6-to-8 foot (2 – 3 metre) |
SEIGNOSSE/HOSSEGOR/CAPBRETON, Landes, Aquitaine/France (Thursday, October 15, 2015) – Stop No. 9 on the 2015 Samsung Galaxy World Surf League (WSL) Championship Tour (CT), the Quiksilver and Roxy Pro France, has been called ON for Finals Day today with offshore six-to-eight foot (2 – 3 metre) waves at Culs Nus.
"Solid surf this morning and clean conditions so we'll start with men's Quarterfinals at 8:30am," said WSL Commissioner, Kieren Perrow. "We have men's and women's Semifinals on standby and we'll monitor conditions throughout the day to ensure we get the world's best surfers out in the best surf. Good luck to all our remaining competitors."
First to compete today will Julian Wilson (AUS) and Italo Ferreira (BRA) in the Quiksilver Pro Quarterfinals.
New WNW swell peaks on Thursday with head-overhead sets at Hossegor, then fading over Fri/Sat. Decent wind conditions for Thursday, with offshores on Fri/Sat. Surfline.
The Quiksilver and Roxy Pro France will be webcast LIVE on worldsurfleague.com and via the WSL app.
ROXY PRO FRANCE SEMIFINAL MATCH-UPS:
SF 1: Tyler Wright (AUS) vs. Sage Erickson (USA)
SF 2: Carissa Moore (HAW) vs. Tatiana Weston-Webb (HAW)
QUIKSILVER PRO FRANCE QUARTERFINAL MATCH-UPS:
QF 1: Julian Wilson  (AUS) wins over  Italo Ferreira (BRA)
UPSET QF 2: Mick Fanning (AUS) loses to Bede Durbidge (AUS)
QF 3: Adriano De Souza (BRA) vs. Owen Wright (AUS)
QF 4: Gabriel Medina (BRA) vs. John John Florence (HAW)