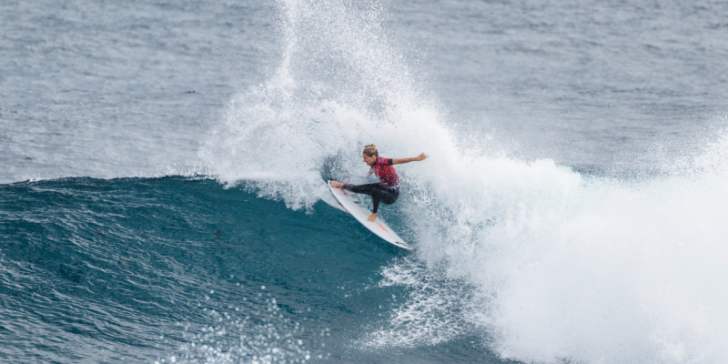 No Competition Tomorrow; Next Call Saturday, May 8, at 7:15 AM AWST

Women's Final Four Bronte Macaulay, Tatiana Weston-Webb, Carissa Moore, and Stephanie Gilmore Ready for Semis

Local Favorite Macaulay Continues Charge Into Semifinals

World No. 1 Gabriel Medina Falls to No. 28 Seth Moniz

Boost Mobile Margaret River Pro Men's Round of 16 Results:
HEAT 1: John John Florence (HAW) 13.50 DEF. Peterson Crisanto (BRA) 8.97
HEAT 2: Griffin Colapinto (USA) 14.66 DEF. Jeremy Flores (FRA) 8.33
HEAT 3: Jordy Smith (ZAF) 10.10 DEF. Julian Wilson (AUS) 9.23
HEAT 4: Ryan Callinan (AUS) 14.86 DEF. Frederico Morais (PRT) 10.36
HEAT 5: Seth Moniz (HAW) 9.84 DEF. Gabriel Medina (BRA) 9.53
HEAT 6: Matthew McGillivray (ZAF) vs. Kanoa Igarashi (JPN)
HEAT 7: Italo Ferreira (BRA) 16.57 DEF. Caio Ibelli (BRA) 10.83
HEAT 8: Filipe Toledo (BRA) 11.83 DEF. Jadson Andre (BRA) 9.47

Boost Mobile Margaret River Pro Men's Quarterfinal Matchups: 
HEAT 1: John John Florence (HAW) vs. Griffin Colapinto (USA)
HEAT 2: Jordy Smith (ZAF) vs. Ryan Callinan (AUS)
HEAT 3: Seth Moniz (HAW) vs. Matthew McGillivray (ZAF)
HEAT 4: Italo Ferreira (BRA) vs. Filipe Toledo (BRA)

Boost Mobile Margaret River Pro Women's Quarterfinal Results: 
HEAT 1: Bronte Macaulay (AUS) 11.83 DEF. Johanne Defay (FRA) 11.83
HEAT 2: Tatiana Weston-Webb (BRA) 16.23 DEF. Tyler Wright (AUS) 14.17
HEAT 3: Carissa Moore (HAW) 14.57 DEF. Isabella Nichols (AUS) 10.33
HEAT 4: Stephanie Gilmore (AUS) 15.73 DEF. Sally Fitzgibbons (AUS) 14.17

Boost Mobile Margaret River Pro Women's Semifinal Matchups:
HEAT 1: Bronte Macaulay (AUS) vs. Tatiana Weston-Webb (BRA)
HEAT 2: Carissa Moore (HAW) vs. Stephanie Gilmore (AUS)
Pictured: Seven-time WSL Champion Stephanie Gilmore (AUS) is into the Semifinals for the first time in 2021 after a near-perfect 9.50 ride at the Boost Mobile Margaret River Pro pres. by Corona. Credit: © WSL / Dunbar
MARGARET RIVER, Western Australia, Australia (Thursday, May 6, 2021) – The Boost Mobile Margaret River Pro pres. by Corona, the fourth stop on the 2021 World Surf League (WSL) Championship Tour (CT), hosted more upsets on the road to the Rip Curl WSL Finals in super clean six-to-eight foot surf at Main Break.
The men's competition completed the Round of 16, and saw World No. 1 Gabriel Medina (BRA), World No. 4 Kanoa Igarashi (JPN), and Olympic qualifier Julian Wilson (AUS) eliminated from the draw. The women completed the Quarterfinals to narrow the field down to the last four competitors: Bronte Macaulay (AUS), Tatiana Weston-Webb (BRA), Carissa Moore (HAW), and Stephanie Gilmore (AUS).
There will be no competition tomorrow, Friday, May 7, due to poor wind conditions on offer. Event organizers will reassess the conditions and make the next call on Saturday, May 8, at 7:15 a.m. AWST. 
Local Favorite Bronte Macaulay Continues Charge Into Semifinals
Gracetown local Bronte Macaulay's dream run at her home event continued today with the stylish goofy-footer booking herself a spot into the Semifinals. Macaulay won her heat over form-surfer Johanne Defay (FRA) with both surfers finishing on the same heat total of 11.83 (out of a possible 20) and Macaulay winning on a count back with the highest single wave of 6.83 (out of a possible 10). Macaulay has now guaranteed her best finish in Margaret River and has already equalled her career best result with a spot in the Semifinals, where she will take on Tatiana Weston-Webb (BRA). In the following heat, Weston-Webb eliminated two-time WSL Champion Tyler Wright (AUS) in their Quarterfinal matchup.
"I'm so thrilled to make it into the Semifinals," Macaulay said.  "That was a hectic heat, especially at the end. The rain was making it hard to see my lineups and it was even hard to see where Johanne was after she got that last wave and if it was good. I didn't know what was going on, so it was super stressful. I'm so stoked to make it, it's really special, especially at home. All of my family have been coming down each day and cheering me on, so it feels good to keep making heats."
Australian Olympic Qualifiers Battle for Semifinal Spot at Margaret River 
Australian icons Stephanie Gilmore and Sally Fitzgibbons went head-to-head in Quarterfinal 4 to determine the last Semifinal spot in the Boost Mobile Pro. The matchup did not disappoint with two of Australia's greats going toe-to-toe in pumping Main Break surf. Fitzgibbons started strong with two decent scores, while Gilmore sat patiently and waited for a bigger set. Eventually, that set presented itself and Gilmore made the most of it, posting a near-perfect 9.50 (out of a possible 10) with two massive frontside gouges. Fitzgibbons fought hard to get back into contention but it was Gilmore's day as she moved into the Semifinals for the first time in 2021.
"There were so many great waves in the heats before ours and then it seemed to get really slow," Gilmore said. "I just had to hold my nerve and be patient as I knew Sally would keep busy and build a house, and I just needed to get a good wave and do what I do. It worked, but it could have gone the other way. It was a good battle with Sally, we've had a lot over our careers. It feels really good to break the Quarters. I haven't done that this year. I feel like this whole event I haven't had an opportunity to hit the lip so it was nice to get that great wave. The waves have been so good here all week. It's good to be back in West Aus."
World No. 1 Gabriel Medina Falls to No. 28 Seth Moniz
CT sophomore Seth Moniz (HAW) upset the competition by taking down current World No. 1 Gabriel Medina (BRA) in Heat 5 of the Round of 16. The heat was bound to be a close matchup with Medina's solid performances so far at Main Break and with Moniz's affinity for the powerful open ocean waves of WA after growing up on the North Shore of Hawaii. The matchup became a scrappy battle with Moniz narrowly winning with a modest two-wave combination of 9.84 (out of a possible 20). Medina's 9th place finish is his worst result of the season, as he's made the Finals at every event leading up to Margaret River. The win marks Moniz's best result of his season and he will now face rookie Matthew McGillivray (ZAF) in the Quarterfinals.
"He got me in a Semifinal at Teahupo'o and it hurt, so it felt good to get one back on him," Moniz said. "I feel like I left the door open for him the entire heat with a couple of priority mistakes and maybe surfing a smaller board than I should have, so I'm happy it ended up working out for me. I'm loving my time here in West Aus, there are so many sick waves and it really suits my style of surfing."
Florence and Ferreira Continue Dominance at Margaret River
WSL Champions John John Florence (HAW) and Italo Ferreira (BRA) are the only two male surfers left in the draw who are currently sitting in the Final 5 on the rankings and they are set to stay there, each finding their way to Finals Day at Margaret River. Ferreira dominated his heat (Heat 7, R/16), while Florence uncharacteristically struggled to post a score of consequence in Heat 1 yet still snuck into the Quarterfinals and will match up with Griffin Colapinto (USA). Ferreira will battle compatriot Filipe Toledo (BRA) in Quarterfinal 4.
South African Rookie McGillivray Through to Quarterfinals
South African rookie Matthew McGillivray has guaranteed the best result of his career, locking himself a spot into the Quarterfinals at Margaret River with a close victory over Kanoa Igarashi (JPN). On the first wave of the heat, Igarashi made a priority interference against McGillivray and lost half of his second score, leaving McGillivray a seemingly easy path to the Quarterfinals. Although Igarashi looked out of contention, he kept battling back and even briefly took the lead until the rookie eventually slammed the door shut and progressed into his first Finals Series at the elite level.
"I was a bit confused to see him on that wave," said McGillivray. "It was an unfortunate way to start the heat and I feel bad for Kanoa. He was surfing better and had better scores, but that's just the way the heat went, everyone makes mistakes. I don't feel like I surfed well in that heat and I could have put on a better performance. I feel like I have been surfing well in my free surfs but free surfs don't win you heats, so I'm hoping to lift my game ahead of the next heat. I'm stoked to be in the Quarterfinals."
Opportunities for Smith, Toledo, Colapinto to Jump Into Final 5 on the Road to the Rip Curl WSL Finals 
Heading into this event, Kanoa Igarashi (JPN) and Conner Coffin (USA) were tied for World No. 4 on the rankings. Their eliminations give more opportunities for surfers like Jordy Smith (ZAF), Filipe Toledo (BRA), and Griffin Colapinto (USA) to jump into the Final 5 on the road to the Rip Curl WSL Finals.
Smith advanced to the Quarterfinals after an extremely narrow win over Julian Wilson (AUS) and will face Ryan Callinan (AUS) in Quarterfinal 2. Griffin Colapinto (USA) took down CT veteran Jeremy Flores (FRA) in Heat 2 of the R/16, and will face Florence in the opening Quarterfinal. Toledo defeated Jadson Andre (BRA) in the final heat of the R/16 and will face Ferreira in Quarterfinal 4.
Watch LIVE 
The Boost Mobile Margaret River Pro pres. by Corona runs through May 12. The event will be broadcast LIVE on WorldSurfLeague.com and the free WSL app. Also, check local listings for coverage from the WSL's broadcast partners.

For fans wishing to attend the event in person, event entry will be first-come, first-serve starting at 7:00 a.m. AWST on each 'on' day of competition. The venue capacity will be limited to a maximum of 2,500 people at one time, adhering closely to WA state government guidelines. There will be opportunities to enter throughout the day as spots will open when guests leave.
The Boost Mobile Margaret River Pro pres. by Corona is proudly supported by our partners Boost Mobile, Tourism Western Australia, Corona, Red Bull, Oakley, Hydro Flask, Rip Curl, Harvey Norman, Bonsoy, Dometic Outdoor, Bond University, Oakberry, Healthway and Shire of Augusta Margaret River.
Boost Mobile Margaret River Pro Men's Round of 16 Results:
HEAT 1: John John Florence (HAW) 13.50 DEF. Peterson Crisanto (BRA) 8.97
HEAT 2: Griffin Colapinto (USA) 14.66 DEF. Jeremy Flores (FRA) 8.33
HEAT 3: Jordy Smith (ZAF) 10.10 DEF. Julian Wilson (AUS) 9.23
HEAT 4: Ryan Callinan (AUS) 14.86 DEF. Frederico Morais (PRT) 10.36
HEAT 5: Seth Moniz (HAW) 9.84 DEF. Gabriel Medina (BRA) 9.53
HEAT 6: Matthew McGillivray (ZAF) vs. Kanoa Igarashi (JPN)
HEAT 7: Italo Ferreira (BRA) 16.57 DEF. Caio Ibelli (BRA) 10.83
HEAT 8: Filipe Toledo (BRA) 11.83 DEF. Jadson Andre (BRA) 9.47

Boost Mobile Margaret River Pro Men's Quarterfinal Matchups: 
HEAT 1: John John Florence (HAW) vs. Griffin Colapinto (USA)
HEAT 2: Jordy Smith (ZAF) vs. Ryan Callinan (AUS)
HEAT 3: Seth Moniz (HAW) vs. Matthew McGillivray (ZAF)
HEAT 4: Italo Ferreira (BRA) vs. Filipe Toledo (BRA)

Boost Mobile Margaret River Pro Women's Quarterfinal Results: 
HEAT 1: Bronte Macaulay (AUS) 11.83 DEF. Johanne Defay (FRA) 11.83
HEAT 2: Tatiana Weston-Webb (BRA) 16.23 DEF. Tyler Wright (AUS) 14.17
HEAT 3: Carissa Moore (HAW) 14.57 DEF. Isabella Nichols (AUS) 10.33
HEAT 4: Stephanie Gilmore (AUS) 15.73 DEF. Sally Fitzgibbons (AUS) 14.17

Boost Mobile Margaret River Pro Women's Semifinal Matchups:
HEAT 1: Bronte Macaulay (AUS) vs. Tatiana Weston-Webb (BRA)
HEAT 2: Carissa Moore (HAW) vs. Stephanie Gilmore (AUS)