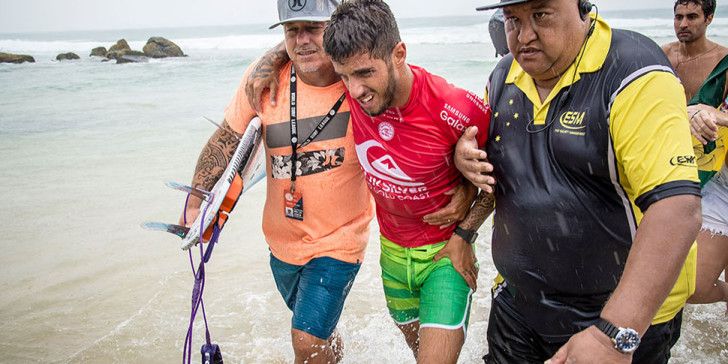 Pulled groin derails Brazilian's World Title high hopes
The 2016 season is off to a tough start for Filipe Toledo. According to the WSL, the young Brazilian has officially pulled out of both the Rip Curl at Bells and the Margaret River Pro, after an air reverse went awry in the early minutes of his semifinal matchup against Matt Wilkinson.
Heading into the semifinals, both Wilko and Filipe were on a tear, dropping huge heat totals, and inciting madness from fans on the beach. The heat was set to be one of the most exciting of the event, Wiko's trademark whipping backhand attack against Filipe's blistering forehand. But in the early minutes of the heat, on his second wave, Filipe hucked what seemed to be a fairly routine (at least for Filipe) air-reverse. Filipe rotated cleanly, but things got screwy on the landing.
"He got really compressed," Ross Williams said. "He squatted more than he anticipated, and really crunched his body."
The young Brazilian came up slow and awkwardly, clearly in pain. He crawled on his board and composed himself, reaching for his back at times, his upper thigh at others. There was much speculation from the commentators' booth.
Was it his back? Did he get speared? Ross Williams wondered if he'd been hit in the abdomen. Ronnie Blakey hoped he hadn't gotten hit somewhere else. It was hopeful at least that he wasn't reaching for his knee or ankle, both of which have sidelined Filipe in recent years. In what appeared to be serious pain, Filipe soldiered on, surfing three more waves, keeping a blitzing Wilko on the ropes until the heat's dying minutes.
It wasn't until Filipe hit the beach that he realized just how seriously he was hurt. After visiting with doctors Wednesday afternoon, Toledo released a video statement:
"I pulled my groin, doing that air," Filipe said. "Now, I'm not doing Bells, and I don't think I'm doing Margaret's. I'm going to head home and do some physio [sic], get ready for Rio."
Filipe will be replaced at both Bells and Margaret River by Hawaiian Sebastian Zietz.
Filipe is understandably broken-hearted. While he finished with an equal 3rd place after the loss, he was arguably the biggest show-stopper of the event, eagerly anticipating a world-title run in 2016 after being in the hunt last year.