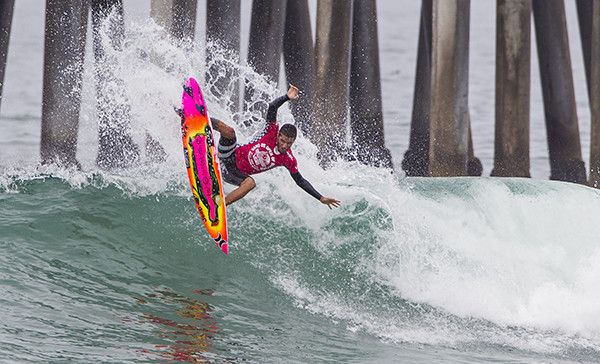 Saturday has small lully chest high sets but the surfing makes it look great.
Toledo Image: WSL / Morris
| | |
| --- | --- |
| Location:    | Huntington Beach, CA, USA |
| Holding period: | July 25 – August 2, 2015 |
| Call: | Men's QS 10,000 Round 3, Men's Pro Junior Quarterfinals, Vans Joel Tudor DTI Quarterfinals and Semifinals completed |
| Conditions: | 2' – 3' |
Huntington Beach, CA/USA (Friday, July 31, 2015) – Action continued today at the Vans US Open of Surfing with the Men's QS 10,000 event. 24 surfers battled through Round 3 in two-to-three foot waves at Huntington Beach Pier, with the top two finishers from each heat advancing on to Round 4.
 Defending event winner Filipe Toledo (BRA) put on a clinic and opened up with a huge air rotation for a near-perfect 9.67, the highest single-wave score of the event. He quickly backed it up with another excellent 9 for an impressive 18.67 heat total. Opponents Alex Ribeiro (BRA) and former CT competitor Artiz Aranburu (ESP) fought for second place, but couldn't match the fleet-footed Brazilian, whose beach-break prowess was too much to overcome.
"I've been training a lot, but just surfing, not anything else out of the water," Toledo said. "It feels good to be back home here with my family and my friends. I just got some new boards, my boards are flying so I feel really confident and really excited about this competition and I hope to make it to the Final again."
 Local standout Kanoa Igarashi (USA) found himself in third place at the halfway mark of Heat 2, despite a heat high 8.27. Opponents Joan Duru (FRA) and Michael Rodrigues (BRA), currently 4th and 12th respectively on the QS rankings, both went to the air to better their scorelines. Igarashi was able to find a gem with just over ten minutes remaining for a 6.83 and the lead and improved it with a 7.83 for a convincing win.
 "I'm just stoked be out here and get the opportunity," said Igarashi. "I'm in a pretty good spot this year so I'm safe for the back end of the year. The waves are fun and I can't really ask for more. I've got my little brother here and I just want to show him around and make sure he's watching heats and learning."
Tim Reyes (USA) upset Top 34 surfer Freddy Patacchia (HAW) and former CT competitor Mitch Crews (AUS) in Heat 3 with patience and composure, finding two solid scores on his final two waves. Crews, who claimed second place, will join Reyes in Heat 4 while Patacchia is eliminated from competition.
"I knew I had to be patient and wait for the waves to come," said Reyes. "It was tough and those guys Freddy (Patacchia) and Mitch (Crews) are amazing surfers and they can make a small wave look insane so I'm stoked to make it. It's my hometown so there's a little added pressure with everyone cheering for you but I'm super excited to surf at home despite the added nerves."
Maxime Huscenot (FRA) stormed through his heat against South African Beyrick De Vries (ZAF) and CT surfer Miguel Pupo (BRA). Huscenot's rail game and a pair of eight-point rides secured the win and a place in Round 4, equaling his best result of the year.
"I really like this left and I really like to go for the big turns," said Huscenot. "I think most of the other guys are not doing it so I knew I could be different with that. I enjoy the airs too but I think because of the conditions I just try to make the best out of it and make a good choice. It's been over four years since I won a contest so it would be great to win here."
Tanner Hendrickson (HAW) tore into a lefthander, riding it all the way through to the north side of the pier for an excellent 9.33 on his opening ride and an early lead over Kolohe Andino (USA) and Dion Atkinson (AUS). The Hawaiian maintained the top spot, and advanced to Round 4 along with CT surfer Andino.
"Luckily I got those waves right at the beginning which gave me a nice lead," Hendrickson said. "They (Andino and Atkinson) both surfed really good too but just didn't get the waves. I'm stoked to get through."
Following QS action the Men's Pro Junior Semifinalists were decided with the first and second placed surfer from each Quarterfinal moving on in the competition.
A stacked heat saw South African standout Dylan Lightfoot (ZAF) put on a dominant display and deliver the highest heat total of the Quarterfinals, 16.33, to secure a Semifinal berth. Igarashi, who stormed through Round 3 of the Men's QS event earlier in the day, will join Lightfoot in the Semifinals.
Cam Richards (USA) took a solid win in Quarterfinal 2, taking to the air multiple times. Richards opened his campaigned with a big frontside air reverse for an 8.27 and followed it up quickly with another aerial maneuver. Close behind was Hiroto Arai (JPN) who will also advance.
"The waves are pretty fun here," Richards said. "When you're doing good you're psyched to have everyone watch you but when you're losing it's hard for the same reason. It's great to have so many people on the beach for a Pro Junior and to have people following it. It's a taste of what it's like for all the guys on tour."
Seth Moniz (HAW), Kalani David (HAW), Griffin Colapinto (USA) and Soli Bailey (AUS) round out the Semifinalists.
To conclude the day the Vans Joel Tudor Duct Tape Invitational presented by Pacifico ran through the Quarterfinals and Semifinals, with Kai Ellice-Flint (USA), Tommy Witt (USA), Justin Quintal (USA) and Troy Mothershead (USA) winning through to the Final.
Competition will continue tomorrow starting at 7:30 a.m. with Men's Round 4 followed by the Men's and Women's Pro Junior Semifinals and Finals and the Vans Joel Tudor Duct Tape Invitational Final.
 The Vans US Open of Surfing runs from July 25 through August 2, 2015 and is webcast LIVE via WorldSurfLeague.com and VansUSOpenofSurfing.com.
 Each year, the Vans US Open of Surfing features the best in the world tearing up the storied break at Huntington Beach. Along with competitions for skate and BMX and dozens of on-site sponsors, the nine-day festival features four separate surf contests, including Junior Tour contests for men and women, a high-stakes men's Qualifying Series battle, and a women's Championship Tour contest for the Top 17.
Men's QS 10,000 Round 3 Results:
Heat 1: Nathan Yeomans (USA) 13.43, Adam Melling (AUS) 13.17, Marco Fernandez (BRA) 11.23
Heat 2: Kanoa Igarashi (USA) 16.10, Michael Rodrigues (BRA) 13.44, Joan Duru (FRA) 13.27
Heat 3: Tim Reyes (USA) 14.76, Mitch Crews (AUS) 12.60, Freddy Patacchia (HAW) 10.57
Heat 4: Hiroto Ohhara (JPN) 13.67, Ryan Callinan (AUS) 13.67, Carlos Munoz (CRI) 11.10
Heat 5: Filipe Toledo (BRA) 18.67, Alex Ribeiro (BRA) 13.40, Aritz Aranburu (ESP) 11.63
Heat 6: Maxime Huscenot (FRA) 16.57, Beyrick De Vries (ZAF) 14.47, Miguel Pupo (BRA) 11.86
Heat 7: Tanner Hendrickson (HAW) 16.26, Kolohe Andino (USA) 11.36, Dion Atkinson (AUS) 10.94
Heat 8: Tomas Hermes (BRA) 14.33, Billy Stairmand (NZL) 13.90, Charles Martin (GLP) 13.87
Men's QS 10,000 Round 4 Match-Ups:
Heat 1: Nathan Yeomans (USA) vs. Michael Rodrigues (BRA)
Heat 2: Kanoa Igarashi (USA) vs. Adam Melling (AUS)
Heat 3: Tim Reyes (USA) vs. Ryan Callinan (AUS)
Heat 4: Hiroto Ohhara (JPN) vs. Mitch Crews (AUS)
Heat 5: Filipe Toledo (BRA) vs. Beyrick De Vries (ZAF)
Heat 6: Maxime Huscenot (FRA) vs. Alex Ribeiro (BRA)
Heat 7: Tanner Hendrickson (HAW) vs. Billy Stairmand (NZL)
Heat 8: Tomas Hermes (BRA) vs. Kolohe Andino (USA)
Men's Pro Junior Quarterfinal Results:
QF 1: Seth Moniz (HAW) 11.94, Kalani David (HAW) 11.13, Deivid Silva (HAW) 11.94, Parker Coffin (USA) 7.57
QF 2: Cam Richards (USA) 14.87, Hiroto Arai (JPN) 14.77, Takumi Nakamura (JPN) 13.60, Jake Kelley (USA) 8.76
QF 3: Griffin Colapinto (USA) 9.13, Soli Bailey (AUS) 7.73, Colt Ward (USA) 6.50, Noe Mar (CRI) 3.67
QF 4: Dylan Lightfoot (ZAF) 16.33, Kanoa Igarashi (USA) 14.53, Joshua Burke (BRB) 10.14, Shane Sykes (ZAF) 7.66
Men's Pro Junior Semifinal Match-Ups:
SF 1: Seth Moniz (HAW), Kalani David (HAW), Cam Richards (USA), Hiroto Arai (JPN)
SF 2: Griffin Colapinto (USA), Soli Bailey (AUS), Dylan Lightfoot (ZAF), Kanoa Igarashi (USA)