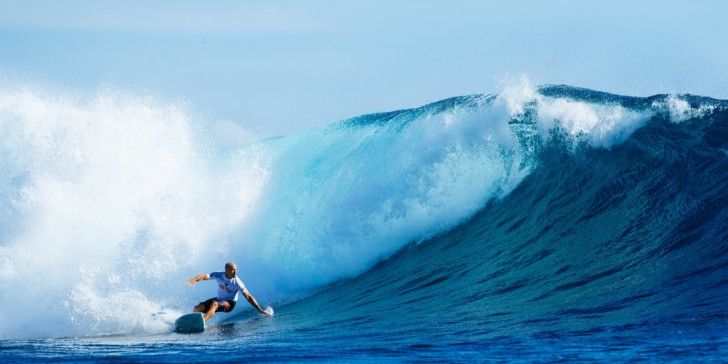 – ROUND 3 CALLED ON FOR 7:35 AM START AT CLOUDBREAK WHICH IS WEDNESDAY, 22 HOURS AHEAD (935am HI Time on Tuesday).
– WORLD'S BEST SURFERS RETURN AFTER WEEK OF LAY DAYS
pIC: Kelly Slater (USA), 11-time WSL Champion, will face CT charger Jordy Smith (ZAF) in elimination Round 3 Heat 4.
Image: WSL / Sloane
| | |
| --- | --- |
| Location:    | Tavarua, Fiji |
| Event window: | June 5 – 17, 2016 |
| Today's call: | Round 3 called ON |
TAVARUA, Fiji (Wednesday, June 15, 2016) – The Fiji Pro, stop No. 5 of 11 on the 2016 Samsung Galaxy WSL Championship Tour, will recommence this morning after several consecutive lay days. Round 3 has been called ON for a 7:35 AM start in building 4-to-6 foot (1 – 2 metre) waves at Cloudbreak.
"We will be on with Round 3," said WSL Commissioner Kieren Perrow. "We will start as soon as possible. We have seen great surfing out here this morning. Everyone is really pumped and it is great to see the surf turn up this morning. We have beautiful conditions and we are getting underway at 7:35 am."
With the first two rounds of the event complete, Round 3 will witness close match-ups as the world's best surfers battle to avoid elimination from the Fiji Pro.
Matt Wilkinson (AUS), current World No. 1 on the Jeep Leaderboard, will go head-to-head against Alejo Muniz (BRA) in Round 3 Heat 12.
Heat 4 will see an intense clash between CT heavyweights Jordy Smith (ZAF) and 11-time WSL Champion Kelly Slater (USA). After exemplary Round 1 showings from both competitors, Round 3 Heat 4 will be an all out brawl as Slater will continue his hunt for a fifth win at the Fiji Pro.
Taj Burrow (AUS), 18-year CT veteran, will face John John Florence (HAW) in Round 3 Heat 10. Burrow will fight to continue his run at the final Championship Tour event of his career.
The all-Brazilian heat will witness 2015 WSL Rookie of the Year Italo Ferreira (BRA)surf against Jadson Andre (BRA) in Round 3 Heat 7.
With only two rookies left in the draw, both will battle to stay in the event as well as strengthen their Rookie of the Year campaign. Kanoa Igarashi (USA), 2016 WSL Rookie, will battle Michel Bourez (PYF) in Round 3 Heat 2. Fellow rookie Conner Coffin (USA) will face Wiggolly Dantas (BRA) in Heat 5.
Up first will be former event winner and 2014 WSL Champion Gabriel Medina (BRA)against Matt Banting (AUS) in the opening heat of Round 3.
The event is also being carried by the WSL's LIVE broadcast partners Fox Sports Australia, CBS Sports in the United States, ESPN Brasil, Globosat, Edgesport, Sky NZ, Sport TV, Canal + Deportes, Channel Nine, MCS, Starhub, and Oceanic Time Warner Cable 250 & 1250 in Hawaii.
Fiji Pro Round 3 Match-Ups:
Heat 1: Gabriel Medina (BRA) vs. Matt Banting (AUS)
Heat 2: Michel Bourez (PYF) vs. Kanoa Igarashi (USA)
Heat 3: Filipe Toledo (BRA) vs. Dusty Payne (HAW)
Heat 4: Jordy Smith (ZAF) vs. Kelly Slater (USA)
Heat 5: Wiggolly Dantas (BRA) vs. Conner Coffin (USA)
Heat 6: Adriano de Souza (BRA) vs. Keanu Asing (HAW)
Heat 7: Italo Ferreira (BRA) vs. Jadson Andre (BRA)
Heat 8: Jeremy Flores (FRA) vs. Josh Kerr (AUS)
Heat 9: Mick Fanning (AUS) vs. Adam Melling (AUS)
Heat 10: John John Florence (HAW) vs. Taj Burrow (AUS)
Heat 11: Adrian Buchan (AUS) vs. Miguel Pupo (BRA)
Heat 12: Matt Wilkinson (AUS) vs. Alejo Muniz (BRA)
For more information, check out WorldSurfLeague.com