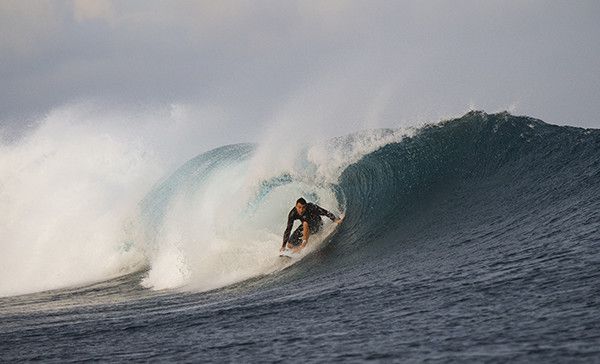 Small clean, surf but very doable for early rounds. Joel Parkinson (AUS), pictured during a freesurf, will face Italo Ferreira (BRA) and Fredrick Patacchia (HAW) in the closing heat of Round 1. Image: WSL / Kirstin
| | |
| --- | --- |
| Location:    | Tavarua, Fiji |
| Holding period: | June 7 – 19, 2015 |
| Call: | Called ON for Round 1 |
| Conditions: | Building 3′ – 5′ faces |
TAVARUA, Fiji (Friday, June 12, 2015) – The Fiji Pro, stop No. 5 on the 2015 Samsung Galaxy WSL Championship Tour, will get underway today in building three-to-five foot surf at Cloudbreak. Round 1 has been called on starting at 9:45 a.m. local time with 35 minute heats.
"We have good news today," Renato Hickle, WSL Deputy Commissioner, said. "Conditions have improved and the Fiji Pro will get underway at 9:45 a.m. local time with 35 minute heats for Round 1."
First to compete will be Kelly Slater (USA) against Kolohe Andino (USA) and Alejo Muniz (BRA) in the opening heat of Round 1.
A medium to fairly solid SW swell will build through Friday, continue Saturday and will get reinforcements through Sunday morning. Confidence is increasing that a larger and solid SSW swell will build in for Mon/Tue. Wind conditions will need to be monitored carefully in the next few days; mornings generally look favorable, although we may see less than ideal wind for some of the afternoons. Surfline.
The Fiji Pro will be webcast LIVE HERE
The world's best surfing will also be broadcast LIVE on Fox Sports in Australia, MCS Extreme in France, EDGE Sports in China, South Korea, Malaysia and other territories and on Globo TV  in Brazil.
Fiji Pro Round 1 Match-Ups: Heat 1: Kelly Slater (USA), Kolohe Andino (USA), Alejo Muniz (BRA)
Heat 2: Taj Burrow (AUS), Matt Banting (AUS), Aritz Aranburu (ESP)
Heat 3: Josh Kerr (AUS), Wiggolly Dantas (BRA), Jay Davies (AUS)
Heat 4: Filipe Toledo (BRA), Adrian Buchan (AUS), Dane Reynolds (USA)
Heat 5: Mick Fanning (AUS), Ricardo Christie (NZL), Aca Ravulo (FJI)
Heat 6: Adriano de Souza (BRA), Kai Otton (AUS), Inia Nakalevu (FJI)
Heat 7: Gabriel Medina (BRA), Jeremy Flores (FRA), C.J. Hobgood (USA)
Heat 8: Owen Wright (AUS), Sebastian Zietz (HAW), Dusty Payne (HAW)
Heat 9: Nat Young (USA), Miguel Pupo (BRA), Glenn Hall (IRL)
Heat 10: Julian Wilson (AUS), Jadson Andre (BRA), Adam Melling (AUS)
Heat 11: Bede Durbidge (AUS), Matt Wilkinson (AUS), Keanu Asing (HAW)
Heat 12: Joel Parkinson (AUS), Italo Ferreira (BRA), Fredrick Patacchia (HAW)