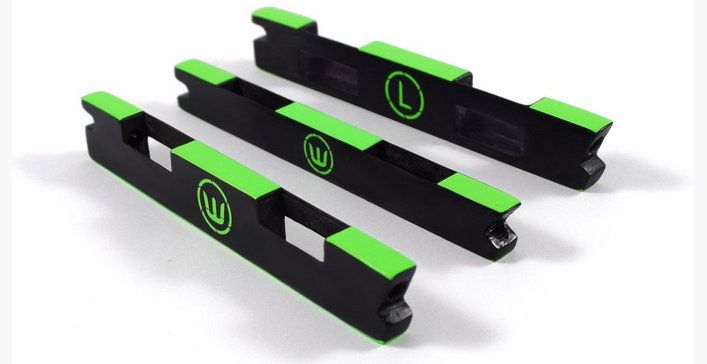 Fins are expensive. So, WildCard fin adapter makes twin tab fins compatible with single tab fin system.
Surf News Network, 20 April, 2017.
The California company launched a fin adapter allowing the use of FCS II fins in Futures Fins box systems.
The idea being consumers will be able to purchase boards with Futures-type fin boxes but still use any FCS-type fin, not having to buy new fins.
"We noticed a problem with the plethora of fins and the incompatible fin systems in our quiver," said Julian at Wasabisurf. "We've created a two-tab to one-tab fin adapter constructed with ultra lightweight carbon fiber that allows FCS-type fins to be compatible with Futures-type fin boxes."
The adapters are fabricated with a carbon finer composite construction. Each device has unique geometry cants that tilt at 4-to-5 degrees. Center adapters are designed shallower (1/2″ base depth) to fit typical rear (or center) Futures compatible fin boxes.
According to the company website the 3-step process for converting FCS II to a Futures system is as follows:
1.    Insert FCS type fin into its corresponding WildCard Fin Adapter (Left, Right and Center/Rear).
2.    Secure FCS type fin to the WildCard Fin Adapter using the provided stainless-steel set screws.
3.    Insert the adapter and fin assembly into the corresponding Futures type fin box (Left, Right and Center/Rear) and then secure the assembly with the fin-box set screw.