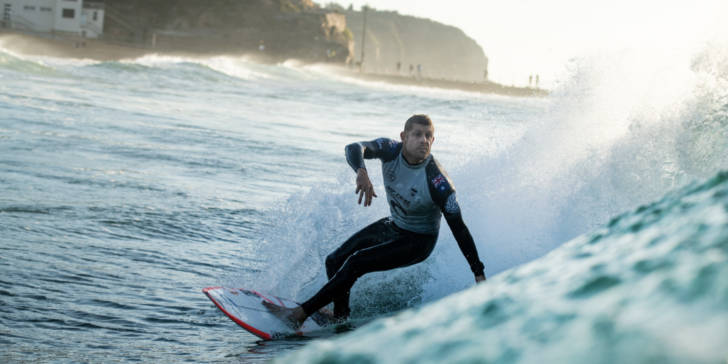 Italo Ferreira Ends Mick Fanning's Run at Narrabeen

Event Wildcard Laura Enever and Rookie Isabella Nichols Eliminated in Round 2

Johanne Defay Drops Highest Heat Total of Event
Front page: Three-time World Champion Mick Fanning (AUS) was unable to overcome current World No. 1 Italo Ferreira (BRA) and was eliminated in Heat 9 of the Round of 16 at the Rip Curl Narrabeen Classic pres. by Corona. Credit: © WSL / Dunbar
NARRABEEN, New South Wales, Australia (Sunday, April 18, 2021) – The Rip Curl Narrabeen Classic presented by Corona, the third stop on the World Surf League (WSL) 2021 Championship Tour (CT), saw big names eliminated from the draw following the completion of the men's and women's Elimination Rounds and the first 12 heats of the men's Round of 16. Three-time World Champion Mick Fanning (AUS) was eliminated alongside event wildcards Laura Enever (AUS) and Dylan Moffat (AUS), and Olympic qualifiers Owen Wright (AUS) and Julian Wilson (AUS).
Ferreira Ends Fanning's Run at Narrabeen
Italo Ferreira (BRA) continued his dominance on his way to the Rip Curl WSL Finals, today eliminating three-time World Champion Mick Fanning (AUS) in Heat 9 of the Round of 32. Fanning's final heat before retiring in 2018 was the Rip Curl Pro Bells Beach Final against Ferreira. In a deja vu rematch of that heat, the Brazilian defeated the surfing icon once again.
"That was a special heat to surf with Mick (Fanning)," Ferreira said. "I always knew it was going to be a big challenge surfing against him, so I'm so happy to get two good waves early in the matchup. I do try hard not to think about who I'm surfing against, I just go out and do my job and catch my waves. I'm feeling super confident right now, so I just want to keep going and continue my roll."
Two-time World Champions Florence and Medina Advance to Round of 16
John John Florence (HAW) has already improved an equal 17th place finish from Newcastle after he took down an in-form Miguel Pupo (BRA) in Heat 4 of the Round of 32. Two-time WSL Champion Florence was able to find a couple of bigger right-handers to display his smooth and powerful frontside rail game and progress into the Round of 16. He will match up again with CT rookie Morgan Cibilic (AUS). Cibilic continues to find success on the Australian leg, this time with a win over Julian Wilson (AUS) in Heat 8.
"Getting out of that third round is definitely a plus and settles the nerves for sure," Florence said. "After Newcastle, I thought my boards felt good and my surfing was there, but my wave choice wasn't great so that was definitely a focus for me coming here and it seemed to be better just then. I've changed my equipment for that heat and it all worked well."
Two-time WSL Champion Gabriel Medina (BRA) took down local wildcard Dylan Moffat (AUS) in Heat 5. The Brazilian eliminated the local with only an 11.17 two-wave score (out of a possible 20) to Moffat's 8.57, leaving the door open for Moffat to strike back. The Australian only needed a 6.27 but was unable to find the scoring wave in the dying minutes of the heat. Moffat exits his career-first CT event in equal 17th place.
"I'm feeling good and definitely happy there are good waves today," Medina said. "It was a bit of a slow heat for me, which was a shame as I wish there was more opportunity but a win is a win and that's what matters most. I had never heard about Dylan (Moffat) before this heat and then when I saw him and realized he is a great surfer and will probably be with us on the CT one day and I told him that. I'm happy with my performance because I had minimal opportunities, but when they came, I took them."
Defay Drops Highest Heat Total of Event, Wildcard Enever and Rookie Nichols Eliminated in Round 2
Johanne Defay (FRA) showcased incredible surfing in Newcastle last week, and today continued her strong form with an excellent 16.66 two-wave score (out of a possible 20), the highest combined score of the event so far. Her win gave her a comfortable lead over competitors Brisa Hennessy (CRI) and CT rookie Isabella Nichols (AUS).
"I really wanted to win that heat," Defay said.  "There is a big difference between trying to not lose a heat or to straight out win a heat. Before that three-person heat, I was really keen to win and not just make it through. I was excited to be coming to a place like North Narrabeen because I love to go left and feel really comfortable on my backhand. Although there was a mixture of left and right-hand waves I was able to find two of the better lefts, which felt great."
After a dream run in Newcastle, Nichols faced early elimination from Narrabeen in equal 17th place. Hennessy knocked out Nichols with only a 9.87 two-wave score (out of a possible 20). Hennessy will now take on four-time World Champion Carissa Moore (HAW) in Heat 1 of the Round of 16.
Event wildcard Laura Enever (AUS) also faced early elimination in Round 2, falling to Tatiana Weston-Webb (BRA) by only 0.02 points. In the same heat, Tyler Wright (AUS) bounced back from her opening heat loss with a win that advances her to the Round of 16 where she will face Defay.
Watch LIVE
The Rip Curl Narrabeen Classic pres. by Corona opens April 16 and holds a competition window through April 26. The event will be broadcast LIVE on WorldSurfLeague.com and the free WSL app. Also, check local listings for coverage from the WSL's broadcast partners. Event organizers will reconvene tomorrow at 6:45 a.m. AEST to reassess the conditions and make the next call. 

For fans wishing to attend the event in person, event entry will be first-come, first-serve starting at 7:00 a.m. AEST on each 'on' day of competition. The venue capacity will be limited to a maximum of 5,000 people at one time, adhering closely to NSW state government guidelines. This capacity limit is subject to change each day due to beach size changing with tides and swell size. To learn more, please check out the WSL's event guide for more information and FAQs.
The Rip Curl Narrabeen Classic pres. by Corona is proudly supported by our partners Rip Curl, Corona, the NSW Government's tourism and major events agency Destination NSW, Northern Beaches Council, Red Bull, Oakley, Hydro Flask, Harvey Norman, Bonsoy, Boost Mobile, Dometic Outdoor, Bond University, BF Goodrich, and Oakberry. 
Rip Curl Narrabeen Classic Men's Elimination Round 2 Results:
HEAT 1: Jeremy Flores (FRA) 10.84 DEF. Mick Fanning (AUS) 10.27, Connor O'Leary (AUS) 4.60
HEAT 2: Jack Freestone (AUS) 12.24 DEF. Dylan Moffat (AUS) 11.90, Leonardo Fioravanti (ITA) 9.57
HEAT 3: Caio Ibelli (BRA) 9.97 DEF. Mikey Wright (AUS) 9.94, Matthew McGillivray (ZAF) 7.70
HEAT 4: Alex Ribeiro (BRA) 10.66 DEF. Conner Coffin (USA) 8.60, Adrian Buchan (AUS) 5.20

Rip Curl Narrabeen Classic Men's Round of 32 (H1-12) Results:
HEAT 1: Filipe Toledo (BRA) 9.63 DEF. Mikey Wright (AUS) 4.33
HEAT 2: Frederico Morais (PRT) 9.83 DEF. Michel Bourez (FRA) 6.94
HEAT 3: Ethan Ewing (AUS) 13.10 DEF. Owen Wright (AUS) 11.83
HEAT 4: Jadson Andre (BRA) 11.66 DEF. Jack Freestone (AUS) 10.07
HEAT 5: Gabriel Medina (BRA) 11.17 DEF. Dylan Moffat (AUS) 8.57
HEAT 6: Caio Ibelli (BRA) 11.17 DEF. Seth Moniz (HAW) 9.60
HEAT 7: John John Florence (HAW) 11.10 DEF. Miguel Pupo (BRA) 9.56
HEAT 8: Morgan Cibilic (AUS) 10.67 DEF. Julian Wilson (AUS) 7.43
HEAT 9: Italo Ferreira (BRA) 13.00 DEF. Mick Fanning (AUS) 9.33
HEAT 10: Conner Coffin (USA) 9.60 DEF. Wade Carmichael (AUS) 9.43

Rip Curl Narrabeen Classic Men's Remaining Round of 32 (H13-16) Matchups:
HEAT 13: Jordy Smith (ZAF) vs. Alex Ribeiro (BRA)
HEAT 14: Yago Dora (BRA) vs. Peterson Crisanto (BRA)
HEAT 15: Griffin Colapinto (USA) vs. Adriano de Souza (BRA)
HEAT 16: Ryan Callinan (AUS) vs. Reef Heazlewood (AUS)

Rip Curl Narrabeen Classic Women's Elimination Round 2 Results:
HEAT 1: Tyler Wright (AUS) 9.10 DEF. Tatiana Weston-Webb (BRA) 8.96, Laura Enever (AUS) 8.94
HEAT 2: Johanne Defay (FRA) 16.66 DEF. Brisa Hennessy (CRI) 10.64, Isabella Nichols (AUS) 8.70

Rip Curl Narrabeen Classic Women's Round of 16 Matchups:
HEAT 1: Carissa Moore (HAW) vs. Brisa Hennessy (CRI)
HEAT 2: Malia Manuel (HAW) vs. Keely Andrew (AUS)
HEAT 3: Sally Fitzgibbons (AUS) vs. Macy Callaghan (AUS)
HEAT 4: Tatiana Weston-Webb (BRA) vs. Nikki Van Dijk (AUS)
HEAT 5: Caroline Marks (USA) vs. Amuro Tsuzuki (JPN)
HEAT 6: Johanne Defay (FRA) vs. Tyler Wright (AUS)
HEAT 7: Stephanie Gilmore (AUS) vs. Sage Erickson (USA)
HEAT 8: Courtney Conlogue (USA) vs. Bronte Macaulay (AUS)