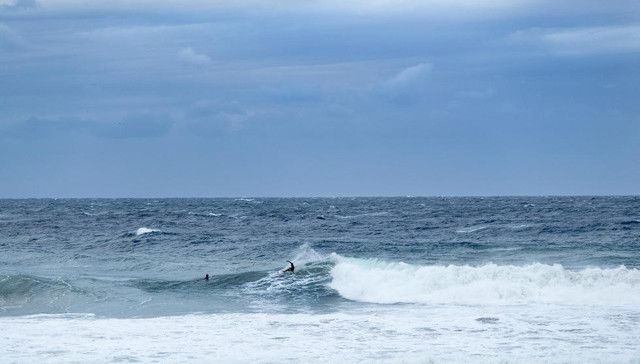 Stormy surf sets up quarter-final clashes…
Ballito Pro & Ballito Women's Pro
Presented by Billabong
World Surf League QS10,000 Men's rated event
World Surf League QS1,000 Women's rated event
Willard Beach, Ballito, KwaDukuza, South Africa
27 June  – 3 July, 2016
Surf Forecast to Improve for Final Day of Ballito Pro on Sunday
Surf News Network 3 July, 2016 – An overnight storm producing windswept 2m – 2.5m waves tested the ability of last 16 surfers in the Ballito Pro presented by Billabong at Willard Beach on Saturday and set up a quartet of classic quarter-final clashes to start the final day on Sunday.
Experience and youthful enthusiasm triumphed in equal measure as the first QS10,000 rated event of the year reached the business end, pitting battle hardened campaigners against rising stars with coveted ranking points and a US $40,000 (about R600,000) winner's paycheque at stake.
Jeremy Flores (FRA), in his 10th season among the elite top 34 surfers Samsung Galaxy WSL Championship Tout (CT) took on Brazilian standout Michael Rodrigues in the first heat of the day with jetskis being used to ferry the surfers out to the lineup after every ride. Flores, who has won events at the iconic surf breaks of Pipeline in Hawaii and Teahupo'o in Tahiti, trailed Rodrigues before posting rides of 8.67 and 7.90 to snatch a deserved but narrow victory in the 35 minute encounter.
"It's always tricky to be in the first heat because you never know what to expect, based on the conditions and the scale that the judges are using,' said Flores. "We finally got some real waves and I was just happy to throw bigger lines and fortunately I got through because Michael Rodrigues is a really good surfer."
Flores will face off with another high-flying Brazilian in the quarters after Krystian Kymerson racked up a heat tally of 14.50 to leave compatriot Deivid Silva in combination situation and needing to replace both his scores in their duel.
The highly anticipated clash between South Africans Jordy Smith, the event top seed and world No. 10, and hometown hero Beyrick de Vries, lived up to expectations with a high-scoring display of power surfing that had the packed gallery hooting.
Smith struck the opening blow with a mid-range score, but de Vries answered with an outstanding ride on one of the biggest waves of the day, earning the highest single ride score of the event, a near-perfect 9.67 out of 10. Not to be outdone, Smith swooped into a set wave, carved off the top and then pulled into, and emerged from, a deep tube ride and finished with critical re-entry to post a 9.63, the third highest score of the event.
Displaying steely nerves and great wave selection, de Vries added another excellent range score of 8.0 on his next ride, leaving South Africa's only CT campaigner needing an 8.11 to advance. And Smith came really close with his next ride, but only received 7.60 from the judges and de Vries saw out the rest of the heat and moved into the last eight.
"It was just really fun and this board that I've got from Hurricane ended up doing really well," said de Vries. "I saw Jordy's wave and saw it barrelling and I thought he had me, but I'm stoked he didn't . And then after my second one he needed an 8.1 and he can do that easily. I held priority for the last 5 minutes so I surfed the heat I wanted to surf and got the scores I wanted to get."
In the quarters De Vries will be up against Joan Duru (FRA) who produced a superlative performance to oust exciting young Australian Cooper Chapman from the event. The consistent Frenchman counted a 9.67 and an 8.33 for a heat total of 18.0 out of 20, throwing away a pair of seven point rides to move into the quarters.
The bottom half of the draw saw Ezekiel Lau, the lone Hawaiian left in the event, emerge victorious in a tightly contested heat over Stu Kennedy (AUS) to set up a last eight match-up against CT rookie Jack Freestone (AUS) who defeated Bino Lopes (BRA).
"I'm really happy because this will it'll be my best finish so far this year," said Lau. "I'm definitely excited for the next round, and I'll have to be a little more sharp coming up against someone more experienced so I have make sure that I don't make mistakes and stick to the game plan."
The last quarter-final will feature Australians Connor O'Leary, who eliminated last year's Ballito Pro runner-up Davey Cathels (AUS), and exciting rising star Ethan Ewing whose 9.07 point score was the difference between advancing and going home when he took on current QS rankings leader Leonardo Fioravanti (ITA).
The Italian prodigy will retain his ranking lead no matter who wins the Ballito Pro and will be going on to ride some waves in Jeffreys Bay after the event.
Organisers will meet will meet at 7am local time on Sunday to decide on what time to get the final series of heats underway
Highlights from today's action will be found at www.worldsurfleague.com
Ballito Pro presented by Billabong Round of 16 Results
Heat1. Jeremy Flores (FRA) 16.57 def. Michael Rodrigues (BRA) 15.76
Heat2. Krystian Kymerson (BRA) 14.50 def. Deivid Silva (BRA) 7.94
Heat3. Beyrick De Vries (ZAF) 17.73 def. Jordy Smith (ZAF) 17.23
Heat4. Joan Duru (FRA) 18.00 def. Cooper Chapman (AUS) 16.94
Heat5. Ezekiel Lau (HAW) 12.57 def. Stu Kennedy (AUS) 12.27
Heat6. Jack Freestone (AUS) 18.23 def. Bino Lopez (BRA) 10.13
Heat7. Connor O'Leary (AUS) 12.40 def. Davey Cathels (AUS) 12.33
Heat8. Ethan Ewing (AUS) 14.77 def. Leonardo Fioravanti (ITA) 13.40
Ballito Pro presented by Billabong Upcoming Quarter Final Heats
Quarter1. Jeremy Flores (FRA) vs. Krystian Kymerson (BRA)
Quarter2. Beyrick De Vries (ZAF) vs. Joan Duru (FRA)
Quarter3. Ezekiel Lau (HAW) vs. Jack Freestone (AUS)
Quarter4. Connor O'Leary (AUS) vs. Ethan Ewing (AUS)
While the surfers ride the waves, the Ballito Pro Festival is set to turn up the heat in KwaDukuza by offering the best in beach, music and sports entertainment. Locals and holiday-makers will be spoilt for choice with the week-long festival featuring the 'Fire up your stoke: Night of food & wine', an extreme sports programme and an exciting retail area, while the Five Star Ballito Pro Free Music Concerts powered by 5FM bring some of South Africa's most talented music acts to the stage in Salt Rock.
See more information at www.theballitopro.co.za
The Ballito Pro presented by Billabong is proudly supported by the KwaDukuza Municipality, Billabong, 5FM, Monster Energy, Zigzag Surfing Magazine, World Surf League (WSL) and Surfing South Africa (SSA).