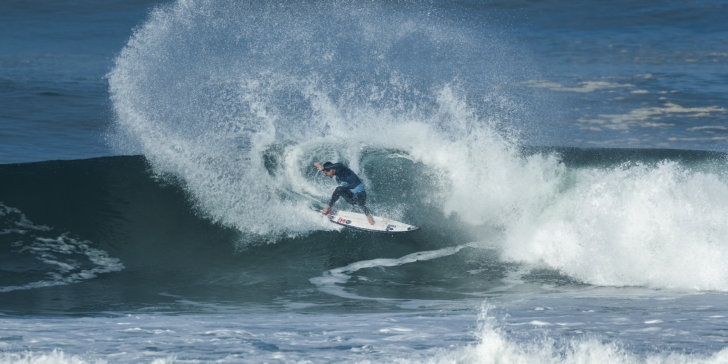 – QUIKSILVER PRO OPENS WITH BIG MATCHUPS
– VAN DIJK, ERICKSON, AND ADO ELIMINATED FROM ROXY PRO FRANCE
Front Cover Credit and all photos  © WSL / Poullenot
| | |
| --- | --- |
| Location:    |    Seignosse/Hossegor/Capbreton, Landes, Nouvelle-Aquitaine, France |
| Event window: |    October 3 – 14, 2018 |
| Today's Call: |    Roxy Pro Round 2, Men's Rounds 1 & 2 (H1-2) complete |
| Conditions: |    Building 4 – 6 foot (1.2 – 1.8 metre) |
PLAGE DES CULS NUS – Hossegor, Landes, Nouvelle-Aquitaine, France (Tuesday, October 9, 2018) – The Roxy Pro and Quiksilver Pro France, Stop No. 9 on the World Surf League (WSL) Championship Tour (CT), continued today in ideal four-to-six foot (1.2 – 1.8 metre) conditions at Plage des Culs Nus. The women kicked off the morning to complete Round 2 and narrow the field from 18 to 12. After waiting a week to get the Quiksilver Pro started, the men did not disappoint in the building conditions to complete Rounds 1 and the first two heats of Round 2.
World No. 3 Julian Wilson (AUS) and No. 4 Italo Ferreira (BRA) scored some of the biggest numbers in the men's opening round. Wilson put together a dreamy French combination, starting with a long and deep barrel, followed by an alley-oop and finishing with a big snap to round up the wave for an 8.50 (out of a possible 10) and the win.

Julian needs this contest for his Title to stay alive.
Current World No. 3 Julian Wilson (AUS) is off to a strong start at the Quiksilver Pro France with a win over Frederico Morais (PRT) and Wiggolly Dantas (BRA) in Round 1 Heat 4.
"I knew there were opportunities out there and that I'd be able to roll the dice quite a few times," Wilson explained. "That first wave was probably the best one I rode in the heat and I probably did my best surfing on it as well so it's nice to get rewarded for it. Being a parent is the most amazing and most challenging thing in the world, but it's so beautiful to have my family here. I'm happy to put on a good performance because there have been some challenging days."
Ferreira stuck to the wave face and destroyed a big right on his backhand with two highly critical turns in the lip for a 7.00. He backed it up with a longer but softer wave for a 6.40 to advance into Round 3 as well and send Keanu Asing (HAW) and Yago Dora (BRA) into the elimination Round 2.

Keanu couldn't jump past the dreaded R2.
"Today is so beautiful," Ferreira stated. "I woke up early and surfed before the sun came out, and when it did the day was incredible and the waves were pumping. There are a lot of peaks and a lot of waves, so I just tried to catch the good ones and I'm happy to be in the next round."
The World Title race came into play with Heats 5 and 6 with the two current frontrunners Gabriel Medina (BRA) and Filipe Toledo (BRA). Medina faced Tomas Hermes (BRA) and replacement wildcard Ryan Callinan (AUS), who found a long barrel on his backhand for a 6.83, the heat's highest single score. Medina fought back with backhand turns on the rights as well and managed to build an 11.93 heat total (out of a possible 20) to skip Round  2.

Note Medina's 2 stage spray…reaching over 10′ overhead.
"It was really hard out there and I struggled to find some wall to do my turns," Medina said. "I love surfing in France, it's very similar as where I grew up and surfed all my life. There are still three events to go and Filipe (Toledo) and I are pretty close now. I'm focused on my own thing. I know if I can do as well as I've done in the last two events I could win that title, so I'll do my best."
In the following heat, Jeep Frontrunner Toledo couldn't find the right waves and faced tough competition in Connor O'Leary (AUS) and local wildcard Jorgann Couzinet (FRA). In a low-scoring affair, O'Leary found two average waves and walked away with the win, sending the current World No. 1 into a deadly matchup in Round 2 against Couzinet.
Toledo did not let the pressure of the situation get to him and in the opening heat of Round 2 against the French wildcard. The Brasilian stepped into the next gear to post a 15.84 win to save himself and advance into Round 3.
"I didn't feel any stress at all, I just couldn't find my feet on a right wave before," Toledo said. "I had a couple of Round 2 heats this year and still ended up in Finals Day so I know anything is possible. The waves were super fun and I'm stoked to be into Round 3. Good surfing and big scores definitely give me more momentum and confidence."
The opening heat of the Quiksilver Pro France featured power surfers Jordy Smith (ZAF), Ezekiel Lau (HAW), and Matt Wilkinson (AUS). After a few opening low scores, Smith was the first to strike with a quick barrel on a right and a full rotation as he exited for a near-excellent score of 7.83. Lau answered with two similar waves: two rights where he got fully covered before laying into a big forehand gauge, to put two good scores on the board and claim the lead. But in the dying moments, the South African found a deep backhand barrel on a slightly smaller wave to post the winning ride advance in first.

No one ever doubted Lau's power…and no one ever will.
"When you see such a good wave come your way with only a minute to go you almost believe it's happened before you even go," Smith said. "It's hard enough to find a good wave like that out there but it just pops out when you need it it's a pretty good feeling. This puts me into Round 3, is always good but for the most part, it just gives me a bit of confidence. "
2017 event runner-up Sebastian Zietz (HAW) is off to a strong start after winning his first heat against Owen Wright (AUS) and local favorite Joan Duru (FRA). Adriano de Souza (BRA), Adrian Buchan (AUS) and Patrick Gudauskas (USA) all put together convincing efforts to win their opening round matchups with scoreboards above 13 points.
The competition went on hold for an hour nearing high-tide as the judges moved up north along the beach to set up in front of a pumping A-Frame that offered more opportunities. When the event got back underway, Griffin Colapinto (USA) and Mikey Wright (AUS) found long lefts to attack backside in Heats 10 and 11 to advance into Round  3.
2012 WSL Champion Joel Parkinson (AUS) in his last Quiksilver Pro France effort had to deal with a slightly slower lineup but managed to link together a couple of decent rides to take a Round 1 win and send event favorite Jeremy Flores (FRA) as well as Willian Cardoso (BRA)into the elimination Round 2.

Joel floats into 3rd round
"It's awesome being here with my family," Parkinson said. "They've been good caddies today and I've done alright considering I had a shocker on a good wave. It's amazing to be back, it feels like a victory lap an I'm glad the waves are pumping. I had a two-hour free surf this morning and had a smile on my face ever since. Regardless of the result, it's going to be an enjoyable event."
Ryan Callinan (AUS) blew up in the very last heat of the day right before sunset and put together the day's most inspired performance to eliminate Owen Wright (AUS) with an amazing 16.10 heat total. The former Championship Tour surfer, who claimed a wildcard spot by being the highest surfer on the Qualifying Series coming into France, will soon be a full-time surfer within the Elite Top 34 again and can gain valuable jersey-time in Hossegor this week.
The remaining three heats of the Roxy Pro France's Round 2 were completed prior to the men's opening round. Top seeds Sally Fitzgibbons (AUS) and Courtney Conlogue (USA) advanced into Round 3 past Pauline Ado (FRA) and Sage Erickson (USA),  respectively. Injury replacement Macy Callaghan (AUS) narrowly defeated World No. 8 Nikki Van Dijk (AUS) in a tight battle for first place and made her way into Round 3 for the second time this season.
"This year has been made of a lot of learning curves for sure," Callaghan said. "But it's been really fun. I'm traveling with a great bunch of people, and I feel like I'm learning a lot. This was a scrappy heat and a hard one with Nikki (Van Dijk). I don't think I've put my best surfing on but I'm glad that I made it."
The women's Roxy Pro heat draw is now set for Round 3. Round 3 will mark the first elimination heats for World No. 1 Stephanie Gilmore (AUS) and World No. 2 Lakey Peterson (USA). With a World Title on the line in France, both surfers need to dodge early exits. For Gilmore, losing before the Semifinals means she will be unable to clinch the World Title early. For Peterson, she will need to finish ahead of Gilmore in order to push the race to the last stop on the WSL Tour, the Beachwaver Maui Pro.
The World Title scenarios are as follows:
*- Gilmore is the only surfer who can clinch the title at the Roxy Pro France
– If Gilmore wins the event, she takes the title
– If Peterson wins the event the title goes to Maui
– If Gilmore finishes 2nd (runner-up) and Peterson finishes 3rd or below, Gilmore wins the title
– If Gilmore finishes 3rd (Semifinalist) and Peterson finishes 5th or below, Gilmore below the title. If Peterson finishes 3rd or better the title goes to Beachwaver Maui Pro for a potential surf off
– If Gilmore finishes 5th or below, the title goes to Beachwaver Maui Pro*
Event organizers will reconvene tomorrow morning at 7:45 a.m. CEST to reassess the conditions and make the next call.
Surfline, forecast partner of the WSL, is calling for:
New, mid period and medium size NW swell will build through the day on Tuesday and hold Wednesday before trending down Thursday. Wind looks favorable all day Tuesday and for the first half of Wednesday, with less favorable conditions Wednesday afternoon and Thursday.  Another mid-size WNW swell is possible Friday, with larger surf over the weekend
The Quiksilver and Roxy Pro France will be broadcast LIVE on WorldSurfLeague.com and the WSL's Facebook page. Also, check local listings for coverage from the WSL's broadcast partners.
Local fans will be able to follow the event LIVE on a big screen on the Central square in Hossegor and enjoy movie screenings and music acts in various places during the event's waiting period.
Roxy Pro France Remaining Round 2 (H4-6) Results:
Heat 4: Sally Fitzgibbons (AUS) 12.93 def. Pauline Ado (FRA) 6.54
Heat 5: Macy Callaghan (AUS) 8.43 def. Nikki Van Dijk (AUS) 8.30
Heat 6: Courtney Conlogue (USA) 10.20 def. Sage Erickson (USA) 8.80
Roxy Pro France Round 3 Matchups:
Heat 1: Carissa Moore (HAW), Johanne Defay (FRA), Vahine Fierro (PYF)
Heat 2: Stephanie Gilmore (AUS), Malia Manuel (HAW), Courtney Conlogue (USA)
Heat 3: Lakey Peterson (USA), Coco Ho (HAW), Bronte Macaulay (AUS)
Heat 4: Tatiana Weston-Webb (BRA), Sally Fitzgibbons (AUS), Macy Callaghan (AUS)
Quiksilver Pro France Round 1 Results:
Heat 1: Jordy Smith (ZAF) 13.86, Ezekiel Lau (HAW) 13.33, Matt Wilkinson (AUS) 11.07
Heat 2: Sebastian Zietz (HAW) 10.70, Owen Wright (AUS) 10.56, Joan Duru (FRA) 9.50
Heat 3: Italo Ferreira (BRA) 13.40, Keanu Asing (HAW) 10.70, Yago Dora (BRA) 4.57
Heat 4: Julian Wilson (AUS) 13.67, Frederico Morais (PRT) 10.46, Wiggolly Dantas (BRA) 7.74
Heat 5: Gabriel Medina (BRA) 11.93, Tomas Hermes (BRA) 11.26, Ryan Callinan (AUS) 10.33
Heat 6: Connor O'Leary (AUS) 10.17, Filipe Toledo (BRA) 9.10, Jorgann Couzinet (REU) 4.00
Heat 7: Adriano de Souza (BRA) 13.50, Miguel Pupo (BRA) 8.50, Wade Carmichael (AUS) 8.00
Heat 8: Adrian Buchan (AUS) 13.43, Ian Gouveia (BRA) 13.23, Kolohe Andino (USA) 9.97
Heat 9: Patrick Gudauskas (USA) 13.90, Kanoa Igarashi (JPN) 6.67, Michael Rodrigues (BRA) 1.50
Heat 10: Griffin Colapinto (USA) 14.24, Michel Bourez (PYF) 11.90, Jesse Mendes (BRA) 10.83
Heat 11: Mikey Wright (AUS) 15.30, Conner Coffin (USA) 13.73, Michael February (ZAF) 10.77
Heat 12: Joel Parkinson (AUS) 10.93, Willian Cardoso (BRA) 8.67, Jeremy Flores (FRA) 5.90
Quiksilver Pro France Round 2 (H1-2) Results 
Heat 1: Filipe Toledo (BRA) 15.84 def. Jorgann Couzinet (FRA) 7.77
Heat 2: Ryan Callinan (AUS) 16.10 def. Owen Wright (AUS) 12.17
Quiksilver Pro France Remaining Round 2 (H3-12) Matchups:
Heat 3: Wade Carmichael (AUS) vs. Wiggolly Dantas (BRA)
Heat 4: Kolohe Andino (USA) vs. Keanu Asing (HAW)
Heat 5: Kanoa Igarashi (JPN) vs. Joan Duru (FRA)
Heat 6: Michel Bourez (PYF) vs. Matt Wilkinson (AUS)
Heat 7: Willian Cardoso (BRA) vs. Miguel Pupo (BRA)
Heat 8: Jeremy Flores (FRA) vs. Ian Gouveia (BRA)
Heat 9: Conner Coffin (USA) vs. Jesse Mendes (BRA)
Heat 10: Michael Rodrigues (BRA) vs. Michael February (ZAF)
Heat 11: Ezekiel Lau (HAW) vs. Tomas Hermes (BRA)
Heat 12: Yago Dora (BRA) vs. Frederico Morais (PRT)