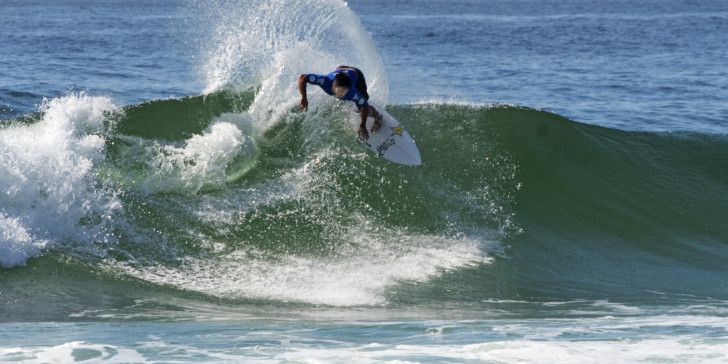 Hawaii's Keanu Asing on his way to winning his first ever Qualifying Series event, the  Komunity Project Great Lakes Pro. Pic: WSL/Bennett
| | |
| --- | --- |
| Location:    | Boomerang Beach, NSW, Australia  |
| Event: | Komunity Project Great Lakes Pro Pres. By Rockstar |
| Conditions:  | Pristine  3-to-4 foot plus |
Asing and Callaghan Take Out 2017 Komunity Project Great Lakes Pro pres. by Rockstar
Boomerang Beach, NSW/AUS (Saturday, February 11, 2017) –  Keanu Asing and Macy Callaghan have taken out the Komunity Project Great Lakes Pro presented by Rockstar. The pristine Boomerang beach produced perfect conditions all event and Finals Day was no exception with finalists being treated to super clean 3-to-4 foot perfect left and right-hand peaks.
The event couldn't have been scripted any better with Asing, The No. 1 seed coming up against Wade Carmichael the defending event champion in the Final. After falling off the elite Championship Tour (CT) at the end of last year, Asing is fired up to re-qualify in 2017. He has got it off to a great start at the Komunity Project Great Lakes Pro with some incredible surfing and high heat totals.
Asing's solid backhand snaps and huge fans of spray saw him post an excellent heat total of 18.73 (out of a possible 20). Although he fought till the end, this massive total proved too much for Carmichael leaving Asing to take his first ever Qualifying Series victory.
"This is my first ever QS win which is really cool," Asing said. "To come to Australia and start it off with a win is incredible. I'm looking forward to this year – I feel like I have a lot to prove after falling off tour so starting it with a win is awesome. The competitiveness of these guys in the lower rated events is gnarly. It's way tougher than at the top end, everyone is ruthless and wants to win – it's really cool. I'm really happy with this win and can't wait to come back next year."

Keanu Asing and Runner-up Wade Carmichael at the prize giving ceremony. Pic: WSL/Bennett
Carmichael came into the event as defending champion and was a standout all event in the solid waves that were dished up throughout the window. Chasing a solid score in the Final Carmichael posted a near perfect 9.13 (out of a possible 10) single wave score but couldn't find an equivalent backup. His performance throughout the event was commendable and he seemed over the moon about the empty waves he scored.
"Two years in a row the waves have been cooking here for this competition," Carmichael said. "I didn't find the waves I wanted in the end, but I'm just stoked to have made it to the final. Surfing with Keanu was sick, he was ripping all event and deserves the win. It's been a great week with pumping waves, you can't ask for more than that."

 Wade Carmichael throwing his weight around at Boomerang Beach. Pic: WSL/Bennett
The Women's Final was a familiar set of circumstances with Current World Junior Champion Macy Callaghan coming up against Newcastle ripper Philippa Anderson. In her sixth final for 2017, Callaghan looked unstoppable on the long walled-up left-handers, annihilating sections with her vertical backhand re-entries. She posted a near perfect 9.17 early and then backed it up with a 8.00. This wasn't as impressive as the 19.10 heat total she posted in the Semifinal, but it was enough to giver her fifth event win of the year.
"I'm so happy with this win it was such a great event," Callaghan said. "The waves were pumping the whole event, which was a nice change from some events earlier in the year. I feel like I'm having a lot more fun this year, the pressure is off me now and I'm really enjoying competing. It's been a great year – I just hope I can carry this form into the QS6,000 events as that's where I have to do well to Qualify for the CT which is my main aim."

Macy Callaghan has competed in 6 events in 2017 and made 6 Finals. She has won 5 of them.. Pic: WSL/Bennett
If winning this event on the Saturday wasn't enough, Callaghan jumped in the car to race down to Newcastle to defend her title at the NIB Pro Junior where she will compete in her opening heat this afternoon.
"The QS events are the most important to me but I still love doing the Junior events. I'm only sixteen so a lot of my friends compete at those events so I'm looking forward to getting to the NIB Pro Junior."

 Macy Callaghan and Philippa Anderson at the prize giving ceremony. Pic: WSL/Bennett
Anderson was disappointed at coming just short of the event win but is stoked to have a final under her belt as she prepares for the QS6,000 events and aims to Qualify for the 2018 Championship Tour.
"We don't often get pumping waves at events so we were really spoiled at this one," Anderson said. "I'm just stoked to make a final. Coming up against Macy is great. She is such an amazing competitor and surfer. I'm hoping I can use this momentum as I come into the 6000's. I need some solid results there if I want to Qualify next year and that is my aim."

 Philippa Anderson getting critical at Boomerang Beach during the Finals. Pic: WSL/Bennett
For more information head to http://worldsurfleague.us9.list-manage.com/track/click?u=9c75f4cf1e19118d57c2f963e&id=fcfc798e2a&e=feaa17d5da
The Vissla NSW Pro Surf Series was developed for Australian and International surfers to gain ranking points and prize money on the WSL Qualifying Series. The Series also creates a NSW coastal road trip for all to explore the variety of waves, visit local communities and enjoy NSW surfing culture.
The 2017Vissla NSW Pro Surf Series will be proudly supported by the NSW Government through its tourism and major events agency, Destination NSW. The series will also be proudly supported by Vissla, Randwick City Council, Central Coast Council, Destination Tweed, Mid Coast Council and Tourism, NBN, Toyota, Surfing Life Magazine, World Surf League and Surfing NSW.
#visslanswprosurfseries