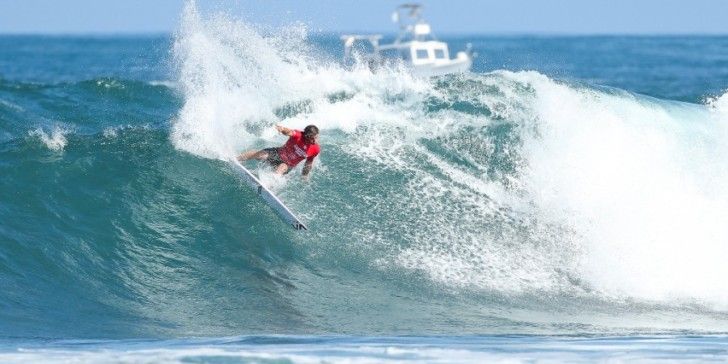 LAST UPDATE 11/13: ENERGY PULSES THROUGH NORTH SHORE ON OPENING DAY OF VANS TRIPLE CROWN HAWAIIAN PRO
Ricardo Christie (NZL) digs in for a 9.67 from the judges. Image: WSL / Cestari
| | |
| --- | --- |
| Event:    |     Hawaiian Pro, Men's QS10,000                                               |
| Location: |     Haleiwa Ali'i Beach, North Shore, Oahu     |
| Event Window: |     November 12 – 23 |
 Hawaii loses nearly 20 local talent in first round of 128.
HALEIWA, Oahu/Hawaii – (Saturday, November 12, 2016) – The Vans Triple Crown's rookie class of 2016 opened strong in the first day of competition at the Hawaiian Pro – stop one of the series and a World Surf League (WSL) Qualifying Series (QS) 10,000 event. Finn McGill, Keoni Yan, O'Neill Massin, and Taumata Puhetini, all members of the WSL Hawaii/Tahiti Nui region, led the charge. Wave face heights of 8-12 feet provided an energy-packed day of surfing that ultimately ended in exciting advancements and disappointing upsets.
McGill, 16, recently took fourth place in the HIC Pro at Sunset Beach, and qualified for the Vans Triple Crown after a busy year on the Qualifying Series (QS) and Junior QS. McGill finished second on the Regional rankings just last week and was eager to compete for the first time ever in the Hawaiian Pro at Haleiwa Ali'i Beach.
"I have been growing up surfing this whitewash since I was three years old," said McGill. "So stoked to be in the Triple Crown my first year and make my first heat. I was pretty nervous, I had some good guys in my heat."
McGill went up against seasoned pro Ricardo Christie (NZL), who dropped the highest single wave score of the day, a near-perfect 9.67; Nomme Mignot (FRA) and Kai Mana Henry (HAW). McGill and Henry went head to head earlier this year in the Final at the Rangiroa Open Pro in Tahiti, where Henry ultimately took the win.
"He beat me once so I had to get back at him," McGill joked in regards to advancing today ahead of Henry. "No, it's fun. I always see him out every day surfing on the North Shore. We always surf together. He knows my weaknesses and strengths and I know his so it's pretty funny."
O'Neill Massin (PYF) was one of three Tahitian surfers who advanced from Round One today after competing in an unusually quiet heat that included Marco Fernandez (BRA), Elijah Gates (HAW) and recent winner of the HIC Pro Mason Ho (HAW).
"The conditions are really fun, I'm cool with good waves," said Massin. "I feel I want to do other regional contests here in Hawaii and Tahiti. I hope to be in the 10,000s for next year and maybe qualify for the CT.
Taumata Puhetini (PYF) also advanced in first ahead of Maui's Tanner Hendrickson, who both caused an upset by taking out event defending winner Wade Carmichael (AUS). This is Puhetini's first time competing in a QS10,000 event and he arrived in Hawaii at the start of the big wave season to get in a little practice time.
"I managed to surf and find some good ones during the heat… Happy to make it through to the next round." Surfing a wave like Haleiwa is a plus for the Tahitian competitors as they have similar conditions back home. "We love surfing reef breaks and tube-riding, so yeah it's a good advantage for all the Tahitians," Puhetini finished.
France's Marc Lacomare ended the day with the highest heat total of the event so far, an 18.33. The powerful goofty-footer used priority and a progressive down-the-line approach on a 12-foot open wave face and scored a 9.40, then backed it up with an 8.93 on another set wave.
The competition ended today after Round Two Heat 2 and will resume with Deivid Silva (BRA), Mihimana Braye (PYF), Charles Martin (GLP) and Granger Larsen (HAW)hitting the water once the event resumes. Contest organizers will reconvene tomorrow morning to assess conditions and make a call by 7am HST.
The WSL Men's QS10,000 Hawaiian Pro is scheduled from November 12 – 23, 2016 and runs in conjunction with the Vans Triple Crown of Surfing specialty series along the North Shore of Oahu. For all results, photos, video highlights, press releases and LIVE webcast, log on to worldsurfleague.com or the WSL mobile app.
RESULTS
Surfers shown 1st through 4th, all athletes from Hawaii unless otherwise noted.
ROUND OF 96, 1st and 2nd advance, 3rd=65th place, 4th=81st place
H1: Gony Zubizarreta (ESP), David do Carmo (BRA), Jacob Willcox (AUS), Michael Rodrigues (BRA)
H2: Marc Lacomare (FRA), Mitch Crews (AUS), Mateia Hiquily (PFY), Nathan Yeomans (USA)
ROUND OF 128, 1st and 2nd advance, 3rd=97th place, 4th=113th place
H1: David do Carmo (BRA), Mateia Hiquily (PYF), Jamie O'Brien, Makuakai Rothman
H2: Marc Lacomare (FRA), Jacob Willcox (AUS), Jorgann Couzinet (REU), Christopher Bluthardt
H3: Charles Martin (GLP), Timothee Bisso (GLP), Olamana Eleogram, Kekoa Cazimero
H4: Samuel Pupo (BRA), Granger Larsen, Kevin Sullivan, Jack Robinson
H5: Ricardo Christie (NZL), Finn McGill, Nomme Mignot (FRA), Kai Mana Henry
H6: Robson Santos (BRA), Lucas Silveira (BRA), Kalani Ball (AUS), Kaimana Jaquias
H7: Heitor Alves (BRA), Hiroto Arai (JPN), Yadin Nicole (AUS), Myles Padaca
H8: Keoni Yan, Hiroto Ohhara (JPN), Matthew McGillivray (ZAF), Bruce Irons
H9: Marco Fernandez (BRA), O'Neill Massin (PYF), Elijah Gates, Mason Ho
H10: Vasco Ribeiro (PRT), Dimitri Ouvre (BLM), Noah Schweizer (USA), Turo Ariitu (PYF)
H11: Ian Crane (USA), Marco Giorgi (URY), Luel Felipe (BRA), Cody Young
H12: Noe Mar McGonagle (CRI), Michael Dunphy (USA), Noa Mizuno, Makai McNamara
H13: Taumata Puhetini (PYF), Tanner Hendrickson, Kaito Kino, Wade Carmichael (AUS)
H14: Aritz Aranburu (ESP), Shun Murakami (JPN), Koa Smith, Eala Stewart
H15: Diego Mignot (FRA), Tom Whitaker (AUS), Sunny Garcia, Thiago Camarao (BRA)
H16: Nathan Hedge (AUS), Seth Moniz, Billy Kemper, Kiron Jabour
About Vans
Vans®, a VF Corporation (NYSE: VFC) brand, is the original action sports footwear, apparel and accessories brand. Vans authentic collections are sold globally in more than 75 countries through a network of subsidiaries, distributors and international offices. Vans also owns and operates nearly 600 retail locations around the world. The Vans brand promotes the action sports lifestyle, youth culture and creative self-expression through the support of athletes, musicians and artists and through progressive events and platforms such as the Vans Triple Crown of Surfing®, the Vans U.S. Open of Surfing, Vans Pool Party, Vans Custom Culture, Vans Warped Tour®, and Vans' cultural hub and international music venue, the House of Vans.