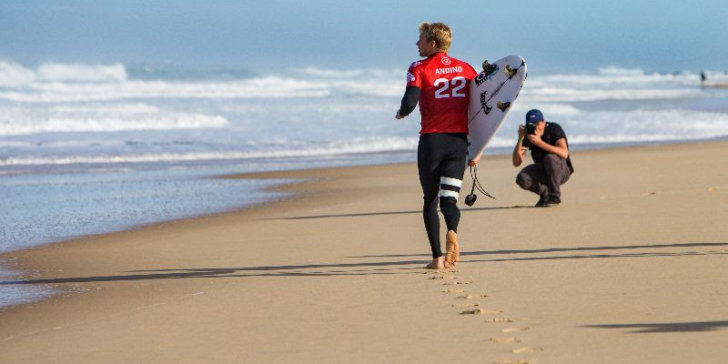 Men and Women's Elimination Rounds Called ON followed by Men's Round of 32
Red Bull Airborne on standby
Four-to-six foot plus surf on offer at La Graviere
Current No. 4 on the Jeep Leaderboard Kolohe Andino (USA) is first to compete today in the men's Elimination Round.
Credit: WSL/ Masurel
SEIGNOSSE / HOSSEGOR / CAPBRETON, Landes, Nouvelle-Aquitaine, France (Saturday, October 5, 2019) – The Quiksilver Pro and Roxy Pro France, the ninth stop on the men's and eighth stop on the women's 2019 World Surf League (WSL) Championship Tour (CT), have been called ON starting at 9:10 a.m. CEST. The men's Elimination Round (Round 2) will kick off the day and will be followed by the women's Elimination Round and the Men's Round of 32 (Round 3) in four-to-six foot plus (1.2 – 1.8 metre) waves at La Graviere. The Red Bull Airborne is on standby.
Up first this morning will be Kolohe Andino (USA), Jadson Andre (BRA) and Marco Mignot (FRA) fighting to avoid early elimination from the event. 7X World Champion Stephanie Gilmore (AUS) will take on Nikki Van Dijk (AUS) and Paige Hareb (NZL) when the women's Elimination Round gets underway.
The Quiksilver and Roxy Pro France will be broadcast LIVE on WorldSurfLeague.com, the WSL's Facebook page, and the WSL app. Also, check local listings for coverage from the WSL's broadcast partners.
Surfline forecast
SATURDAY 5th: Good size leftovers from Lorenzo. Ok wind in the morning. Likely run day.
SUNDAY 6th: Fun Lorenzo leftovers, new swell builds PM. Onshore wind. Likely off day.
MONDAY 7th: Midsize west-northwest swell peaks. Cooperative winds. Likely run day.
TUESDAY 8th: Midsize west-northwest swell overtaken by solid new swell. Probable run day.
WEDNESDAY 9th: Solid west-northwest swell and onshore wind. Likely off day.
Quiksilver Pro France Elimination Round (Round 2) Matchups:
HEAT 1: Kolohe Andino (USA) vs. Jadson Andre (BRA) vs. Marco Mignot (FRA)
HEAT 2: Michel Bourez (FRA) vs. Sebastian Zietz (HAW) vs. Marc Lacomare (FRA)
HEAT 3: Deivid Silva (BRA) vs. Caio Ibelli (BRA) vs. Soli Bailey (AUS)
HEAT 4: Wade Carmichael (AUS) vs. Conner Coffin (USA) vs. Ricardo Christie (NZL)
Roxy Pro France Elimination Round (Round 2) Matchups:
HEAT 1: Stephanie Gilmore (AUS) vs. Nikki Van Dijk (AUS) vs. Paige Hareb (NZL)
HEAT 2: Tatiana Weston-Webb (BRA) vs. Bronte Macaulay (AUS) vs. Silvana Lima (BRA)
Red Bull Airborne France Qualifying Round 1 Matchups:
HEAT 1: Julian Wilson, Eithan Osborne, Kalani David, Reef Heazlewood, Matt Meola, Albee Layer
HEAT 2: Noa Deane, Kevin Schultz, Griffin Colapinto, Ian Crane, Matt Banting, Nomme Mignot
HEAT 3: Chippa Wilson, Jack Freestone, Eric Gieselman, Finn Mcgill, Cam Richards, Maxime Huscenot
Red Bull Airborne France Qualifying Round 2 Matchups:
HEAT 1: Noa Deane, Jack Freestone, Eric Geiselman, Ian Crane, Matt Meola, Albee Layer
HEAT 2: Julian Wilson, Kevin Schultz, Finn Mcgill, Reef Heazlewood, Matt Banting, Maxime Huscenot
HEAT 3: Chippa Wilson, Eithan Osborne, Griffin Colapinto, Kalani David, Cam Richards, Nomme Mignot
About the WSL 
The World Surf League (WSL), established in 1976, is the enablement platform for surfing and surfers worldwide. The WSL is dedicated to changing the world through the inspirational power of surfing by creating authentic events, experiences, and storytelling to inspire a growing, global community to live with purpose, originality, and stoke.The WSL is a global organization, headquartered in Santa Monica and with regional offices in North America, Latin America, Asia Pacific, and EMEA. The WSL possesses a deep appreciation for the sport's rich heritage while promoting progression, innovation, and performance at the highest levels.The WSL is comprised of Tours & Events, celebrating the world's best surfers across all disciplines and annually running more than 180 global contests and crowning the undisputed World Champions across all divisions; WSL WaveCo, where innovation meets experience; and WSL Studios, which offers best in class storytelling across competition, lifestyle, and conservation.For more information, please visit WorldSurfLeague.com