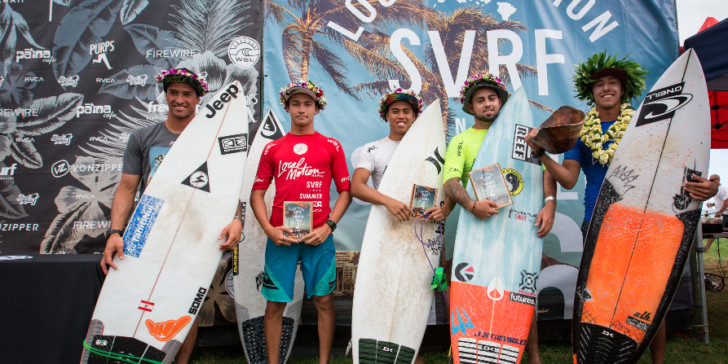 L to R: Taumata Puhetini (special recognition), Noa Mizuno (3rd), Kaulana Apo (4th), Billy Kemper (2nd), Eli Olson (1st). Image: WSL / Freesurf / PhotoKeoki
| | |
| --- | --- |
| Event:    | Local Motion Surf Into Summer                                  |
| Venue: | Ala Moana Bowls, Honolulu, Oahu   |
| Date: | May 26 – 31, 2016   |
| Rating: | Men's QS1,000 |
Honolulu, Oahu, HAWAII – (Saturday, May 28, 2016) — North Shore's Eli Olson (HAW) claimed his maiden victory in a nail-biting final against top surfers Billy Kemper (HAW), Noa Mizuno (HAW) and Kaulana Apo (HAW) at the Local Motion Surf Into Summer QS1,000 at Ala Moana Bowls.
In the true spirit of the event, Olson dedicated his win to big wave surfer and friend, Aaron Gold, who had a traumatic near-drowning experience in Fiji a week ago.
"Family and friends, anybody who knows me knows that means the world to me," said Olson after the win. "You can't put a price on family and friends. I'm just so happy that Aaron's back with us, 100 percent healthy and back with his family, so this one's for him for sure."

Olson carves his way to a first place finish. Image: WSL/Freesurf/Heff
Olson didn't find a wave for the first 20 minutes of the Final, while Kemper and Mizuno battled back and forth for the lead and posted mid-range scores. With ten minutes on the clock, Olson bagged a 6.0 ride, paddled back out into position and was able to use priority for a set wave in the dying minutes of the heat. Using precision on his backhand, the 23-year-old edged ahead of Kemper for the win.
"I'm ecstatic. I'm so happy and I'm humbled and I'm honored and I'm just so stoked that that's how it went down," said Olson. "It was like the slowest heat of my life, I didn't catch my first wave till 20 minutes in the heat, and then I managed to get a 6 and I was like 'ahh I only got one wave there's no way I'm going to get priority'. And then I lucked out and got one last set and it was all or nothing. I was like, 'I'm either going to do good or fall' and I put my all into it and I'm stoked it worked out."

Flair and power earned Kemper a runner up finish. Image: WSL/Freesurf/Heff
Kemper showed consistency in the small surf, despite his appetite for freight-train sized surf. From waves of consequence in Fiji and a recent win at the Peahi Challenge Big Wave event in December to the playful waves of Bowls, Kemper's runner up finish bodes well on the vast range of talent in the professional pool of Hawaii surfers.

Mizuno drives into an open face. Image: WSL/Freesurf/Heff
The goofy-footers of the Final, Mizuno, 17 and Apo, 18, were young standouts throughout the competition and ramped up the power on their way to the podium. Mizuno stayed busy in the 30-minute Final, while Kaulana posted the highest single wave score of the Final, a 7.50.
An equal standout of the day was Joaquin Del Castillo (PER), who impressed judges by earning the event's only 10-point ride. The Peruvian cracked a big turn into an open frontside barrel and followed it up with another solid turn, and continued to drop big scores throughout the heat.

Del Castillo was the international standout of the event. Image: WSL/Freesurf/PhotoKeoki
"So stoked for the 10," said Del Castillo, 20. "I saw the wave and I think, 'go or no go?' but I like go. I make one maneuver, a barrel, then a carve, and it was good… I like the wave, it's a good left.  We have a home break in Peru, I practice on a lot of the same waves like this. I'm stoked, I'm happy, I like Hawaii too."
The Punta Hermosa local posted the second highest two-wave combined score of the event – a 17.75 and showed progressive flair in Round 3 when he landed a frontside full rotation for an 8.65. But it was not enough to over take the heat leader, Sheldon Paishon (HAW) who was on fire throughout Round 3. Paishon scored a 9.90 and 9.25 for a near-perfect 19.15 combined heat total, the highest of the event. The Makaha surfer advanced ahead of Ariihoe Tefaafana (PYF), Barak Maor and Del Castillo.
Taumata Puhetini (PYF), one of Tahiti's top athletes, earned an equal seventh place finish, 395 regional points and $400 as the highest placing Tahitian in the competition. Puhetini, 29, traveled to Oahu on a scholarship award along with Enrique Turo Ariitu (PYF) and Heifara Tahutini (PYF), both who missed out in the early rounds.

Puhetini wacks the lip on a frontside turn. Image: WSL/Freesurf/Heff
"We had a great team," said Puhetini. "Everyone surfed well, but sometimes in competition you cannot find good ones and just lose. But yeah we were a great team here… It's a really great place and the weather is like the same in Tahiti, there's some good waves too so was pretty good. We are all having fun here."
Puhetini sees the value of competing here in Hawaii, and has enjoyed surfing Bowls at the Local Motion Surf Into Summer:
"It's really important for myself and for all the Tahitians because now that we are with the Hawaii region, we can get more points this year and get more rating in the QS. So it's really important." This was Puhetini's first time to Hawaii, but the surfer hopes to return for the HIC Pro in October.
Results
Surfers shown in order of 1st – 4th
Athletes from Hawaii unless noted.
1st – Eli Olson $2,500 and 1000 points
2nd – Billy Kemper $1,500 and 750 points
3rd – Noa Mizuno $1,100 and 560 points
4th – Kaulana Apo $900 and 525 points
Semifinals
1st and 2nd to Finals, 3rd = 5th and $600, 4th = 7th place and $400
SF1: Noa Mizuno, Eli Olson, Billy Choi, Kekoa Bacalso
SF2: Kaulana Apo, Billy Kemper, Kevin Sullivan, Taumata Puhetini (PYF)
Quarterfinals
1st and 2nd to Semifinals, 3rd = 9th place and $300, 4th = 13th place and $200
QF1: Kekoa Bacalso, Billy Choi, Takayuki Wakita, Braiden Maither
QF2: Noa Mizuno, Eli Olson, Dege O'Connell, Alex Pendleton
QF3: Kevin Sullivan, Billy Kemper, Ariihoe Tefaafana (PYF), Kaimana Jaquias
QF4: Taumata Puhetini (PYF), Kaulana Apo, Sheldon Paishon, Luke Shepardson
Round of 32
1st and 2nd to Quarterfinals, 3rd = 17th place, 4th = 25th place
H1: Kekoa Bacalso, Noa Mizuno, Travis Beckmann, Derek Ho
H2: Braiden Maither (AUS), Eli Olson, Jake Marshall (USA), Gavin Gillette
H3: Dege O'Connell, Billy Choi, Teoro Tahutini (PYF), Kaimana Kinimaka
H4: Alex Pendleton, Takayuki Wakita, Mikey Bruneau, Louis Gillick (AUS)
H5: Kevin Sullivan, Kaulana Apo, Chris Foster, Dj Joy
H6: Billy Kemper, Luke Shepardson, Kekoa Cazimero, Isaiah Moniz
H7: Sheldon Paishon, Ariihoe Tefaafana (PYF), Barak Maor, Joaquin Del Castillo (PER)
H8: Taumata Puhetini (PYF), Kaimana Jaquias, Makai McNamara, Cody Young
Round of 64
1st and 2nd to next round, 3rd = 33rd place, 4th = 49th place
H1: Kekoa Bacalso, Jake Marshall (USA), Derek Wong, Joel Centeio
H2: Travis Beckmann, Eli Olson, Imaikalani deVault, Koa Yokota
H3: Gavin Gillette, Noa Mizuno, Bruce Mackie (BRB), Barron Mamiya
H4: Braiden Maither (AUS), Derek Ho, Hank Gaskell, Ulualoha Napeahi
H5: Billy Choi, Alex Pendleton, Kainoa Haas, Kona Oliveira
H6: Dege O'Connell, Takayuki Wakita, Turo Ariitu, Bruce Irons
H7: Mikey Bruneau, Teoro Tahutini, Evan Valiere, Koa Rothman
H8: Louis Gillick (AUS), Kaimana Kinimaka, Keijiro Nishi (JPN), Ian Walsh
H9: Kaulana Apo, Billy Kemper, Kai Matsumoto, Jason Shibata
H10: Kevin Sullivan, Luke Shepardson, Davin Torres-Jaime, Gregg Nakamura
H11: Kekoa Cazimero, Dj Joy, Paul Pugliesi (USA), Landon McNamara
H12: Isaiah Moniz, Chris Foster, Myles Padaca, T.J. Barron
H13: Sheldon Paishon, Kaimana Jaquias, Macy Mullen, Kalani Chapman
H14: Joaquin Del Castillo (PER), Taumata Puhetini (PYF), Tereva David (PYF), Makuakai Rothman
H15: Cody Young, Ariihoe Tefaafana (PYF), Eala Stewart, Edrick Baldwin
H16: Makai McNamara, Barak Maor, Dylan Kowalski (USA), Shayden Pacarro