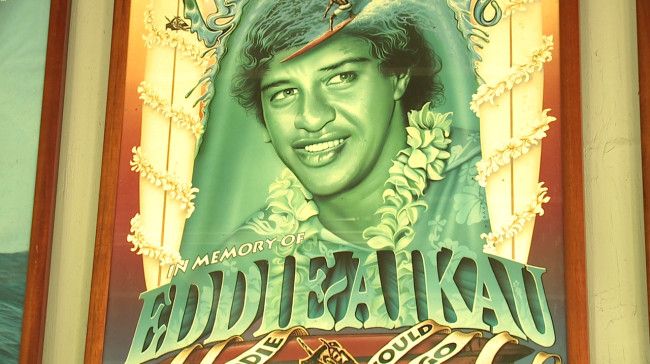 Eddie Aikau's Big Wave Invite has gotten a green light this year after all.
WSL (World Surf League) announced Monday that Quiksilver and the Eddie Aikau family have resolved their differences so that the 2016-2017 Quiksilver in Memory of Eddie Aikau Big Wave Invitational holding period will kick off as planned Dec 1-the end of February 2017.
An opening ceremony is planned for Thursday Dec 1.
'The Eddie' has been one of the world's premier surfing events for over 3 decades launching in 1985. It only occurs when there are consistent, rideable waves of at least 15-25′ Local Hawaiian Scale at Waimea Bay during the three-month holding period.
Last February, over 10 thousands of spectators jammed Waimea Bay when the surf contest was held for the first time since 2009.
The competition has only happened nine times since it began in 1984.
"We are proud to see the tradition of The Eddie continue without interruption — a testament to our respect for Eddie Aikau, the Aikau family, the Hawaiian people, and the community at large," said Pierre Agnes, Quiksilver's CEO, in a news release.
Earlier this year, the Aikau family announced it was severing ties with event sponsor Quiksilver. The Aikau family was not immediately available for a comment, but the World Surf League's news release said family members were happy the surf contest was moving forward "in a manner that would maintain the integrity and Hawaiian spirit of the competition."
The contest is invite-only and for the first time in it's history, a father and son are invited — Michael Ho and his son Mason. It's also the first time a female athlete — Keala Kenelly — made the alternative list.
The surfers invited to the event this year are:
Aaron Gold
Bruce Irons
Billy Kemper
Dave Wassel
Ezekiel Lau
Garrett McNamara
Grant Baker
Greg Long
Ian Walsh
Jamie Mitchell
Jamie O'Brien
Jeremy Flores
John John Florence
Kala Alexander
Kelly Slater
Koa Rothman
Kohl Christensen
Landon McNamara
Makua Rothman
Mark Healey
Mason Ho
Michael Ho
Reef McIntosh
Ross Clarke-Jones
Shane Dorian
Sunny Garcia
Takayuki Wakita
Tom Carroll