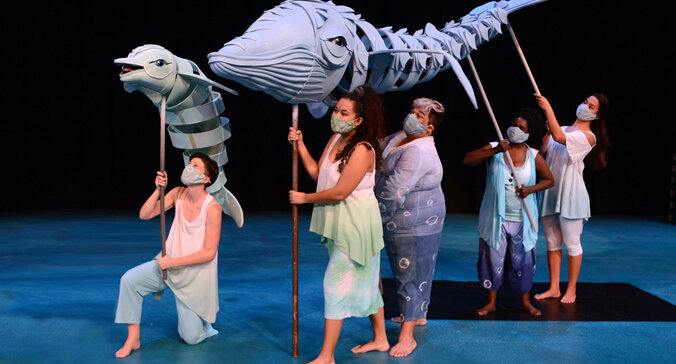 Today and Tomorrow!
Mahalo for your support!

MAINSTAGE- UH KENNEDY THEATRE
Mainstage Season
Feb.  5*, 6, 2022
SAT/SUN 2:00pm
Performed live for in-person audiences (subject to public health advisory changes).
*Pre-show chat with author/playwright/former Hōkūleʻa crewmember Marion Lyman-Mersereau at 1:15pm

By Marion Lyman-Mersereau, adapted from her book Eddie Wen' Go: The Story of the Upside-Down Canoe 
Co-Directed by Mark Branner & Annie K.L. Lipscomb
Co-Choreographed by Ka'ohinani Yojo Daniels & Amy Lynn Schiffner
Original Musical Underscore by Ian O'Sullivan
Front Page Photo: Elizabeth Gannaway, Lily Hiʻilani Kim-Dela Cruz Okimura, Isaiah Avilla, Alison L.B. Maldonado, Iana Weingard (Photo by Christine Lamborn)
A Theatre for Young Audiences (TYA) tribute to Eddie Aikau
This imaginative TYA production incorporates giant puppetry, dance, 'ōlelo Hawai'i, pidgin, and hula to tell the story of Eddie Aikau's act of courage through the eyes of sea creatures who watched from underneath the upside-down canoe.
Celebrating the story of one local hero who dared to dream big and who put the lives of others before his own, this production shares Aikau's legacy of hope and service to others.
Suitable for the whole family.
Advisory: flashing lights
Info for Shows for K-12 Classrooms: Contact ktbox@hawaii.edu for more details.
*******ADVISORY: Patrons ages 5 and up must show proof of completed COVID19 vaccination and comply with all UHM and Kennedy Theatre COVID19 prevention protocols including but not limited to wearing a CDC approved mask over the nose and mouth at all times inside Kennedy Theatre********
TICKETS
Regularly Priced Tickets (in-person):
$20 Regular (Adult)
$18 UH Faculty/Staff, Military, Senior
$16 UHAA member with card
$15 Non-UHM Student
$10 Youth (2-17 years old)
$8 UHM Student with valid UHM ID
Throwback Saturday Tickets (Sat. Jan. 29, 2022 performance only)
$15 Regular (Adult)
$10 UH Faculty/Staff, Military, Senior
$10 UHAA member with card
$10 Non-UHM Student
$10 Youth (2-17 years old)
$5 UHM Student with valid UHM ID
RESOURCES
Eddie Auditions (2021)
Behind the Scenes – Creating Giant Puppets
Broadway World Article
Press Release
Publicity Photos
UH News Article
KHON2 News Article
ACKNOWLEDGEMENTS
This production is made possible with funding support from: Edward "Skeep" Langhans Fund, Roger Long Theatre Fund, University of Hawai'i at Mānoa, and Student Activity & Program Fee Board.
---
From the 2020/2021 Season
Getting Ready for Eddie
Educational Docu-Series about the play, Eddie Wen' Go: the Story of the Upside-Down Canoe, to be performed in early 2022 at Kennedy Theatre.
Tune in for a free and informative look behind the curtain as Theatre for Young Audiences Associate Professor Mark Branner begins preparation to stage Marion Lyman-Mersereau's family-friendly play about Eddie Aikau's final act of courage.
FREE VIDEO SERIES
Click each link below to watch:
Episode 1 – First Rehearsal
Episode 2 – What Do We Know About Eddie?
Episode 3 – Getting to Know Eddie
Episode 4 – Animals Assemble
Episode 5 – Uku Billion Stars
Episode 6 – Wearing the Ocean
Episode 7 – Donut Dreams of Manō
Episode 8 – Tik Tok Eddie
Episode 9 – Hawaii's Pride
CLICK HERE to read UH News story (5/19/20) about "Eddie" auditions and cast.