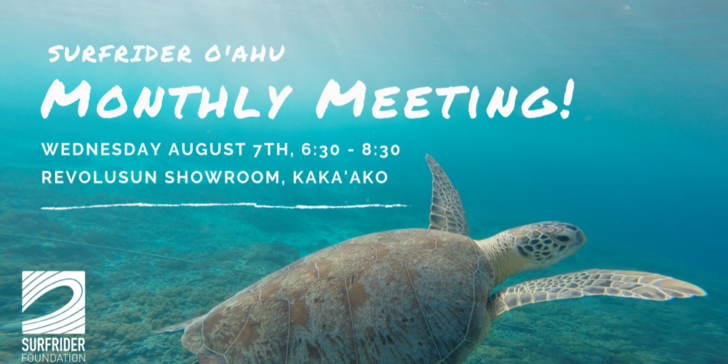 Traveling Plate features 100 local restaurants featuring a locally-sourced dish or beverage on their menu, with proceeds from that item benefitting Surfrider's Hawaiʻi Chapters.
Order the Traveling Plate special at any of these restaurants from now until August 31 to support Surfrider and to eat local.
Mahalo to Kona Brewing Co and Under My Umbrella for making Traveling Plate 2019 possible!
Tonight's Public Meeting – August 7
Come to our monthly public meeting to learn how to get involved with Surfrider Oahu. Please bring a friend and an ocean-friendly potluck item to share.
Monthly meetings are every first Wednesday, 6:30-8:30pm at Revolusun (above Moku Kitchen). This month features a special guest speaker!
Guest Speaker: "Climate Change and the State of Our Coasts"
A presentation by Sam Lemmo, Administrator of the Department of Land and Natural Resources' (DLNR) Office of Conservation and Coastal Lands (OCCL). This office oversees 2 million acres of Conservation District lands and is responsible for beach and marine lands for the State of Hawaii.
OFR Pau Hana at Herringbone Waikiki
Join us for the next Pau Hana at Herringbone Waikiki to celebrate both the Ocean Friendly Restaurants and the Traveling Plate programs.
Wednesday, August 14
Herringbone Waikiki, 5:30-7:30pm
Happy Hour Menu | Traveling Plate Dish & Beverage offered
RSVP Here (free) to get one free prize giveaway ticket at the event.
OFR Pau Hanas are every 2nd Wednesday, 5:30-7:30pm at a different OFR location each month! Follow @oceanfriendlyrestaurantshawaii for regular updates.