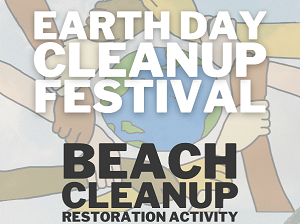 COME JOIN US FOR OUR BIGGEST EVENT OF THE YEAR!
EARTH DAY IS EVERY DAY
The annual SCH Earth Day Cleanup Festival is coming to Waimānalo Beach Park on Sunday, April 23rd! This is our biggest event of the year, and you won't want to miss what we have planned. Join us from 9a – 3p to celebrate the planet with our community, clean the beach, learn from one another, and (most importantly) have some fun!
Here's what you can expect on April 23rd:
BEACH CLEANUP at Waimānalo Beach Park
Sustainable-living WORKSHOPS
RESTORATION activity in Waimānalo
Free locally-sourced FOOD
Raffle, arts & crafts, games, a photo booth, and…
LIVE MUSIC by a special guest
Sounds like a good time, right?
As subscribers to our newsletter, you get first access to pre-registration.
Reserve your spot by pre-registering today!
LAST YEAR'S RECAP
We are approaching of our favorite events of the year – the annual SCH Earth Day Cleanup Festival! So, we decided to reflect on the our time together in 2022.
Last year, We went to Waimānalo Beach Park with a group of 1200+ volunteers to celebrate Earth Day. The volunteers removed 1000 lbs of debris, most of which was microplastic and land-based debris, participated in a compost workshop, learned about solutions, and more. We estimate that we removed over one million pieces of plastic fragments from the beach!
We think we can top the 1,000 pounds removed last year, but we need your help!
Pre-register today for the 2023 Earth Day Festival!