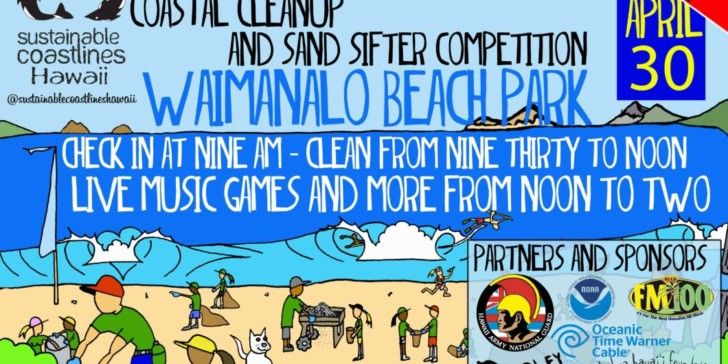 Sustainable Coastlines Hawaii and Partners bring you the Earth Day Cleanup and Ultimate Sand Sifter Competition: Waimanalo Beach Park.
Starting at Waimanalo Beach Park we will be heading out to different locations close by to remove debris. In addition to the cleanup the final round of the second ever Ultimate Sand Sifter Competition (USSC) will be underway to determine thewinners of the $1,500 prize purse!  Keep on reading to find out how can you can get involved with the USCC.
Ultimate Sand Sifter Competition Details: So what is the USCC?  It's a friendly community competition to generate innovative solutions to a challenging problem–cleaning up microplastic marine debris. Microplastics are the tiny particles of degraded plastic that wash onto our shores leaving us with an unpleasant confetti of plastic sand.  Microplastics are ubiquitous along the windward facing shores of Oahu, from Kahuku to Waimanlo, where the dominant ocean currents wash them up. These plastic pieces are bite-size for animals like fish and seabirds, and they are also notoriously challenging to clean out of the sand.