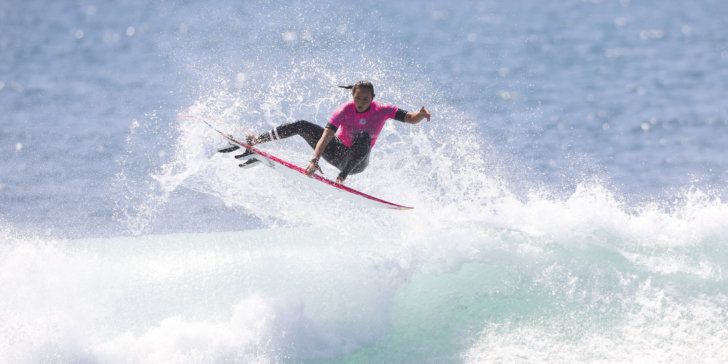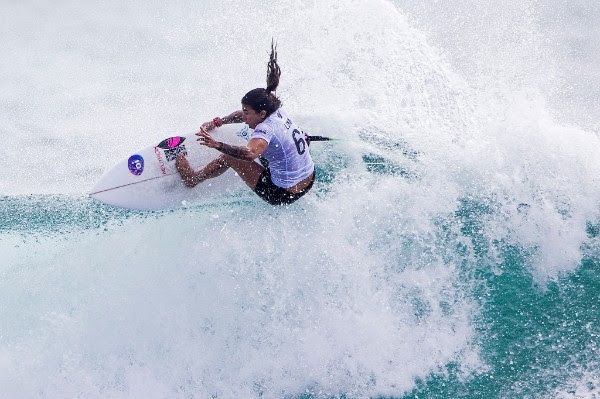 – LIMA SHINES WITH NEAR-PERFECT 18.10
Silvana Lima (BRA) put on a clinic at Lowers today with a stunning 8.33 and near-perfect 9.77 in Round 3 of the Swatch Pro at Trestles.
Credit: © WSL / Rowland
Location:   
   Lower Trestles, San Clemente, California
Event window:
   September 6 – 

17, 2017

Today's call:

| | |
| --- | --- |
|    Men's Round 2 (H5 – 12), Women's Rounds 2 & 3 (H1-2) complete  | |
Conditions:        3 – 4′
 SAN CLEMENTE, California/USA (Tuesday, September 12, 2017) – The Swatch Pro and Hurley Pro at Trestles, Stops No.7 and 8 of the Women's and Men's World Surf League (WSL) Championship Tour (CT), flew through a full day of competition in three-to-four foot (1 – 1.2 metre) conditions at Lower Trestles. The morning kicked off with the remaining eight heats of men's Round 2 and then continued with women's Round 2 and the first two heats of Round 3.
Reigning WSL Champion and current World No. 1 Tyler Wright (AUS) will have to deal with elimination Round 4 after an incredible performance from three-time WSL Champion Carissa Moore (HAW). The superheat witnessed former event winner Moore and Lakey Peterson (USA) trade off excellent scores, but Moore's 8.83 and 8.40 were too much for the Californian, who could not find the 8.90 needed to take the heat. Moore also dominated her Round 2 heat against compatriot Malia Manuel (HAW) with a big air for a 7.33 on the single maneuver.
"I'm amped after being behind for a good portion of that last heat and I was just having fun knowing no one was going home in that heat," Moore said. "I was sticking to my own plan even after hearing Lakey's [Peterson] first score. With my results this year, I'm just trying to take that as an opportunity to play around with a few different maneuvers because then I can try to push myself a little bit. It's been a crazy year of growth personally and competitively. I'm trying to stay positive and focus on the present. I just want to have fun the rest of the year and whatever happens is meant to be."

 Three-time WSL Champion Carissa Moore (HAW) dominated the Lowers lineup today at the Swatch Pro at Trestles.
Credit: © WSL / Morris
Previously, Wright took down event wildcard Macy Callaghan (AUS) in Heat 3 of Round 2. Callaghan put on a great performance with a solid 7.33, but the defending event winner got the edge with a 7.43. The Australians then tied their back-up scores with a 5.50. Callaghan was not able to close the 0.10-point gap to advance through to the next round.
The opening heat of non-elimination Round 3 saw incredible surfing from World No. 15 Silvana Lima (BRA) as she defeated six-time WSL Champion Stephanie Gilmore (AUS) and World No. 5 Johanne Defay (FRA). Lima, who has only accumulated four heat wins so far on the 2017 CT season, showcased a new level with a near-perfect 18.10, the highest combined score of the day. Even Gilmore, with two 7-point rides, was forced into a combination situation that she could not escape.
"I'm so happy right now and can't believe I've made it through to the Quarterfinals," Lima said. "Steph [Gilmore] is such a great surfer and Johanne [Defay] too, so I just thought about myself out there. I just wanted to do my best and find those two waves. I was happy with that really good one — I still can't believe it. It's big for my momentum and it's so good to finally take some success from the QS to the CT. This is so good for my confidence moving forward as well and already a Quarterfinal result feels amazing, but I know it's going to take my best in the next heat."
2017 CT Rookie Bronte Macaulay (AUS) and CT veteran Coco Ho (HAW) were not able to escape elimination Round 2 and will exit with an Equal 13th place finish.
Round 2 also saw current World No. 8 Tatiana Weston-Webb (HAW) and World No. 16 Laura Enever (AUS) lose to Pauline Ado (FRA) and Nikki Van Dijk (AUS), respectively. Ado and Van Dijk will surf in the remaining heats of Round 3 when competition resumes tomorrow.
Earlier today, the Hurley Pro kicked off the morning with the remaining eight heats of elimination Round 2. With the first men's eliminations now complete, the field will continue to narrow with the upcoming elimination Round 3, which will again cut the field in half.
Hometown hero Kolohe Andino's (USA) patience ended up costing him an early Round 2 exit and upset as Jadson Andre (BRA) stayed busy throughout the heat to accumulate a 12.93 heat total. Despite Andino's 7.17 to match Andre's 7.00, his final opportunity to meet the requirement fell short. This result marks the Californian's third Round 2 loss of 2017. World No. 32 Andre now moves into Round 3 for the fourth time this season. The Brazilian is in-need of a strong finish as he is currently ranked outside of requalification.
"I don't think Kolohe's [Andino] hometown support added any pressure on me," said Andre. "I just wanted to go out there and surf my best, not think about requalification or my opponent. That was a close one. I remember at J-Bay I mentioned I don't want to be in the same position I was last year ever again, but that seems to be my situation every single year. The second part of the year is when I have my back against the wall, so I'll just try to do my best and hopefully mount a comeback."
Huntington Beach local Kanoa Igarashi (USA) earned a big win over Caio Ibelli (BRA) in what is becoming a healthy rivalry between the CT-sophomore duo. Nineteen-year-old Igarashi continues to show a competitive mindset beyond his years with patience and smart wave selection in his heats. It was a tight battle that left Ibelli in need of a strong 7.23, but the Brazilian fell on his last attempt and was not able to find the required score.
"The biggest thing is the mental side of these heats," Igarashi said. "I feel like I'm having good freesurfs and then you get in a heat with only thirty minutes. I get the wave and then choke on it then don't do the surfing I want to do. I'm just going to roll with it. I'm sure one day it'll turn around to where I won't surf with any pressure and overcome those fears of losing. Doing well on the QS is good for my mental space and I feel like I'm surfing well. You just have to be strong and fight for it, and I feel like I'm getting the hang of it."
Miguel Pupo (BRA) continued the trend of upsets with a huge performance over Tahitian powerhouse Michel Bourez (PYF). The Brazilian took to his progressive forehand with a variety of power carves and aerial antics to dispatch the CT veteran.
Round 5 Heat 7 saw 2017 CT Rookie Joan Duru (FRA) take down injury replacement and former CT competitor Nat Young (USA). Duru dominated with two 7-point rides and will now advance to Round 3. Duru will also be joined by Ezekiel Lau (HAW) who eliminated Ian Gouveia (BRA) in Heat 12. Fellow rookie Leonardo Fioravanti (ITA) will not continue with the freshman class after falling to Brazilian threat Wiggolly Dantas (BRA) in Heat 9.
Adrian Buchan (AUS) and Italo Ferreira (BRA) will also advance to the next round after winning their Round 2 heats against Stuart Kennedy (AUS) and Jack Freestone (AUS), respectively.
Event officials have called the remaining two heats of women's Round 3 ON for an 8:00 a.m.start tomorrow morning. The remaining schedule for the day will be decided at 7:30 a.m. PSTtomorrow morning.
Fun size, rippable  long period S swell slowly built. Look for this new, long period S swell to fill in further through the day on Wednesday and continue Thursday to offer the larger surf of the waiting period. Fading surf takes over on Friday and that trend continues through the weekend. Conditions look generally favorable Tue-Thur in the mornings, with moderate WNW wind in the afternoons. S wind may develop on Friday. Surfline.
 
The Hurley Pro and Swatch Pro at Trestles will be broadcast LIVE via WorldSurfLeague.com, the WSL app and on Facebook LIVE via the WSL's Facebook page.
For more information, check out WorldSurfLeague.com.
Hurley Pro Remaining Round 2 (Heats 5 – 12) Results:
Heat 5: Jadson Andre (BRA) 12.93 def. Kolohe Andino (USA) 12.50
Heat 6: Miguel Pupo (BRA) 14.60 def. Michel Bourez (PYF) 13.67
Heat 7: Joan Duru (FRA) 14.83 def. Nat Young (USA) 10.50
Heat 8: Adrian Buchan (AUS) 14.60 def. Stuart Kennedy (AUS) 13.70
Heat 9: Wiggolly Dantas (BRA) 14.84 def. Leonardo Fioravanti (ITA) 7.60
Heat 10: Kanoa Igarashi (USA) 13.80 def. Caio Ibelli (BRA) 11.30
Heat 11: Italo Ferreira (BRA) 15.93 def. Jack Freestone (AUS) 14.74
Heat 12: Ezekiel Lau (HAW) 16.83 def. Ian Gouveia (BRA) 10.50
Hurley Pro Round 3 Match-Ups:
Heat 1: Adriano de Souza (BRA) vs. Josh Kerr (AUS)
Heat 2: Sebastian Zietz (HAW) vs. Italo Ferreira (BRA)
Heat 3: Gabriel Medina (BRA) vs. Jadson Andre (BRA)
Heat 4: Frederico Morais (PRT) vs. Ezekiel Lau (HAW)
Heat 5: Adrian Buchan (AUS) vs. Wiggolly Dantas (BRA)
Heat 6: Jordy Smith (ZAF) vs. Evan Geiselman (USA)
Heat 7: John John Florence (HAW) vs. Hiroto Ohhara (JPN)
Heat 8: Conner Coffin (USA) vs. Jeremy Flores (FRA)
Heat 9: Mick Fanning (AUS) vs. Kanoa Igarashi (USA)
Heat 10: Filipe Toledo (BRA) vs. Miguel Pupo (BRA)
Heat 11: Joan Duru (FRA) vs. Bede Durbidge (AUS)
Heat 12: Julian Wilson (AUS) vs. Ethan Ewing (AUS)
Swatch Pro Round 2 Results:
Heat 1: Carissa Moore (HAW) 15.56 def. Malia Manuel (HAW) 13.70
Heat 2: Pauline Ado (FRA) 12.63 def. Tatiana Weston-Webb (HAW) 12.43
Heat 3: Tyler Wright (AUS) 12.93 def. Macy Callaghan (AUS) 12.83
Heat 4: Stephanie Gilmore (AUS) 14.17 def. Bronte Macaulay (AUS) 9.50
Heat 5: Nikki Van Dijk (AUS) 13.03 def. Laura Enever (AUS) 12.67
Heat 6: Lakey Peterson (USA) 16.60 def. Coco Ho (HAW) 12.13
Swatch Pro Round 3 (H1-2) Results:
Heat 1: Silvana Lima (BRA) 18.10, Stephanie Gilmore (AUS) 14.40, Johanne Defay (FRA) 12.36
Heat 2: Carissa Moore (HAW) 17.43, Lakey Peterson (USA) 15.83, Tyler Wright (AUS ) 14.60
Swatch Pro Remaining Round 3 (H3-4)  Match-Ups:
Heat 3: Sally Fitzgibbons (AUS), Nikki Van Dijk (AUS), Keely Andrew (AUS)
Heat 4: Courtney Conlogue (USA), Sage Erickson (USA), Pauline Ado (FRA)