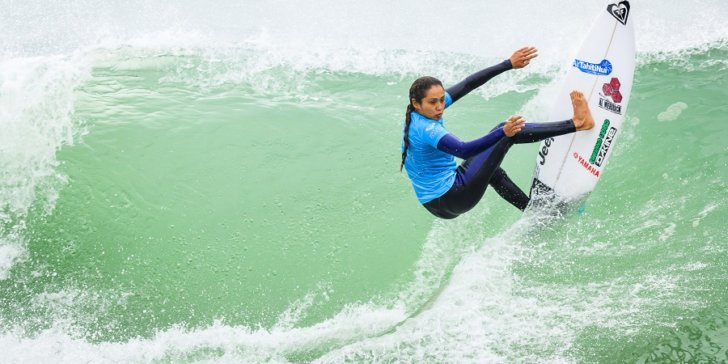 COCO HO ADVANCES PAST PAIGE HAREB INTO ROUND 3
ROXY WILDCARD VAHINE FIERRO ELIMINATES WORLD NO. 5 CAROLINE MARKS IN ROUND 2
KEELY ANDREW WITHDRAWS FROM EVENT
 Roxy Pro France wildcard Vahine Fierro (PYF) will advance to Round 3 after eliminating rookie Caroline Marks (USA) in Round 2 Heat 3.
 © WSL / Poullenot
| | |
| --- | --- |
| Location:    |    Seignosse/Hossegor/Capbreton, Landes, Nouvelle-Aquitaine, France |
| Event window: |    October 3 – 14, 2018 |
| Today's Call: |    Roxy Pro Round 2 (H1-3) complete; Red Bull Airborne complete |
| Conditions: |    3 – 4 foot  |
PLAGE DES CULS NUS – Hossegor, Landes, Nouvelle-Aquitaine, France (Monday, October 8, 2018) – The Roxy Pro France, Stop No. 9 on this year's World Surf League (WSL) Championship Tour (CT), resumed today in three-to-four foot (1 – 1.2 metre) surf this afternoon at Culs Nus. The world's best surfers took over the lineup following the completion of the Red Bull Airborne France specialty event to complete two heats of elimination Round 2.
The first heat of the day saw a walkthrough for Malia Manuel (HAW) as Keely Andrew (AUS) had to withdraw from the event after suffering a knee injury in her Round 1 Heat.
"Unfortunately, I am withdrawing from the Roxy Pro France," Andrew said. "The first wave of my first heat, the rail of my board hit the inside of my left knee as I fell into the water after pulling off the back of the wave. The hit caused my knee to dislocate, which has resulted in a joint bleed, a non-displaced bone fracture of my kneecap, a bone bruise of my femur and a grade 3 rupture of my MCL. Massive thank you to everyone that has gone above and beyond to help me and thank you to everyone sending their love. Aiming to come back better and stronger!"
World No. 10 Coco Ho (HAW) took on Paige Hareb (NZL) in the second Roxy Pro France heat this afternoon and found a couple of waves with a good wall to exploit on her forehand. The Hawaii surfer started right away with the best score of the heat, a decent 5.83 (out of a possible 10) for a combination of vertical snaps. Her opponent couldn't catch similar opportunities and was left surfing fatter waves as her scores stayed under the average. Ho survived the treacherous Round 2 and will surf again when the event resumes for a spot in the Quarterfinals, while Hareb placed Equal 13th.
"I did know the tide was coming up fast so to get busy right away was definitely in my plan," Ho said. "It worked out cause those two were the best waves of the whole heat. It was hard to push those turns still and dig in, but I managed to stay on my board."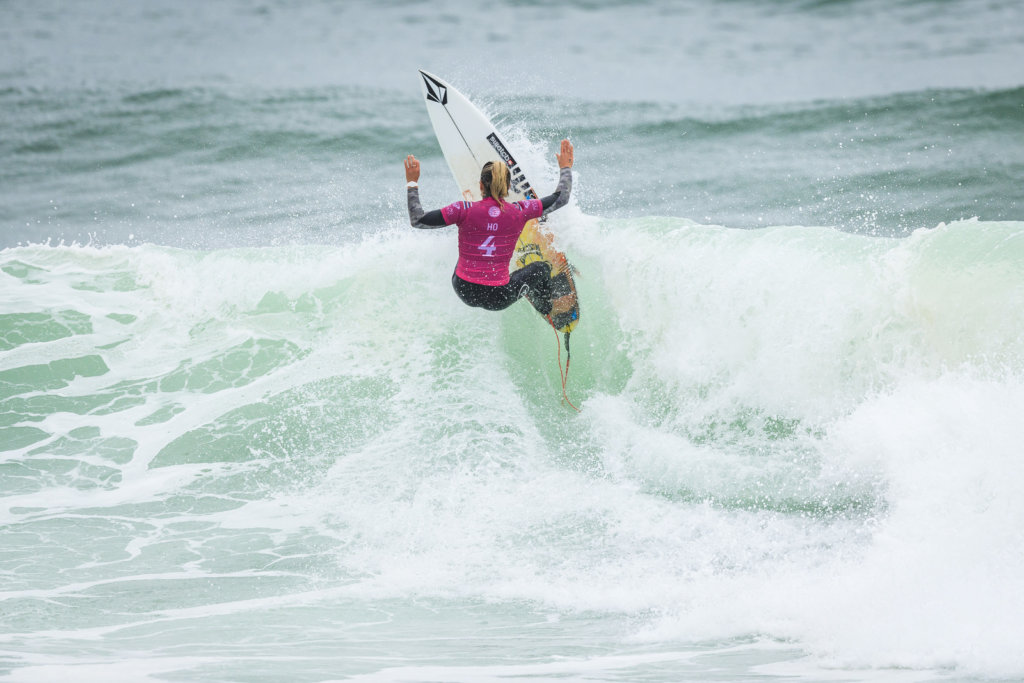 © WSL / Poullenot
Conditions degraded quickly as the tide came in and the second heat between World No. 5Caroline Marks (USA) and Roxy wildcard Vahine Fierro (PYF) was called to be the last of the day. Fresh off two excellent Semifinals results in Huntington and the Surf Ranch Pro, Marks suffered a similar fate to Hareb and her wave selection let her down in Round 2 today. The reigning World Junior Champion Fierro, on the other hand, picked up the right waves and attacked them on her backhand to post a 5.83 and a 5.17 for the win and the upset of the event so far.
"This is my first heat win in a CT so I'm pretty stoked," Fierro stated. "And to win it against one of my favorite surfers is a great feeling. Of course, everybody wants to win this event but I came here mostly to have fun. I'm here with my Roxy family and my sisters and I have no pressure. I just want to do my best in each heat because I have nothing to lose!"
Event organizers will reconvene at 7:45 a.m Tuesday, October 9 to reassess the conditions and make the next call. Up first when the events resume will be Sally Fitzgibbons (AUS) andPauline Ado (FRA) for the Roxy Pro France Round 2 Heat 4 or Jordy Smith (ZAF), Ezekiel Lau (HAW) and Matt Wilkinson (AUS) in the opening heat of the 2018 Quiksilver Pro France.
Short period NW swell should drop off on Monday to fun size leftovers in the morning along withmuch better wind. Medium size, mid to longer period NW swell is on track to build through Tuesday, hold Wednesday and ease Thursday. Wind looks favorable Tue-Wed and may turn more sideshore/S on Thursday. Larger swells are still possible and becoming likely Friday and again over the weekend. However, there is some uncertainty on local wind at that time. Surfline
When competition continues, the Quiksilver and Roxy Pro France will be broadcast LIVE onWorldSurfLeague.com and the WSL's Facebook page. Also, check local listings for coverage from the WSL's broadcast partners.
Local fans will be able to follow the event LIVE on a big screen on the Central square in Hossegor and enjoy movie screenings and music acts in various places during the event's waiting period.
Roxy Pro France Round 2 (H1-3) Results:
Heat 1: Malia Manuel (HAW) def. Keely Andrew (AUS) INJ
Heat 2: Coco Ho (HAW) 10.66 def. Paige Hareb (NZL) 5.70
Heat 3: Vahine Fierro (PYF) 11.00 def. Caroline Marks (USA) 8.26
Roxy Pro France Remaining Round 2 (H3-6) Matchups:
Heat 4: Sally Fitzgibbons (AUS) vs. Pauline Ado (FRA)
Heat 5: Nikki Van Dijk (AUS) vs. Macy Callaghan (AUS)
Heat 6: Courtney Conlogue (USA) vs. Sage Erickson (USA)
Quiksilver Pro France Round 1 Matchups:
Heat 1: Jordy Smith (ZAF), Ezekiel Lau (HAW), Matt Wilkinson (AUS)
Heat 2: Owen Wright (AUS), Sebastian Zietz (HAW), Joan Duru (FRA)
Heat 3: Italo Ferreira (BRA), Yago Dora (BRA), Keanu Asing (HAW)
Heat 4: Julian Wilson (AUS), Frederico Morais (PRT), Wiggolly Dantas (BRA)
Heat 5: Gabriel Medina (BRA), Tomas Hermes (BRA), Ryan Callinan (AUS)
Heat 6: Filipe Toledo (BRA), Connor O'Leary (AUS), Jorgann Couzinet (REU)
Heat 7: Wade Carmichael (AUS), Adriano de Souza (BRA), Miguel Pupo (BRA)
Heat 8: Kolohe Andino (USA), Adrian Buchan (AUS), Ian Gouveia (BRA)
Heat 9: Kanoa Igarashi (USA), Michael Rodrigues (BRA), Patrick Gudauskas (USA)
Heat 10: Michel Bourez (PYF), Griffin Colapinto (USA), Jesse Mendes (BRA)
Heat 11: Mikey Wright (AUS), Conner Coffin (USA), Michael February (ZAF)
Heat 12: Willian Cardoso (BRA), Jeremy Flores (FRA), Joel Parkinson (AUS)
More available at WorldSurfLeague.com.