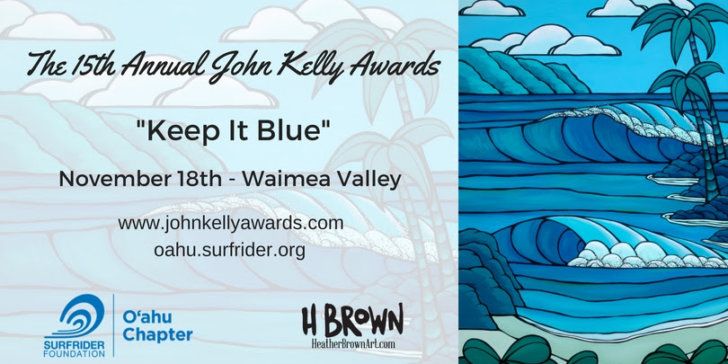 Surfrider Foundation's O'ahu Chapter would like to invite you to join us for the 15th Annual 
John Kelly Awards
 Celebration at beautiful Waimea Valley on 
November 18th 2017
. The annual fundraiser and awards ceremony honors leaders in environmental protection and pays tribute to the memory of legendary community organizer and activist, John Kelly of Save our Surf. The awards ceremony recognizes a surfer, company, and lifetime achievement winners who embody the spirit, mana, and dedication of Mr. John Kelly.
As Always a huge Mahalo to Heather Brown Surf Art for the incredible art work – Heather has been donating her talents for almost a decade of John Kelly Awards and this year created the beautiful "Blue Waimea" (seen in the image above) to go with our theme you can read about in the next paragraph. Our first donors for the silent auction, Black Sand Publishing, are graciously printing the incredible work of art Heather created and you can bid to have it blueing up your home.
This year we "Keep It Blue" – our themed night focuses on our intent to keep our oceans healthy for the enjoyment of generations into the future. In celebrating another incredible year of service by our volunteers and chapter leaders, we ask all guests to unite in our theme by wearing their favorite shades of Blue.
Please join us for a night filled with festive music, delicious food, lively libations, live art and entertainment, premier silent auction, and the company of our amazing community. Dance through the night with amazing beats from the soulful funky grooves of Good Foot. Your support will ensure that Surfrider Foundation's O'ahu Chapter continues its mission of working to protect our world's oceans, beaches, and waves.
Make sure to get your tickets by the end of the September and use the "Early Bird" promo code to get 15% off your tickets.
Surfrider O'ahu Monthly Meeting
New Location for October
The first Wednesday of each month we continue our public dialogue with the Surfrider O'ahu Monthly Meeting. Come join us and the community at the new Impact Hub HNL, who will be hosting us while our incredible partners at RevoluSun move into their new showroom and location in SALT.  Bring a potluck dish to share and get ready to find out how you can dive deeper into your engagement with Surfrider.We are really excited that Impact Hub is up and running. Impact Hub Honolulu is a coworking, event, office, and community space designed to facilitate sustainable impact in Hawaii and abroad through collaboration and empowering communities. They are part of a network of 102 Impact Hubs around the world with over 15K members. The new venue is coming along fantastically in its co-working mission and this is an incredible opportunity to tour the new space and see how the Impact Hub is enhancing our community.
There are not enough Mahalos to be said for RevoluSun who gave us one of the best meeting spaces we have ever had for the past year and half and we look forward to seeing their new space up and running by the end of the year.