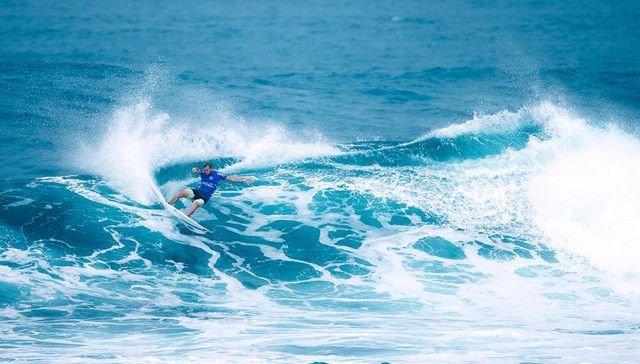 Bourez, Payne, Zeits, Walsh cranked to the finals podium in unreal classic Sunset. A great way to celebrate 40 years of this iconic event on one of the worlds most respected challenging surf spots. Dusty Payne leads the VTC Title by narrow margin heading  into Pipe.
Vans World Cup of Surfing
ASP Men's Prime Event
Sunset Beach, Oahu Hawaii
24 November – 6 December 2014
Prior day:
Surf News Network, 3 December, 2014 . Sunset Beach – Dusty Payne (HAW) continued to control the spotlight at the Vans World Cup of Surfing at Sunset Beach, logging one of the highest heat scores of the day in a much anticipated match with current ASP World No.1 Gabriel Medina (BRA) – 16.17 points out of 20. This was Medina's debut at this season's Vans Triple Crown of Surfing series and the 20-year-old looked relaxed and precise on his backhand, advancing through in the second position.
Payne, 26, was electric, opening the 30-minute heat with an outrageous under-the-lip late airdrop, followed by a string of high speed, carving turns. His wave selection was flawless and proved to be the distinguishing factor between him and Medina; Medina's waves being substantially smaller and thereby limiting his scoring potential. Medina's final scoreline was 12.17, for a 6.5 and a 5.67, compared with Payne's 8.17 and 8.0.
"It's always nice to compete with the top dogs," said Payne. "Beating Gabe doesn't really mean anything except I get to cruise to the next round. It doesn't really mean much. I was just looking to go and try to get two fun waves. I'm just having fun and the waves keep coming, and I just keep smiling. It's fun!"
Gabriel was his trademark calm self when discussing his return to the water today. With his greatest task ahead of him in the upcoming showdown for the ASP World title against Mick Fanning (AUS) and Kelly Slater (USA) at Pipeline, the Vans World Cup offers a solid warmup. It also allows him to check off a required Qualifying Series competition and have a little fun before the pressure piles on.

Gabriel Medina © ASP/Sloane
"No pressure, I just want to surf," said Medina. "The surf here is really enjoyable and I just want to have fun. Sunset is a fun wave. This year I just did one QS event and I needed to do one more so I picked Sunset. I'm just surfing and having fun I have a good board on my feet and hopefully I can keep going."
New Zealand's Ricardo Christie continued an impressive run that began yesterday in Round 1 and now sees him locked in for Round 4 on the final day of this competition. He posted the top score of the competition so far today – 16.9 point total, advancing well clear of established World Tour competitor Josh Kerr (AUS), and eliminating 17-year-old Seth Moniz (HAW) and Brett Simpson (USA). Christie's highest wave score was 9.07 for a committed series of fast carves and powerful cutbacks.
"I was going with the whole not think about it and then it didn't really work the last three events," said Christie. "So I've just accepted it and I just have to get through some heats and I still want to just surf every heat as its own. I want to surf like I know I can and not get freaked out and surf like a kook."
The qualification race didn't end with the new faces as a number of current WCT surfers are battling for another shot at next year's elite tour. Copacabana's Matt Wilkinson (AUS) was one such surfer, heading into the Vans Triple Crown of Surfing at No. 13 on the Qualifying Series rankings. Wilkinson's backhand approach today was impeccable as the progressive goofy-footer advanced the Round of 32 and one step closer to securing his 2015 ticket amongst the world's best.

Ricardo Christie © ASP/Cestari
"It's been an up-and-down year for me," Wilkinson said. "That was a big heat for me and I was fired up to get those waves. Think that puts me in a good position and hopefully we get some more great surf and I find myself in the Final."
Veteran campaigner Glenn Hall (IRL) posted a sensational come-from-behind victory in the dying moments of his Round 3 heat, threading an intense backhand barrel to score a Perfect 10 and advancing through to the Round of 32. "Never say die," Hall said. "It was a frustrating heat up until that point. I was having a shocker. I knew that if I could get the wave though, I could get the score. Pumped to get through and looking forward to more waves on the way."
Other standouts today included David Do Carmo (BRA); Kolohe Andino (USA); Alejo Muniz (BRA) and Chris Ward (USA).
Organizers will assess conditions tomorrow morning for a potential start to the final day of the Vans World Cup of Surfing, however it is possible that they could wait for the next rise in swell expected Friday.
Surfline, official forecaster for the Vans Triple Crown of Surfing, is calling for:
Another medium to possibly solid NNW swell for the last couple days of the event waiting period. Trades ease a bit through mid-week and will be at moderate levels for the second half of the week.
Round of 64
H1: Keanu Asing (HAW) 7.77pts ; Ian Walsh (HAW) 5.83pts ; Yadin Nicol (AUS) 2.00pts ; Raoni Monteiro (BRA) 0.50pts
H2: Billy Stairmand (NZL) 11.27pts ; Adrian Buchan (AUS) 10.64pts ; Adam Melling (AUS) 9.07pts ; Tom Whitaker (AUS) 4.00pts
H3: Filipe Toledo (BRA) 9.66pts ; Beyrick De Vries (ZAF) 9.57pts ; Aritz Aranburu (ESP) 9.40pts ; Leonardo Fioravanti (ITA) 6.67pts
H4: Chris Ward (USA) 15.33pts ; Jordy Smith (ZAF) 12.70pts ; Jeremy Flores (FRA) 7.27pts ; Pancho Sullivan (HAW) 6.16pts
H5: Jonathan Gonzalez (CNY) 12.50pts ; Owen Wright (AUS) 11.10pts ; Mitch Crews (AUS) 10.17pts ; Kaimana Jaquias (HAW) 6.87pts
H6: Alejo Muniz (BRA) 12.57pts ; Wade Carmichael (AUS) 9.96pts ; Perth Standlick (AUS) 8.60pts ; Nat Young (USA) 7.93pts
H7: Julian Wilson (AUS) 10.93pts ; Davey Cathels (AUS) 7.44pts ; Joan Duru (FRA) 6.83pts ; Jadson Andre (BRA) 6.70pts
H8: Dusty Payne (HAW) 16.17pts ; Gabriel Medina (BRA) 12.17pts ; Dane Gudauskas (USA) 10.73pts ; Connor O'Leary (AUS) 9.04pts
H9: David do Carmo (BRA) 13.36pts ; Mason Ho (HAW) 10.70pts ; Maxime Huscenot (FRA) 7.90pts ; Wiggolly Dantas (BRA) 6.47pts
H10: Lucas Silveira (BRA) 11.74pts ; Sebastian Zietz (HAW) 11.53pts ; Kai Barger (HAW) 11.10pts ; Fredrick Patacchia (HAW) 4.30pts
H11: Ricardo Christie (NZL) 16.90pts ; Josh Kerr (AUS) 11.83pts ; Seth Moniz (HAW) 11.43pts ; Brett Simpson (USA) 8.17pts
H12: Charles Martin (GLP) 15.00pts ; Alex Smith (HAW) 13.16pts ; Tiago Pires (PRT) 11.37pts ; Bede Durbidge (AUS) 9.33pts
H13: Kolohe Andino (USA) 15.10pts ; Ramzi Boukhiam (MAR) 8.57pts ; Travis Logie (ZAF) 5.77pts ; Italo Ferreira (BRA) 5.50pts
H14: Granger Larsen (HAW) 12.10pts ; Glenn Hall (IRL) 12.00pts ; Dion Atkinson (AUS) 11.97pts ; Miguel Pupo (BRA) 9.83pts
H15: Matt Wilkinson (AUS) 16.84pts ; Garrett Parkes (AUS) 13.43pts ; Kai Otton (AUS) 10.73pts ; Hiroto Arai (JPN) 2.00pts
H16: Matt Banting (AUS) 14.23pts ; Michel Bourez (PYF) 12.90pts ; Isaiah Moniz (HAW) 12.60pts ; Tim Reyes (USA) 11.20pts