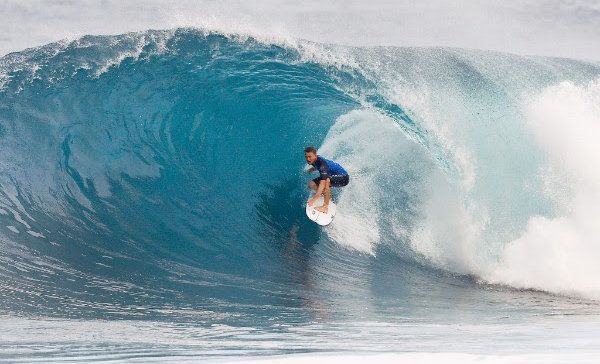 DUSTY PAYNE & BENJI BRAND TO COMPETE IN MAIN EVENT-DUSTY TO MEET JOHN JOHN FIRST ROUND MAIN EVENT. BENJI GETS GABRIEL.
SNN Outlook: 2 back to back above High Surf Warning swells will be limiting the 'window' of days to choose but sporadic decent surf and conditions can be expected in between.
The 13 sec NNW on Friday was 5-7′ average at Pipe with the best Pipe seen so far in ages. Seabreeze hampered the afternoon but the AM was good with A-Frame, Peaky Surf mostly at Backdoor. Saturday will see 3-5′ surf with the best texture early but North winds increase to chop it up later thanks to a stalled Front.  Sunday gets a fast ramp from the slightly downgraded 15 sec NNW hitting 12-18′ by lunch which is far too big for Pipe plus, moderate NNE veering NE winds will bump it out. Monday the 11th is 'the day' as winds veer SE, for perfect offshores & surf dropping 6-8+'.
The last NW is likely should reach XXL peaking 15-25+' Wednesday the 13th;  Pipe's 2-3rd reefs will be firing and rolling right over the inside, 100% maxed out and winds look fickle, not that it matters with surf at twice the warning level. We may need to count on a WNW-NW possibly the 18th-20th. Long Range forecasts can be fickle.
 Dusty Payne (HAW) claimed victory today at the Pipe Invitational and will compete in the Billabong Pipe Masters as the event wildcard when competition resumes.
Credit: © WSL / Cestari
Location:   
  Banzai Pipeline, Oahu/Hawaii 
Event window:
  December 8 – 

20, 2017

Today's call:
  Pipe Invitational Trials complete – congrats Dusty Payne and Benji Brand!
Conditions:
   6 – 8 foot (1.8 – 2.4 metre)
Pipe Invitational Final Results:
1 – Dusty Payne (HAW)12.00
2 – Benji Brand (HAW) 11.17
3 – Seth Moniz (HAW) 9.83
4 – Jack Robinson (AUS) 2.37
BANZAI PIPELINE, Oahu, Hawaii/USA (Friday, December 8, 2017) – Dusty Payne (HAW)won the Pipe Invitational today and earned the coveted wildcard entry into the Billabong Pipe Masters in Memory of Andy Irons, the final stop on the 2017 World Surf League (WSL) Championship Tour (CT) and the third gem of the Vans Triple Crown of Surfing (VTCS).
Former CT surfer Payne had a comeback performance after returning to competition from an eight-month hiatus due to injury but has proven successful rebounds throughout his career, including a win at the 2014 Hawaiian Pro, the first stop of the VTCS. Recently crowned WSL Hawaii/Tahiti Nui Regional Champion Benji Brand (HAW) will also advance to the main event after earning the runner-up finish in the Pipe Invitational event.
Today, 32 of the best Pipe surfers from Hawaii and around the world battled in the Pipe Invitational for a chance to compete alongside the WSL Top 34 men at the Billabong Pipe Masters. With only two event wildcards on the line, the day saw outstanding performances amongst the trialists with Payne and Brand besting the field.
"I'm excited to be in the Pipe Masters, it's an event every kid growing up in Hawaii who's a surfer dreams about," commented Payne. "It's just a blessing to be here. Had a great day surfing with Benji and all the guys, Seth (Moniz) and Jack (Robinson), everybody out there was ripping. It's a fun day, I'm just super grateful the WSL gave us this opportunity."
The 35-minute final opened with a quick ride by Brand but Seth Moniz (HAW), 20, set the bar when he dropped from the sky and pulled into a beautiful Backdoor runner, followed by a nice turn off the top for a 6.50 (out of a possible 10) from the judges. Brand stayed active and continued to lock in scores on his backhand, while Payne, 29, put a 4.0 on the scoreboard for a quick right-handed wave. Priority then shifted to Jack Robinson (AUS), a Margaret River local who won the 2015 Pipe Invitational, but after choosing an inside wave that only garnered a 1.30, the young surfer remained in fourth when he was unable to find a backup score.
Moniz had the lead for the majority of the heat with a 6.50 and 3.33 until Payne found an open Backdoor barrel that put him in an unsurpassable lead with an 8.0. Moniz dropped to second, but Brand continued to demonstrate versatility by riding both Pipeline and Backdoor waves and earned a 5.50 on his second to last wave to overtake Moniz. The final horn sounded and gave Dusty his first win of the season.
Payne will face 2017 World Title contender John John Florence (HAW) and Wiggolly Dantas (BRA) in Round 1 Heat 6 of the Billabong Pipe Masters when competition resumes.
"I was just trying to stay calm the whole day and not get too freaked out on how big the occasion is because it's pretty easy to get intimidated by all these really big names and really good guys at Pipe," said Brand. "I was trying to read the waves well and not get to freaked out about the situation and hopefully we can take down some names and give John the title."

Benji Brand's (HAW) backhand proved to be a weapon in the final when going up against all regular-footers in the Pipe Invitational.  
Credit: © WSL / Cestari
Brand will be up against World Title contender Gabriel Medina (BRA) and Miguel Pupo (BRA)in Round 1 Heat 5.
"Feels pretty unreal to think of having a heat with Gabriel Medina at Pipe," Brand continued. "I hope the waves are really fun and we can get some barrels, hopefully take out some names."
Hank Gaskell (HAW) of Hana, Maui scored the highest ride of the day, a near-perfect 9.00 for an unpredictable Backdoor barrel that threaded through multiple sections. With a lot of white water on the face, Gaskell used veteran knowledge to navigate the challenging ride and breakthrough the exit.
"It was a shaky one, I knew I was pretty deep so I just took off and set my line as fast as I could," commented Gaskell. "I gave a big pump and I fully fell forward and almost gave up and I was on my tip toes, just luckily managed to land back on my feet with enough balance, my foot was way on the wrong side of the board but I recovered. I'm glad it looked good because it felt really really difficult but I didn't know how it was going to look."
The best barrel of the morning awarded Gaskell advancement into the Quarterfinals, but he was ultimately eliminated in the second Semifinal by eventual Finalists Moniz and Robinson.
Event organizers will reconvene at 7:30 a.m. HST tomorrow to reassess the conditions and make the next call.
For more information, check outWorldSurfLeague.com.
Pipe Invitational Final Results:
1 – Dusty Payne (HAW)12.00
2 – Benji Brand (HAW) 11.17
3 – Seth Moniz (HAW) 9.83
4 – Jack Robinson (AUS) 2.37
Pipe Invitational Semifinal Results:
SF 1: Benji Brand (HAW) 12.27, Dusty Payne (HAW) 11.83, Koa Smith (HAW) 9.10, Billy Kemper (HAW) 5.90
SF 2: Seth Moniz (HAW) 11.07, Jack Robinson (AUS) 10.44, Finn McGill (HAW) 4.20, Hank Gaskell (HAW) 0.77
Pipe Invitational Quarterfinal Results:
QF 1: Dusty Payne (HAW) 8.67, Koa Smith (HAW) 8.37, Michael February (ZAF) 6.64, Griffin Colapinto (USA) 3.97
QF 2: Benji Brand (HAW) 10.84, Billy Kemper (HAW) 9.47, Nathan Florence (HAW) 7.94, Olamana Eleogram (HAW) 4.83
QF 3: Finn McGill (HAW) 9.83, Hank Gaskell (HAW) 7.10, Makuakai Rothman (HAW) 3.97, Makai McNamara (HAW) 1.93
QF 4: Jack Robinson (AUS) 13.50, Seth Moniz (HAW) 10.50, Shane Dorian (HAW) 2.87, Keoni Yan (HAW) 2.74
Pipe Invitational Round 1 Results:
Heat 1: Griffin Colapinto (USA) 11.83, Billy Kemper (HAW) 7.17, Isaiah Moniz (HAW) 6.17, Reef Heazlewood (AUS) 4.83
Heat 2: Dusty Payne (HAW)13.33, Benji Brand (HAW) 12.10, Luke Shepardson (HAW) 9.77, Koa Rothman (HAW) 6.64
Heat 3: Nathan Florence (HAW) 11.00, Koa Smith (HAW) 10.50, Joshua Moniz (HAW) 7.37, Ian Walsh (HAW) 3.77
Heat 4: Olamana Eleogram (HAW) 13.33, Michael February (ZAF) 7.76, Mikey Bruneau (HAW) 3.07, Cody Young (HAW) 2.60
Heat 5: Makai McNamara (HAW) 10.60, Shane Dorian (HAW) 9.50, Mason Ho (HAW) 8.84, Keanu Asing (HAW) 4.60
Heat 6: Hank Gaskell (HAW) 16.83, Keoni Yan (HAW) 8.36, Barron Mamiya (HAW) 7.93, Imaikalani deVault (HAW) 2.54
Heat 7: Seth Moniz (HAW) 11.17, Makuakai Rothman (HAW) 8.17, Kiron Jabour (HAW) 5.80, Bruce Irons (HAW) 0.20
Heat 8: Jack Robinson (AUS) 14.34, Finn McGill (HAW) 6.84, Patrick Gudauskas (USA) 6.33, Jamie O'Brien (HAW) 4.80
Upcoming Billabong Pipe Masters Round 1 Match-Ups:
Heat 1: Matt Wilkinson (AUS), Jeremy Flores (FRA), Jadson Andre (BRA)
Heat 2: Owen Wright (AUS), Kanoa Igarashi (USA), Josh Kerr (AUS)
Heat 3: Julian Wilson (AUS), Conner Coffin (USA), Stuart Kennedy (AUS)
Heat 4: Jordy Smith (ZAF), Bede Durbidge (AUS), Ethan Ewing (AUS)
Heat 5: Gabriel Medina (BRA), Miguel Pupo (BRA), Benji Brand (HAW)
Heat 6: John John Florence (HAW), Wiggolly Dantas (BRA), Dusty Payne (HAW)
Heat 7: Adriano de Souza (BRA), Caio Ibelli (BRA), Jack Freestone (AUS)
Heat 8: Kolohe Andino (USA), Joan Duru (FRA), Kelly Slater (USA)
Heat 9: Filipe Toledo (BRA), Michel Bourez (PYF), Ezekiel Lau (HAW)
Heat 10: Sebastian Zietz (HAW), Adrian Buchan (AUS), Ian Gouveia (BRA)
Heat 11: Joel Parkinson (AUS), Connor O'Leary (AUS), Leonardo Fioravanti (ITA)
Heat 12: Mick Fanning (AUS), Frederico Morais (PRT), Italo Ferreira (BRA)