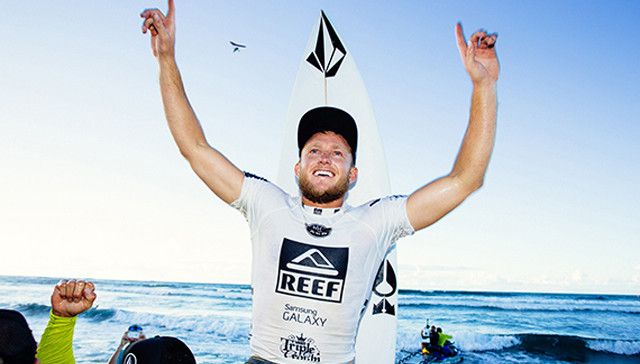 ASP Men's Prime Event
Vans Triple Crown of Surfing Event
Haleiwa Ali'i Beach Park, Oahu, Hawaii
12 – 23 November, 2014
Payne posts near-perfect heat score to take the final. Pic: Dusty Payne © ASP
Surf News Network, 15 November, 2014.Haleiwa – An incredible come-from-behind victory by Maui's Dusty Payne (HAW) at the REEF Hawaiian Pro may well be the moment that realigns his life. After a torrid couple of years that saw him drop off the ASP World Championship Tour (WCT) and sustain some debilitating injuries, he returned to competition here at Haleiwa with a new attitude and a renewed appreciation for the surfing life.
Payne was the only surfer in the four-man final to have surfed all the way through from Round 1 – a total of seven heats over four intense days, that encompassed everything from 6-foot to 20-foot surf. The result today more than proves his world-class ability. His challengers Julian Wilson (AUS), Jeremy Flores (FRA), and Adam Melling (AUS) were all seeded into later rounds in the event as established WCT competitors.
Wilson took an early command of the 35-minute final and looked to have it all wrapped up with a combination of airs, vertical snaps and torquing carves in double-overhead waves. With 14 minutes remaining, Payne dug deep to turn the tables. In a span of 90 seconds he posted back-to-back near-perfect wave scores of 9.87 and 9.77 for a total of 19.64. He attacked the waves with massive snaps and critical under-the-lip turns to seal the deal. FrenchmanFlores and Aussie Melling pulled up in third and fourth place respectively.
Payne, 26, won $40,000 today and leaps from relative obscurity at No. 97 on the ASP Qualifying Series (QS) ratings to No. 24, and within shot at requalification for the 2015 WCT. He also takes an early lead on the Vans Triple Crown ratings – "a Hawaiian world title," as he puts it; and takes pole position in the Hawaiian Airlines "Best In Class" award for the highest heat score of the Vans Triple Crown series.
"It's always been a dream of mine to win here since I watched Andy (Irons) win," Payne said through tears of hard-earned elation. "We just surfed epic Haleiwa for four days straight. What more can I say. I just want to have fun and keep surfing. This is the greatest job in the world."

Dusty Payne © ASP
Looking back on the final, Payne said he sat out there and asked himself 'What would Andy (Irons) do?' Irons, who passed away in November of 2010, was a close friend and deep well of inspiration for Payne during his early years on tour.
"After the first 9 dropped I thought, 'I'm still in this'," said Payne. "Then a flurry of waves came and luckily I got another one."
"When I was on tour I wasn't winning events or making the final day like I wanted to. Sitting out this year and watching my peers do well kind of fired me up and I'm excited for next year and whatever it brings. To be honest, I think it was the best thing for me. I just want to compete and bring everything I've got at it."
Today was only Payne's second major career win; his first being in March of 2013 at the Drug Aware Margaret Rive Pro in Western Australia.
Due credit should be given to Wilson, 26, who was in scintillating form through today's four rounds. His rapid-fire turns and dizzying aerial displays wowed the 5,000-strong crowd and made him a worthy finalist. Similarly, Melling andFlores demonstrated inspired and committed performances that barely wavered. Their results today will give their requalification hopes a major boost.
Recognition should also be given to Brazil's Raoni Monteiro; Californian Brett Simpson; and Portugal's Frederico Morais, who all performed solidly before their runs ended in the Semifinals. It was a critical result for Simpson, 29, who is now in good stead to requalify for the 2015 Championship Tour.
The next stage of the Vans Triple Crown of Surfing series is the Vans World Cup at Sunset Beach, with a holding period of November 24 through December 6. An ASP Prime-rated event, expect to see today's standouts take their momentum and run with it at a venue known as one of the most challenging waves on the planet. The third and final stop of the Triple Crown is the Billabong Pipe Masters, which is also the final event of the 2014 WCT season and will see a culmination to this year's World Title race.
REEF Hawaiian Pro Final Results:
1st: Dusty Payne (HAW) 19.64pts – $40,000 – 6,500 ratings points
2nd: Julian Wilson (AUS) 18.74pts – $20,000 – 5,200 ratings points
3rd: Jeremy Flores (FRA) 14.97pts – $12,000 – 4,450 ratings points
4th: Adam Melling (AUS) 11.33pts – $10,000 – 4,000 ratings points
REEF Hawaiian Pro Semifinal Results (1st & 2nd advance, 3rd=5th; 4th=7th):
Semifinal 1: Julian Wilson (AUS) 17.43pts ; Dusty Payne (HAW) 16.36pts ; Raoni Monteiro (BRA) 14.73pts ; Brett Simpson (USA) 14.50pts
Semifinal 2: Adam Melling (AUS) 17.40pts ; Jeremy Flores (FRA) 15.00pts ; Frederico Morais (PRT) 14.70pts ; Torrey Meister (HAW) 14.67pts
REEF Hawaiian Pro Quarterfinal Results (1st & 2nd advance, 3rd=9th; 4th=13th):
Quarterfinal 1: Julian Wilson (AUS) 17.67pts ; Dusty Payne (HAW) 15.50pts ; Jordy Smith (ZAF) 12.80pts ; Mick Fanning (AUS) 10.74pts
Quarterfinal 2: Raoni Monteiro (BRA) 15.60pts ; Brett Simpson (USA) 13.40pts ; Bede Durbidge (AUS) 13.07pts ; Joel Centeio (HAW) 12.83pts
Quarterfinal 3: Torrey Meister (HAW) 15.87pts ; Jeremy Flores (FRA) 15.57pts ; Wade Carmichael (AUS) 15.10pts ; Travis Logie (ZAF) 12.83pts
Quarterfinal 4: Adam Melling (AUS) 17.20pts ; Frederico Morais (PRT) 14.80pts ; Matt Wilkinson (AUS) 14.77pts ; Michel Bourez (PYF) 10.20pts