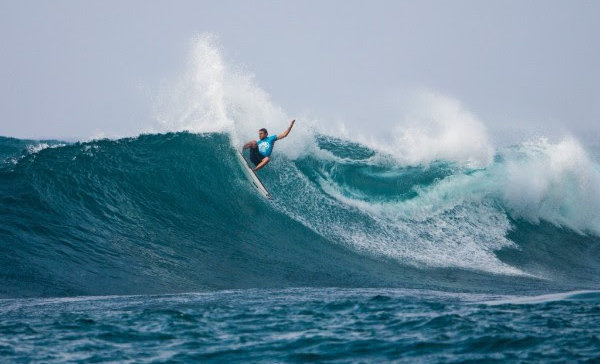 …AT HIC PRO FOR HAWAII SURF SEASON KICKOFF– OFFICIAL LOCAL QUALIFIER FOR VANS TRIPLE CROWN HIGHLIGHTS INTERNATIONAL MIX
– DEFENDING EVENT WINNER EZEKIEL LAU #1 HAWAIIAN SEED AT SUNSET BEACH 

INSANE SURF IN THE FORECAST FOR THE 3 DAY EVENT: 6-8+ NNW @12-14sec Sunday and a solid 6-8+ NW at 14s filling on Holloween peaking Thursday, Nov 1. Offshore Trades to kick off, plus some SE mix toward the end of Oct.  (SNN)
Dusty Payne (HAW) lays into a top turn at Sunset's west peak during last year's HIC Pro. Credit: © WSL / Heff
Event:                     HIC Pro, official local qualifier for Vans Triple Crown of Surfing
Rating:                   WSL Men's Qualifying Series (QS) 3,000
Event Window:     October 27 – November 9
Haleiwa, Oahu/HAWAII — (Monday, October 22, 2018) – The World Surf League (WSL) Hawaii/Tahiti Nui region excitedly prepares for the first event of the Vans Triple Crown of Surfing season, the HIC Pro, which has a holding period from October 27 – November 9. A WSL Men's Qualifying Series (QS) 3,000-rated event, the HIC Pro holds substantial qualification implications for local athletes, particularly former #24 Championship Tour competitor Dusty Payne (HAW), who will make his competitive comeback during the HIC Pro after a near-death drowning and critical head injury sustained at Pipeline in January of this year.Part of the 112-man field by way of a regional wildcard, Payne will take advantage of the HIC Pro as an opportunity for a bid into the Vans Triple Crown of Surfing (VTCS) despite being sidelined with multiple surgeries and months of rehabilitation. The determined athlete had his first experience back in the water in May on Maui, then transitioned onto a shortboard in June at the WSL Surf Ranch in Lemoore, California. Now, the 29-year-old feels prepared to take on the infamous surf season on Oahu's North Shore after consistent physical therapy work, gym time and spending as many hours as possible in the ocean.
"I'm excited about coming back to Oahu to compete in the HIC Pro, that was the first ASP/WSL event I did when I was just starting up as a young kid so it feels right," said Payne, 29. "It's going to be a pretty emotional trip over I'd imagine, but I'm so excited to compete and just get those butterflies of being in a competitive environment again. I've missed that feeling. I set a goal quietly to myself during my recovery and that was to be ready to compete or surf Pipe again during this winter season."
Payne earned equal third during the 2014 Vans World Cup at Sunset – stop No. 1 of the Vans Triple Crown – and skyrocketed from 97th on the QS to qualify for the 2015 CT, one of the biggest QS jumps in history. Credit: © WSL / Cestari
Payne hit his competitive stride in 2014 when he won the Hawaiian Pro Men's QS 10,000 and placed runner up at the Vans World Cup of Surfing Men's QS 10,000 to ultimately qualify for the 2015 Championship Tour (CT). He represents the golden opportunity that the HIC Pro offers local surfers, who also vie for the chance to surf in and earn the VTCS Champion title. However, this season, Payne has a different mentality in mind:
"My main focus for this winter season is just to enjoy every second of every day, I'm so fortunate and grateful to so many people to still be here and have this opportunity again," said Payne. "Sure, deep down I'd love to win the events I'm in, but I'm still in somewhat of the earlier stages of my recovery and going through a process that not many people have gone through before. I'm still getting better and getting more confident with every surf, so that is exciting. My main focus would be just to keep learning how to improve myself so I can be able to do this for many more years to come. And of course, be as safe as possible."
The field of competitors for this year's HIC Pro includes a well-rounded roster of both local and international surfers, including elite CT competitors Ezekiel Lau (Oahu), Patrick Gudauskas(California), Jordy Smith (South Africa) and Frederico Morais (Portugal). Lau added his name to the illustrious list of HIC Pro event winners last year to continue Hawaii's reign, which claims 33 out of 34 victories and looks to this competition as practice toward the remaining QS and CT events on home turf in Hawaii.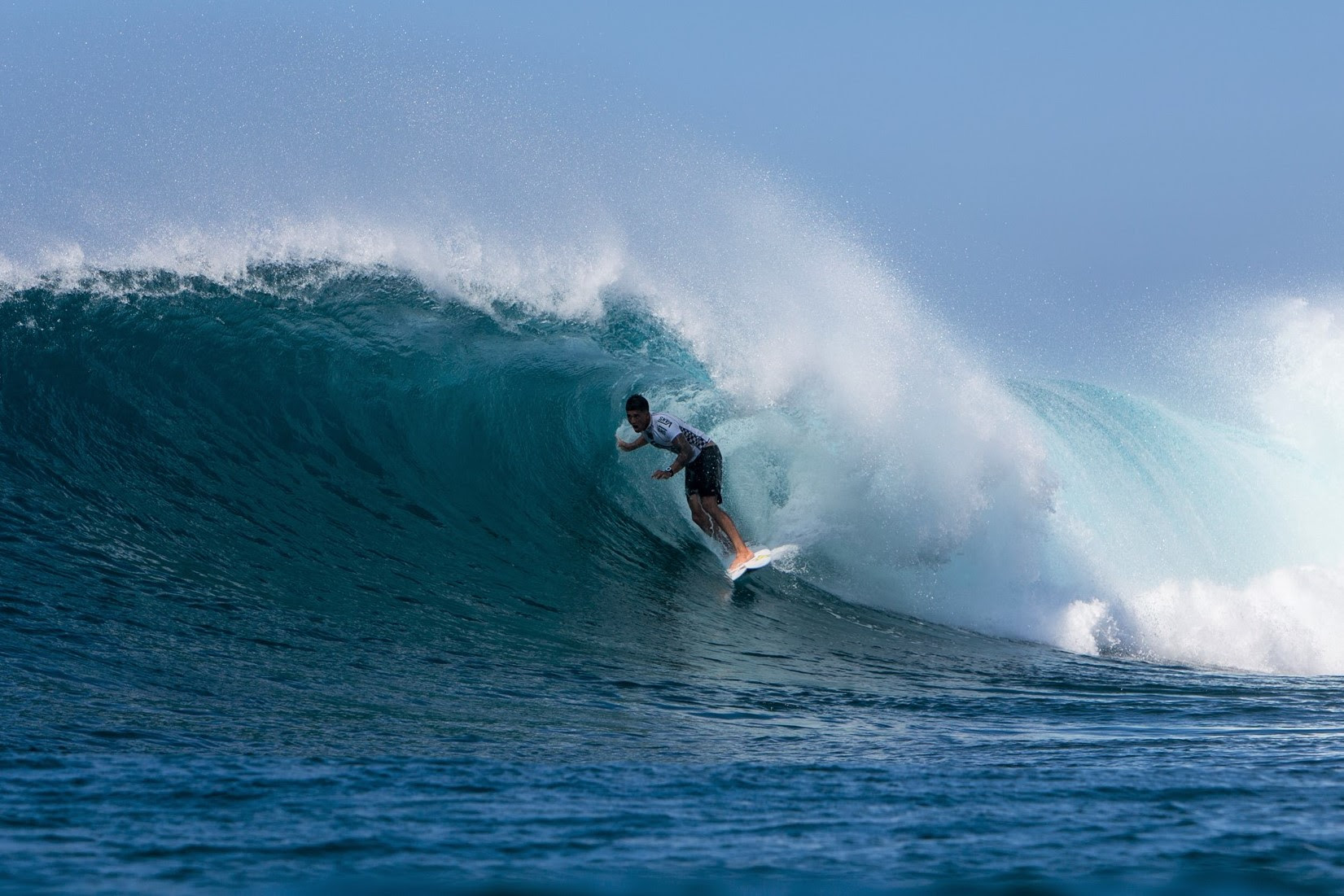 During the 2017 HIC Pro, Lau scored an 8.83 in the Quarterfinals for this barrel and built momentum all the way to his final winning wave. Credit: © WSL / Heff
Gudauskas competed in last year's HIC Pro and finished 25th after accepting defeat by Marc Lacomare (FRA), however, found redemption at Sunset Beach during the 2017 Vans World Cup with a Semifinal result and ultimately qualified for the 2018 CT. Gudauskas will be focused on finding more solid results at this year's Vans Triple Crown to secure another season in surfing's big leagues. The HIC Pro will serve as a worthy warm-up for the San Clemente talent.

 A perennial threat along the North Shore, Gudauskas puts in his time at Sunset Beach and has become a standout in all conditions. Credit: © WSL / Masurel
The HIC Pro and VTCS provide the final opportunities for qualification to the WSL Men's CT via the QS rankings, which creates a high-tension competition. In addition to this, the anticipation of a moderate El Niño winter has athletes looking forward to the wave and weather conditions that typically accompany this climate pattern – above-average surf and ideal trade winds for a contestable, groomed lineup at Sunset Beach.
"The forecasted El Niño for the winter season is on track, with about a three-month lag from the westerly wind bursts to the mature state of El Niño," said National Oceanic and Atmospheric Administration (NOAA) Oceanographer/Surf Forecaster, Pat Caldwell. "That means more days of extra-large to giant-than-normal surf January through February. For the fall season before an El Niño, there are more typhoons in the western Pacific that can potentially turn into the North Pacific, which would likely add a few days well above average."
The HIC Pro will run on the three biggest and best days of competition within the holding window, October 27 – November 9, and will crown an event winner plus the WSL Hawaii/Tahiti Nui Regional QS Winner. Visit WorldSurfLeague.com and VansTripleCrownOfSurfing.com to watch the event LIVE, or tune into Spectrum SURF Channel, which will televise the 2018 HIC Pro and all Vans Triple Crown of Surfing events LIVE and in replay on digital channels 20 and 1020HD across the state of Hawaii.
About Vans
Vans®, a VF Corporation (NYSE: VFC) brand, is the original action sports footwear, apparel and accessories brand. Vans® authentic collections are sold in 84 countries through a network of subsidiaries, distributors and international offices. Vans® has over 2,000 retail locations globally including owned, concession and partnership doors. The Vans® brand promotes creative self-expression in youth culture across action sports, art, music and street culture and delivers progressive platforms such as the Vans Park Series, Vans Triple Crown of Surfing®, Vans Pool Party, Vans Custom Culture, and Vans' cultural hub and international music venue, House of Vans.
Vans, "Off The Wall" Since '66
---
About the WSL
The World Surf League (WSL) is dedicated to celebrating the world's best surfing on the world's best waves through a variety of best-in-class audience platforms. The organization, headquartered in Santa Monica, is a global sport with regional offices in Australasia, Africa, North America, South America, Hawaii, Japan and Europe.The WSL has been championing the world's best surfing since 1976, annually running more than 180 global events across the Men's and Women's Championship Tours, the Big Wave Tour, Qualifying Series, Junior and Longboard Championships, as well as the WSL Big Wave Awards. The League possesses a deep appreciation for the sport's rich heritage while promoting progression, innovation and performance at the highest levels, and in doing so crowns the undisputed Men's and Women's World Champions across all tours.Showcasing the world's best surfing on its digital platform at WorldSurfLeague.com, the WSL has a passionate global fan base with millions tuning in to see world-class athletes like Kelly Slater, Stephanie Gilmore, Tyler Wright, John Florence, Lakey Peterson, Paige Alms, Kai Lenny, Taylor Jensen, Honolua Blomfield, Carissa Moore, Gabriel Medina, Courtney Conlogue and more battle on the most dynamic field of play of any global sport.For more information, please visit WorldSurfLeague.com