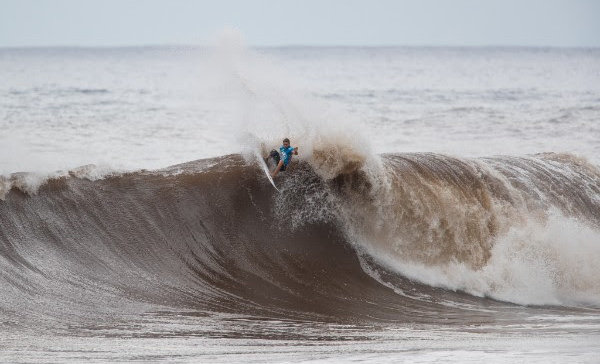 – JORGANN COUZINET SCORES EXCELLENT 9.00
– TOP SEEDS TACKLE FORMIDABLE LOCAL FIELD IN ROUND THREE
Cover Shot:
Maui's 
Dusty Payne
 comes back with vengeance during his homecoming at Sunset Beach's HIC Pro. 
Credit:
 © WSL / Heff
Event:                     HIC Pro, WSL Men's QS 3,000
Window:                 October 27 – November 9
Conditions:            6-8ft. WNW swell, light S winds
Haleiwa, Oahu/HAWAII — (Tuesday, October 30, 2018) – The highly anticipated return of Dusty Payne (HAW) saw him command not only the attention of spectators at Sunset Beach, but the lineup as well during Day 2 of the HIC Pro, a World Surf League (WSL) Men's Qualifying Series (QS) 3,000 event. After sustaining major injuries to his skull, jaw and face from a tragic wipeout at Pipeline in January of this year, Payne persisted through months of rehabilitation to compete today and ended on top of his Round Three heat in heroic form.
The North Shore transitioned from a flood warning, stormy morning into a rideable new swell that provided excellent conditions for Payne and fellow competitors on Day 2 of competition. Payne fearlessly tackled his heat and earned a 7.40 for a well-executed single turn on the outside, which gave him an early lead on Mitch Coleborn (AUS), Luke Shepardson (HAW) and Ezra Sitt (HAW), who took the place of Championship Tour (CT) surfer Jordy Smith (ZAF). The Maui surfer then backed this up with a 4.20 to jump points ahead of second-place advancer Shepardson. This is Payne's first session at Sunset Beach after his accident and he looked confident, committed and in-form.
Payne sets up with a classic bottom turn during Round Three Heat 8. 
Credit:
 © WSL / Heff
"I tried to mentally prepare myself to be here and be back in a jersey competing again, but that all went out the window as soon as I paddled out and I saw friends that I haven't seen and just people who actually saved my life that day," said Payne. "A lot of emotions paddling out, but I got out there and was just so grateful to be able to surf Sunset with three other guys. That's why we do this, because it's so special to be able to compete at these venues that the WSL has set up for us. One of my favorite things in the world is competing and I'm just happy to be back in a jersey, it feels amazing."
After Payne hit the beach post-heat, he was presented with a lei from contest organizers as kids swarmed for autographs. The homecoming was emotional for the athlete, especially since the HIC Pro was his very first professional competitive event.
"The HIC Pro has always been one of my favorite events," Payne continued. "It's kind of that warm up leading into the Triple Crown and some of my heroes growing up have all won this event and it's always been one that I've wanted to do well in. To make my return to the same event that I started my career at, it's a feel-good thing, and comfortable. I don't think I could have competed anywhere else as my first event back, just because I really wasn't ready, but I'm still getting better. This event just made sense and I'm just so grateful to the WSL for the opportunity."
Earlier in the day, Reunion Island's Jorgann Couzinet (FRA) attacked Sunset with the kind of commitment that garnered excellent scores and earned a near-perfect 9.0 for two solid turns and another powerful finishing maneuver on a set wave in the final seconds of Round Three Heat 4. He took advantage of the wave of the heat after fellow competitors lost priority due to an interference call, and Couzinet immediately saw his opportunity.
Couzinet unleashed excellence and made his way into Finals Day. 
Credit:
 © WSL / Chlala
"I saw all of them fighting for the first one, so I knew I was going to get first priority right after. So I had priority when that wave came and thought, 'oh that's a bomb, just go for it and try to improve your scores,' and that's what I did. I didn't fall on my last turn so I was like 'yes, that might be something like an 8.00', I knew it was going to be a good score. So I'm stoked."
Couzinet has had a busy season on the QS and currently sits in the No. 8 position on the rankings, well within striking distance of qualifying for the 2019 Championship Tour (CT). He recently arrived in Hawaii after surfing in Brazil and was pleased with today's conditions at Sunset Beach, despite the chocolate color from the nearby river runoff.
"The conditions were super good, I really love the conditions and I would love to surf another time today but we're not going to have time," Couzinet continued. "So I think I'm going to try and find some waves somewhere on the island. I can't wait to see the waves tomorrow and I'm ready to rock and roll."
With a fierce lip attack that saw him land on his feet every time, North Shore's Barron Mamiya (HAW) used power and agility to produce the event's best heat total, a 17.16 (out of a possible 20). With a knack for big surf, the teen was in a league of his own and will surf again in Round 4 once competition resumes.
Mamiya's lip game was unparalleled today in the unruly Sunset conditions. 
Credit:
 © WSL / Heff
Earlier this month, Mamiya placed runner-up at the HYSDO Pro Junior at Turtle Bay Resort, which saw him take the WSL Hawaii/Tahiti Nui Regional Junior Champion title for the second consecutive year. Although this was Mamiya's final year competing as a junior, he has been surfing at the professional level for years and has earned his place among the North Shore's best at breaks like Pipeline/Backdoor and Sunset Beach.
Kiron Jabour (HAW) produced one of the highest single wave scores of the morning, an 8.17 for three solid carves on a set wave with his signature power surfing style. Jabour easily took first place advancement ahead of fellow competitors with a combined heat total of 14.34, a confident forehand approach and a seasoned knowledge of the break.
"Today I showed up really early to the beach, and I watched the buoys last night and this morning and knew there was a swell coming and there was a good chance the contest would be called on," said Jabour. "It's turning out to be a pretty fun day at Sunset, there's waves, guys are riding step-ups, and there's at least two good sets per heat. You have to be patient and wait for the sets and navigate through the bumps and some debris too, but there is definitely some action out there."
Thick sections and chunky whitewash churned through the lineup today, which Jabour navigated expertly. 
Credit:
 © WSL / Chlala
A North Shore standout and international traveler, Jabour has competed in 13 QS events this year with his best finish at the Burton Automotive Pro QS 6,000 in Australia. Currently ranked #103 on the International QS, his sights are set on competing in home turf during the Vans Triple Crown of Surfing, something he looks forward to every year.
"I grew up here on the North Shore surfing these waves and watching the Triple Crown and that was my whole inspiration to becoming a professional competitive surfer," said Jabour. "It's always been a dream of mine to win the Triple Crown and I feel really good this year, this is the perfect warm up for that, being one of the venues for the Triple Crown. So I'm getting into that mindset since it starts in two weeks."
In anticipation of a sweet finals day, contest organizers are targeting to wrap the competition tomorrow, on Halloween day, to crown an event winner and Regional QS Winner. Visit WorldSurfLeague.com, the WSL app, WSL Facebook page and VansTripleCrownOfSurfing.com to watch the event LIVE, or tune into Spectrum SURF Channel, which will televise the 2018 HIC Pro and all Vans Triple Crown of Surfing events LIVE and in replay on digital channels 20 and 1020 HD across the state of Hawaii.
Results
Athletes listed from 1st through 4th
Round 3, 1st and 2nd advance, 3rd =33rd place, 4th = 49th place
H1: Kiron Jabour (HAW), Jeronimo Vargas (BRA), Imaikalani DeVault (HAW), Seth Moniz (HAW)
H2: Soli Bailey (AUS), Cody Young (HAW), Manuel Selman (CHL), Maxime Huscenot (FRA)
H3: Lucas Silveira (BRA), Alonso Correa (PER), Finn McGill (HAW), Reef Heazlewood
H4: Jorgann Couzinet (FRA), Jackson Baker (AUS), Reo Inaba (JPN), Evan Valiere (HAW)
H5: Cooper Chapman (AUS), Jack Robinson (AUS), Leonardo Fioravanti (ITA), Kekoa Cazimero (HAW)
H6: Ricardo Christie (NZL), Beyrick De Vries (ZAF), Sheldon Simkus (AUS), Lliam Mortensen (AUS)
H7: Nat Young (USA), Dion Atkinson (AUS), Lahiki Minamishin (HAW), Parker Coffin (USA)
H8: Dusty Payne (HAW), Luke Shepardson (HAW), Mitch Coleborn (AUS), Ezra Sitt (HAW)
H9: Victor Bernardo (BRA), Noe Mar McGonagle (CRI), Gatien Delahaye (FRA)
H10: Barron Mamiya (HAW), Matthew McGillivray (ZAF), Logan Bediamol (HAW), Wyatt McHale (HAW)
H11: David Van Zyl (ZAF), Slade Prestwich (ZAF), Jacob Willcox (AUS), Alejo Muniz (BRA)
H12: Joshua Moniz (HAW), Tanner Hendrickson (HAW), Dylan Lightfoot (ZAF), Kai Lenny (HAW)
Round 2, 1st and 2nd advance, 3rd = 65th place, 4th = 81st place
H12: Dylan Lightfoot (ZAF), David Van Zyl (ZAF), Elijah Gates (HAW), Kyuss King (AUS)
H13: Benji Brandi (HAW), Jackson Bunch (HAW), Santiago Muniz (ARG), Luke Adolfson (HAW)
H14: Tristan Guilbaud (FRA), Raoni Monteiro (BRA), Shayden Pacarro (HAW), Makuakai Rothman (HAW)
H15: O'Neill Massin (PYF), Ian Crane (USA), Torrey Meister (HAW), Keijiro Nishi (JPN)
H16: Ian Gentil (HAW), Miguel Blanco (PRT), Adin Masencamp (ZAF), Makai McNamara (HAW)
About Vans
Vans®, a VF Corporation (NYSE: VFC) brand, is the original action sports footwear, apparel and accessories brand. Vans® authentic collections are sold in 84 countries through a network of subsidiaries, distributors and international offices. Vans® has over 2,000 retail locations globally including owned, concession and partnership doors. The Vans® brand promotes creative self-expression in youth culture across action sports, art, music and street culture and delivers progressive platforms such as the Vans Park Series, Vans Triple Crown of Surfing®, Vans Pool Party, Vans Custom Culture, and Vans' cultural hub and international music venue, House of Vans.
Vans, "Off The Wall" Since '66
About HIC
Hawaii's biggest and best selection of surf gear! Since 1971, HIC has provided Hawaii with quality surfboards, skateboards, clothing and accessories – by surfers, for surfers. Locally owned and operated, the HIC retail chain includes sixteen stores across Oahu, Maui and Hawaii Island, along with two stores in Japan. Through a commitment to quality, service and aloha spirit, the brand has built a reputation as an icon of Hawaiian surfing recognized throughout the world. Enjoy the ride!
# # #
---
About the WSL
The World Surf League (WSL) is dedicated to celebrating the world's best surfing on the world's best waves through a variety of best-in-class audience platforms. The organization, headquartered in Santa Monica, is a global sport with regional offices in Australasia, Africa, North America, South America, Hawaii, Japan and Europe.
The WSL has been championing the world's best surfing since 1976, annually running more than 180 global events across the Men's and Women's Championship Tours, the Big Wave Tour, Qualifying Series, Junior and Longboard Championships, as well as the WSL Big Wave Awards. The League possesses a deep appreciation for the sport's rich heritage while promoting progression, innovation and performance at the highest levels, and in doing so crowns the undisputed Men's and Women's World Champions across all tours.
Showcasing the world's best surfing on its digital platform at WorldSurfLeague.com, the WSL has a passionate global fan base with millions tuning in to see world-class athletes like Kelly Slater, Stephanie Gilmore, Tyler Wright, John Florence, Lakey Peterson, Paige Alms, Kai Lenny, Taylor Jensen, Honolua Blomfield, Carissa Moore, Gabriel Medina, Courtney Conlogue and more battle on the most dynamic field of play of any global sport.
For more information, please visit WorldSurfLeague.com