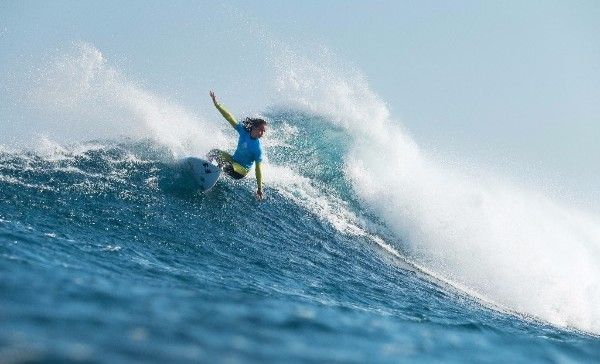 – WILKINSON AND CONLOGUE LEAD WSL ELITE INTO THE WILDS OF WESTERN AUSTRALIA
– LOCAL MARGARET RIVER WUNDERKIND JACK ROBINSON NAMED AS WILDCARD
Coming off of a win at the Rip Curl Women's Pro Bells Beach, Courtney Conlogue (USA) will battle the world's best surfers to defend her 2015 Drug Aware Margaret River Pro Title.
Image: WSL / Cestari
MARGARET RIVER, Western Australia/AUS (Tuesday, April 5, 2016) – The world's best surfers are traversing the Australian continent in preparation for the third stop on the 2016 Samsung Galaxy WSL Championship Tour, the Drug Aware Margaret River Pro, from April 8 – 19, 2016.
The final event of the tour's Australian leg, the Drug Aware Margaret River Pro picks up where Snapper Rocks and Bells Beach left off, transporting the world's best surfer to the wilds of Western Australia where Margaret River Main Break, the infamous Box and newcomer North Point are all options over the coming two weeks.
Matt Wilkinson (AUS), into his 7th season amongst the world's best surfers, has gone back-to-back in 2016, posting huge wins at the Quiksilver Pro Gold Coast and the Rip Curl Pro Bells Beach to lead the WSL Top 34 to the Drug Aware Margaret River Pro.
"I guess I didn't want my career to end and be wondering if I could have done better," Wilkinson said of his newfound success. "I've been working on a lot of little things, but if you improve 10% across 10 different parts of yourself, then that makes you a 100% better surfer. I'm looking to keep it rolling. I love West Oz and I'll be getting out there as soon as possible."
Adriano de Souza (BRA), reigning WSL Champion and defending event winner, has carried his same surgical precision and power-based approach from last year into 2016 and the Brazilian current sits 10th on the Jeep WSL Leaderboard. De Souza will look to replicate last year's sensational form here again in Margaret River.
"It's a very interesting year already and anyone can beat anyone," De Souza said. "I love coming to Western Australia and enjoy surfing all the different spots we have available for the event. Hopefully we get great conditions."
Jack Robinson (AUS), 18-year old local talent from Margaret River, has been on the international scene for several years now, but has really started to turn heads with his abilities in heavy-water venues like Teahupo'o and Pipeline over the last year. The WSL Commissioner's Office have allocated the young natural-footer one of two wildcards into the 2016 Drug Aware Margaret River Pro.
"I feel very privileged to be chosen," Robinson said. " I can't wait for the show to begin and looking forward to competing on home turf and also considering the extra locations available this year."
Courtney Conlogue (USA), current WSL No. 1 and defending event winner, is on the role of her life this season, coming off back-to-back Finals and claiming the Rip Curl Pro Bells Beach last week. Last year's WSL Runner-Up, Conlogue is supremely focused on attained the long-eluded WSL Title and will be a major player in Western Australia this week.
"It's been a great start to the year," Conlogue said. "I've wanted to ring the Bell my whole life and now I have. The goal is the WSL Title. I'm feeling strong. I think the waves in West Oz suit my surfing and I'm looking for a solid result there."
Carissa Moore (HAW), reigning three-time WSL Champion, has had a consistent 2016, posting Semifinals berths at both the Gold Coast and Bells Beach. A former winner at Margaret River, Moore will look to crack the Finals for the first time this year.
The event is also being carried by our LIVE broadcast partners Fox Sports Australia, CBS Sports in the United States, ESPN Brasil, Globosat, Edgesport, Sky NZ, Sport TV, Canal + Deportes, Channel Nine, MCS, Starhub, and Oceanic Time Warner Cable 250 & 1250 in Hawaii
Drug Aware Margaret River Pro Men's Round 1 Match-Ups:
Heat 1: Jeremy Flores (FRA), Taj Burrow (AUS), Alejo Muniz (BRA)
Heat 2: Julian Wilson (AUS), Kai Otton (AUS), Alex Ribeiro (BRA)
Heat 3: Matt Wilkinson (AUS), Stuart Kennedy (AUS), Adam Melling (AUS)
Heat 4: Italo Ferreira (BRA), Kanoa Igarashi (USA), Dusty Payne (HAW)
Heat 5: Gabriel Medina (BRA), Davey Cathels (AUS), TBD
Heat 6: Adriano de Souza (BRA), Keanu Asing (HAW), TBD
Heat 7: Jordy Smith (ZAF), Michel Bourez (PYF), Jack Freestone (AUS)
Heat 8: Nat Young (USA), Caio Ibelli (BRA), Matt Banting (AUS)
Heat 9: Joel Parkinson (AUS), Conner Coffin (USA), Ryan Callinan (AUS)
Heat 10: Kelly Slater (USA), Kolohe Andino (USA), Miguel Pupo (BRA)
Heat 11: John John Florence (HAW), Adrian Buchan (AUS), Sebastian Zietz (HAW)
Heat 12: Wiggolly Dantas (BRA), Josh Kerr (AUS), Jadson Andre (BRA)
Drug Aware Margaret River Pro Women's Round 1 Match-Ups:
Heat 1: Tatiana Weston-Webb (HAW), Bianca Buitendag (ZAF), Keely Andrew (AUS)
Heat 2: Sally Fitzgibbons (AUS), Malia Manuel (HAW), Chelsea Tuach (BRB)
Heat 3: Courtney Conlogue (USA), Alessa Quizon (HAW), TBD
Heat 4: Carissa Moore (HAW), Sage Erickson (USA), Laura Enever (AUS)
Heat 5: Tyler Wright (AUS), Nikki Van Dijk (AUS), Coco Ho (HAW)
Heat 6: Johanne Defay (FRA), Stephanie Gilmore (AUS), Bronte Macaulay (AUS)