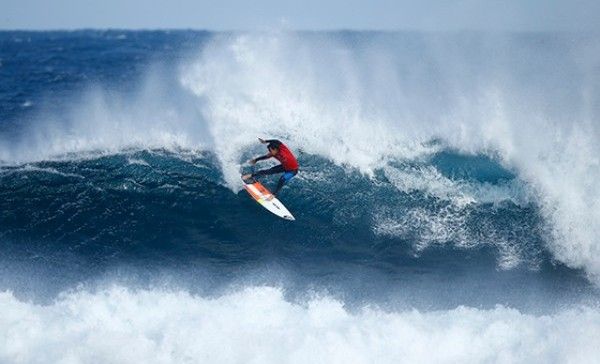 – MAIN BREAK FIRES FOR MEN'S ROUND 1 AND ROUND 2
– SLATER SUFFERS EARLY ROUND 2 ELIMINATION…WORST START IN HIS CAREER
Jeremy Flores (FRA) blazed through elimination Round 2 to defeat injury replacement Jay Davies (AUS) at the Drug Aware Margaret River Pro. Flores will battle Sebastian Zietz (HAW) in Heat 10 Round 3 when competition gets underway.
Image: WSL / Sloane
| | |
| --- | --- |
| Location:    |   Margaret River, Western Australia  |
| Event window: |   April 8 – April 19, 2016 |
| Today's call: |  Men's Round 1 & 2 called ON |
| Conditions: |   4 – 6 foot (1.5 metre) |
MARGARET RIVER, Western Australia/AUS (Saturday, April 9, 2016) –  The Drug Aware Margaret River Pro witnessed a solid day of competition with the completion of Men's Round 1 and Round 2.
The third stop on the 2016 Samsung Galaxy WSL Championship Tour, the Drug Aware Margaret River Pro, saw tricky conditions challenge the world's best in 4 to 6 foot (1.5 metre) waves at Main Break in Western Australia.
Kelly Slater (USA), eleven-time WSL Champion, was knocked out of the event by 18-year-old injury replacement Leonardo Fioravanti (ITA). Fioravanti upset the competition as he eliminated the CT superstar in Round 2 Heat 3. Fioravanti charged throughout the heat, first solidifying a 7.93 and then backing that up with an 8.67. Slater, with a 13.43, was not able to close the 3.17 point gap to defeat the injury replacement. Slater has struggled on the 2016 CT and has not yet advanced past Round 3 this season.
"Surfing a heat against Kelly has always been a dream of mine," Fioravanti said. "To actually beat him in a heat is unbelieveable, I am still in shock. These guys are the best surfers in the world so you have to surf one-hundred percent. It is a special opportunity and you do not get these opportunities that much, so I am having so much fun."
"I did not start out real great," Slater said. "I had a quick start, but at the end of my wave I could not see because I was in the foam trying to recover, and when I jumped I went straight onto my tailbone right onto a rock. I think what is going on is that when you get a guy like Leonardo who has nothing to lose and gets into the event as an injury replacement, he knows he has to go out there and have fun and be smart. He had a game plan to be on the best waves and it worked out for him."
Heat 1 saw John John Florence (HAW) face Adrian Buchan (AUS) and injury replacement Sebastian Zietz (HAW) in an intense match-up. All three competitors posted solid rides throughout the heat, including a huge 9.77 by Zietz and a 9.87 by Florence. Florence put together an 18.87 two-wave combined score, leaving Buchan into a combination situation and Zietz to chase a 9.11. Florence ran away with the win and will advance to Round 3.
"I've been surfing out here a lot this time around, where in the past couple of years I would come here on freesurf trips before the event and surf everywhere but here," Florence said. "This year I have really focused on just surfing here. I have been here a bunch of times and surfed this wave quite a bit. I like this wave a lot."
Although Buchan lost in Round 1 against Florence, he fought hard through Round 2 to defeat injury replacement and former CT charger Dusty Payne (HAW). The two went blow for blow, each exchanging 8 and 9 point rides. Despite Payne earning the highest ride of the heat, a 9.20, he fell only 0.07 points short of advancing to the next round.
"Dusty is a great surfer out here and he has won the event here before," Buchan said. "He beat me in the Semis that year. As I was getting ready for the heat, I saw the heat draw and knew it was going to be a good heat. We both put down some great scores and I am sure it was one of those ones where it could have gone either way. I am stoked with how I surfed. I feel like I am doing some great surfing and competing really well and enjoying myself."
The opening heat of the day saw Kolohe Andino (USA) fly through Round 1 to advance to Round 3 after defeating eleven-time WSL Champion Kelly Slater (USA) andMiguel Pupo (BRA). Andino stayed selective throughout the heat to post a 15.70 two-wave combined score. Slater was not able to find the 8.87 point ride to take the lead away from Andino.
"You have to react really quickly with picking a wave and picking a maneuver," Andino said. "I wasn't sure if Kelly was going to go on that first one and then he ended up going. I was stoked he did because it was not that good, but if I would have taken off, I would have gotten an interference, which is not a cool thing to start the heat with."
After missing the first two events of the 2016 CT due to injury, Alejo Muniz (BRA) is back in action with a win over Kai Otton (AUS) in Heat 8 Round 2. Muniz narrowly pushed ahead of Otton with a 12.23 two-wave combined score. Otton only needed a 6.67 to win the heat, but fell short by only 1.66 points.
"I know that victory was really important to myself, but the real thing was to be here again," Muniz said. "I missed everyone and I missed wearing the jersey. It has been a personal battle for five months already. I came back to surf two weeks ago and just that feeling to be back in the water was amazing. To be able to be here is such a special moment for me."
Round 2 saw the 2016 WSL rookie class battle against each other with Caio Ibelli (BRA) against Alex Ribeiro (BRA) in Heat 7, and Kanoa Igarashi (USA) against Ryan Callinan (AUS) in Heat 10. Ibelli and Igarashi will advance to Round 3 after taking out Ribeiro and Callinan, respectively.
Highlights from the Drug Aware Margaret River Pro will be webcast LIVE at WorldSurfLeague.com.
Drug Aware Margaret River Pro Men's Remaining Round 1 Results:
Heat 10: Kolohe Andino (USA) 15.70,  Kelly Slater (USA) 12.16, Miguel Pupo (BRA) 5.10
Heat 11: Josh Kerr (AUS) 14.93, Wiggolly Dantas (BRA) 14.50, Jay Davis (AUS) 9.50
Heat 12: John John Florence (HAW) 18.87, Adrian Buchan (AUS) 15.27, Sebastian Zietz (HAW) 13.20
Drug Aware Margaret River Pro Men's Round 2 Results:
Heat 1: Jeremy Flores (13.00) 14.80 def. Jay Davies (AUS) 14.60
Heat 2: Jordy Smith (ZAF) 15.94 def. Jacob Willcox (AUS) 13.73
Heat 3: Leonardo Fioravanti (ITA) 16.60 def. Kelly Slater (USA) 13.43
Heat 4: Wiggolly Dantas (BRA) 18.06 def. Jack Robinson (AUS) 14.37
Heat 5: Adrian Buchan (AUS) 18.00 def. Dusty Payne (HAW) 17.93
Heat 6: Adam Melling (AUS) 13.84 def. Conner Coffin (USA) 12.63
Heat 7: Caio Ibelli (BRA) 14.74 def. Alex Ribeiro (BRA) 12.83
Heat 8: Alejo Muniz (BRA)12.23 def. Kai Otton (AUS) 10.57
Heat 9: Matt Banting (AUS) 14.90 def. Stuart Kennedy (AUS) 13.30
Heat 10: Kanoa Igarashi (USA) 14.23 def. Ryan Callinan (AUS) 13.64
Heat 11: Miguel Pupo (BRA) 14.50 def. Davey Cathels (AUS) 13.33
Heat 12: Sebastian Zietz (HAW) 15.40 def. Keanu Asing (HAW) 13.00
Drug Aware Margaret River Pro Men's Round 3 Match-Ups:
Heat 1: Matt Wilkinson (AUS) vs. Matt Banting (AUS)
Heat 2: Joel Parkinson (AUS) vs. Michel Bourez (PYF)
Heat 3: Julian Wilson (AUS) vs. Miguel Pupo (BRA)
Heat 4: Nat Young (USA) vs. Taj Burrow (AUS)
Heat 5: Josh Kerr (AUS) vs. Adrian Buchan (AUS)
Heat 6: Adriano de Souza (BRA) vs. Leonardo Fioravanti (ITA)
Heat 7: Gabriel Medina (BRA) vs. Adam Melling (AUS)
Heat 8: Wiggolly Dantas (BRA) vs. Kolohe Andino (USA)
Heat 9: Jordy Smith (ZAF) vs. Kanoa Igarashi (USA)
Heat 10: Jeremy Flores (FRA) vs. Sebastian Zietz (HAW)
Heat 11: John John Florence (HAW) vs. Caio Ibelli (BRA)
Heat 12: Italo Ferreira (BRA) vs. Alejo Muniz (BRA)
Drug Aware Margaret River Pro Women's Round 2 Match-Ups:
Heat 1: Malia Manuel (HAW) vs. Keely Andrew (AUS)
Heat 2: Bianca Buitendag (ZAF) vs. Chelsea Tuach (BRB)
Heat 3: Tyler Wright (AUS) vs. Felicity Palmateer (AUS)
Heat 4: Johanne Defay (FRA) vs. Laura Enever (AUS)
Heat 5: Stephanie Gilmore (AUS) vs. Coco Ho (HAW)
Heat 6: Sage Erickson (USA) vs. Alessa Quizon (HAW)