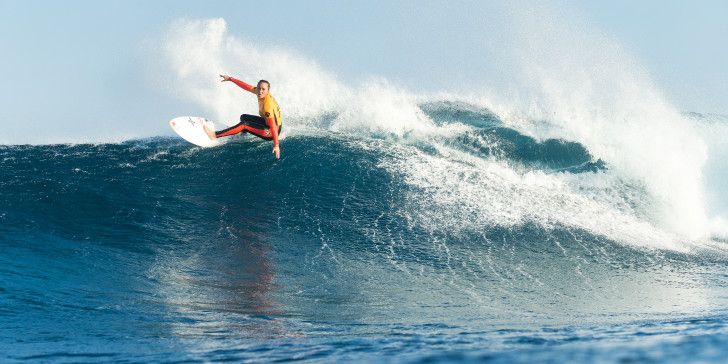 – MEN'S ROUND 1 TO FOLLOW WOMEN'S OPENING ROUND
Three-time World Champion and last year's event runner-up, Carissa Moore (HAW), will face Sage Erickson (USA) and Laura Enever (AUS) in Round 1 Heat 4.
Image: WSL / Cestari
| | |
| --- | --- |
| Location:    |   Margaret River, Western Australia  |
| Event window: |   April 8 – April 19, 2016 |
| Today's call: |   Women's Round 1 called ON |
| Conditions: |   4+ foot (1.5 metre) |
MARGARET RIVER, Western Australia/AUS (Friday, April 8, 2016) – The Drug Aware Margaret River Pro, the third stop on the 2016 Samsung Galaxy WSL Championship Tour, will kick off this morning with Women's Round 1 followed by Men's Round 1 called ON for a 7:10 am start.
The final event of the CT's Australian leg, the Drug Aware Margaret River Pro, will commence in 4 feet + (1.5 metre) clean waves at Main Break in Western Australia.
"We have woken up this morning and it is looking really nice out here," said WSL Deputy Commissioner Jessi Miley-Dyer. "We are going to go for a 7:10 am start. We are going to go into Women's Round 1, followed by Men's Round 1."
Courtney Conlogue (USA) will don the coveted yellow Jeep WSL Leader Jersey in competition today and throughout the event. Round 1 will see Conlogue face battleAlessa Quizon (HAW) and Trails Winner, Felicity Palmateer (AUS) to defend her event Title and keep her standing on the Jeep Leaderboard.
Tyler Wright (AUS), current World No. 2, will compete against Nikki Van Dijk (AUS)and Coco Ho (HAW) in Round 1 Heat 5. Round 1 Heat 6 will witness a throwdown between Stephanie Gilmore (AUS), Johanne Defay (FRA) and injury replacementBronte Macaulay (AUS) in Heat 6.
Carissa Moore (HAW), three-time World Champion and previous event winner, comes into this event with laser focus and her eye on the Jeep WSL Leader Jersey. Moore will meet Sage Erickson (USA) and Laura Enever (AUS) in Round 1 Heat 4.
Up first this morning will be 2015 WSL Rookie of the Year Tatiana Weston-Webb (HAW) against Bianca Buitendag (ZAF) and 2016 WSL rookie Keely Andrew (AUS) in Round 1 Heat 1.
The event is also being carried by our LIVE broadcast partners Fox Sports Australia, CBS Sports in the United States, ESPN Brasil, Globosat, Edgesport, Sky NZ, Sport TV, Canal + Deportes, Channel Nine, MCS, Starhub, and Oceanic Time Warner Cable 250 & 1250 in Hawaii.
Following the 2016 shark incident in South Africa involving three-time WSL Champion Mick Fanning, the WSL has continued to enhance their protocols as they relate to athlete and animal safety.
At the Drug Aware Margaret River Pro, the WSL has instituted heightened athlete safety measures in the form of dedicated jetski drivers allocated to each competitor, safety boat for equipment caddies and watercraft for all WSL photography personnel.
In addition to the enhanced resources, the WSL has partnered with Surfing WA and Balconi to develop a new prototype for underwater surveillance. While this is still in the testing phase, the WSL will see if the technology can augment the pre-existing measures in place.
All enhancements and evolution in this space is done with ongoing communication between the WSL and its athletes.
Drug Aware Margaret River Pro Women's Round 1 Match-Ups:
Heat 1: Tatiana Weston-Webb (HAW), Bianca Buitendag (ZAF), Keely Andrew (AUS)
Heat 2: Sally Fitzgibbons (AUS), Malia Manuel (HAW), Chelsea Tuach (BRB)
Heat 3: Courtney Conlogue (USA), Alessa Quizon (HAW), Felicity Palmateer (AUS)
Heat 4: Carissa Moore (HAW), Sage Erickson (USA), Laura Enever (AUS)
Heat 5: Tyler Wright (AUS), Nikki Van Dijk (AUS), Coco Ho (HAW)
Heat 6: Johanne Defay (FRA), Stephanie Gilmore (AUS), Bronte Macaulay (AUS)
Drug Aware Margaret River Pro Men's Round 1 Match-Ups:
Heat 1: Jeremy Flores (FRA), Taj Burrow (AUS), Alex Ribeiro (BRA)
Heat 2: Julian Wilson (AUS), Kai Otton (AUS), Adam Melling (AUS)
Heat 3: Matt Wilkinson (AUS), Stuart Kennedy (AUS), Dusty Payne (HAW)
Heat 4: Italo Ferreira (BRA), Kanoa Igarashi (USA), Jack Robinson (AUS)
Heat 5: Gabriel Medina (BRA), Davey Cathels (AUS), Leonardo Fioravanti (ITA)
Heat 6: Adriano de Souza (BRA), Keanu Asing (HAW), Jacob Willcox (AUS)
Heat 7: Jordy Smith (ZAF), Michel Bourez (PYF), Alejo Muniz (BRA)
Heat 8: Nat Young (USA), Caio Ibelli (BRA), Matt Banting (AUS)
Heat 9: Joel Parkinson (AUS), Conner Coffin (USA), Ryan Callinan (AUS)
Heat 10: Kelly Slater (USA), Kolohe Andino (USA), Miguel Pupo (BRA)
Heat 11: John John Florence (HAW), Adrian Buchan (AUS), Sebastian Zietz (HAW)
Heat 12: Wiggolly Dantas (BRA), Josh Kerr (AUS), Jadson Andre (BRA)