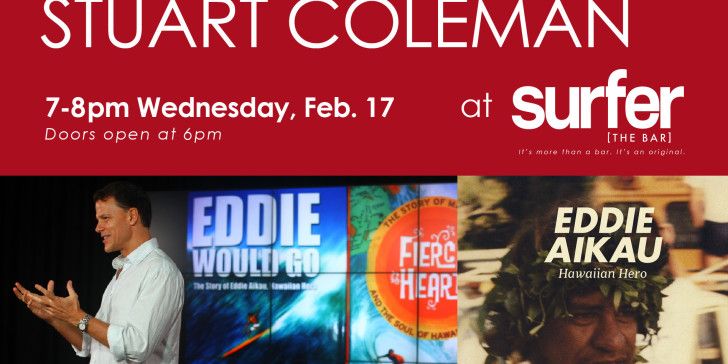 Nice review of Stuart H. Coleman's new book from the Honolulu Star Advertiser! You can get a copy here: http://www.besspress.com/all-othe…/eddie-aikau-hawaiian-hero. Bess Press, $14.95
Small book captures Aikau's big heart
"Eddie Aikau: Hawaiian Hero"
Stuart Holmes Coleman
Any true appreciation of the Quiksilver Eddie Aikau Big Wave Classic must include its namesake, and "Eddie Aikau: Hawaiian Hero," a small, photo-filled bio by Stuart Coleman, is the perfect vehicle for texters.
In November 1966 the 21-year-old Aikau showed his mettle on what is "still the undisputed biggest day at Waimea Bay that's ever been surfed," says his brother Clyde Aikau in the book. In February 1967 Fred
Van Dyke, director of the Duke Kahanamoku Surfing Classic, invited Eddie Aikau to participate in the big-wave contest at Sunset Beach. "Although there was a lot of racism on the mainland and in the islands during this time period, Van Dyke wanted to give local Hawaiian surfers a chance to compete," Coleman writes. Aikau took sixth place and received his trophy from the hands of Kahanamoku, his childhood hero. He won the contest 10 years later.
Aikau became one of the first lifeguards on the North Shore in 1968; he saved many lives at Waimea, even when off duty. He has justly been treated with hero worship since his 1978 disappearance when he paddled off alone to seek help for shipmates on the capsized Hokule'a canoe. Coleman, author of the 1992 award-winning "Eddie Would Go," includes some humanizing details, such as how Aikau's stature — he was the smallest of five brothers — might have spurred his competitive drive. "Eddie Aikau" includes some new photos from the Aikau family collection.
Written to include non-Hawaii audiences, Coleman's warm, colorful and beach-worthy book will round out the courageous waterman's profile for many local readers, as well.
By Mindy Pennybacker
Stuart H. Coleman | Hawaiian Islands Manager | Surfrider Foundation
808-381-6220 | scoleman@surfrider.org