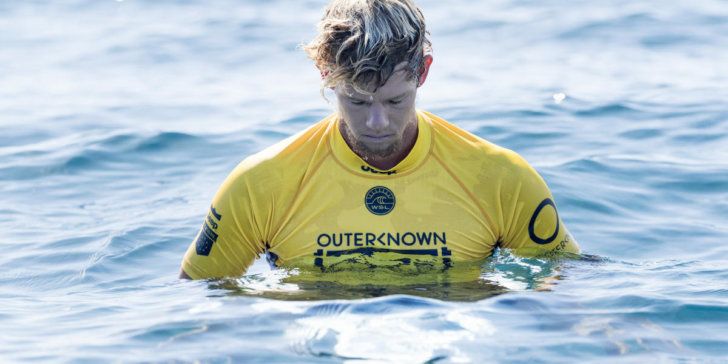 A great overview of JJF's position inside & out coming into J-Bay from WSL's: Ben Mondy
Image: Contemplating his loss in Fiji.WSL / KELLY CESTARI
Have the wheels come off? 
Round Three losses in Brazil and Fiji have cost John John Florence, the reigning World Champion, the significant lead he gained through the Australian leg as well as the Jeep Leader jersey. And while the points given away are a cause for concern for Florence fans, the bigger surprise is the loss of momentum he's suffered during a stage many thought would be his best. After all, he won the Rio event in 2016 and backed it up with a 5th in Fiji.
After Florence's performance at Margaret River in early April there were few observers that could predict anything other than a second World Title for the Hawaiian. Surfer Magazine wrote, "Margaret River certainly highlighted a lot of the Tour surfers' weaknesses, and showed us just how much better at high-performance surfing in powerful waves John actually is." Surf Journalist Sean Doherty went even further, saying, "It's clear that what we've seen here over the past week in Margaret River is something paradigm shifting."
Florence backed up that dominance with a solid Semifinal finish at Bells and a defense of his Title seemed inevitable. Florence believed it and, crucially, it looked like his opponents did too. However, Brazil offered the first signs of chinks in the Florence armor.
"I was overthinking it, that was one of my big mistakes," he said after a comprehensive loss to Yago Dora. "I only needed 15 points and I was thinking of big airs and got over excited and tried to get a 9.7 on each wave."
Going for broke at the Oi Rio Pro.WSL / DAMIEN POULLENOT
He left Rio promising to work on his mistakes and make good in Fiji, a wave obviously suited to his backhand tuberiding prowess. A defeat by rookie Leo Fioravanti, however, again saw him acknowledge slight flaws in his competitive approach. "The last two events have been hard," Florence said afterward. "I just didn't get the right waves. Wave selection is so important and it's the one thing I've been trying to work out in the last few events."
Obviously, Florence's talent will never be in question, but the last two events have shown that when his competitive strategy doesn't match his surfing, he gives his opponents a chance. If that continues, his World Title defense will become a whole lot more difficult.
On the other hand
Probably the best counterargument to the theory that John John's last two results could derail his year are his results in 2016. At this stage last year Florence had racked up two consecutive 13ths at Bells and Margaret's, and we all know how much that affected him. He could even afford another in France and still managed to wrap up the Title before Pipe. Even now it's worth noting that, with six events remaining, Florence only trails Matt Wilkinson's by a slivery 250 points.
The two losses also have a few caveats. In Rio his opponent Yago Dora went on to prove just how good a surfer he was by making the Final. In Fiji, Florence wasn't the only upset, as eight top seeds were knocked out early. His exit also came on a day when tubes were rare and Cloudbreak was at its most unreadable.
After a Round Three loss to a wildcard in Brazil, the World Champ does not make the same mistake twice in Fiji.
Looking at his overall numbers also tells the story of a surfer operating at a level well above his peers. Even with the hits he took in Brazil and Fiji, his average heat total of 16.17 is well clear of the next highest, Adriano de Souza's 14.93, and almost a full three points above Wilko's. Some of that can be attributed to his surfing at Margaret River which wasn't so much on another plane, but on another planet.
Florence's response to the defeats, too, have been positive, his World Title win giving him both belief and perspective. "It hurts a little, you never want lose early, but anything can happen and you can't expect to win everything," he said after his loss at the Outerknown Fiji Pro. "So I've got two throwaways and I really believe the year will get better and I'm learning a lot. I'm excited and confident for J-Bay, I really can't wait."
Have the wheels come off, or were Rio and Fiji just speed bumps on the way to him becoming the first man to defend a World Championship since Kelly in 2011? We'll have to wait until J-Bay to find out.
Corona Open J-Bay Jul 12 – 23, 2017 HERE
John John and J-Bay; anything is possible.WSL / KELLY CESTARI
FULL ARTICLE & VIDEO HERE