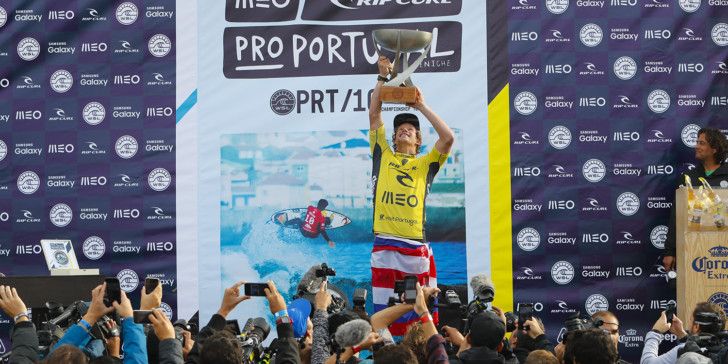 HAWAIIAN JOHN JOHN FLORENCE CLINCHES 2016 WORLD SURF LEAGUE (WSL) TITLE
– – FIRST HAWAIIAN TO CLAIM MEN'S WORLD SURFING TITLE SINCE LATE ANDY IRONS IN 2004
John John Florence (HAW) claims his maiden World Surf League Title at the MEO Rip Curl Pro Portugal.
Image: © WSL /  Poullenot
| | |
| --- | --- |
| Location:    | Peniche/Cascais, Portugal |
| Event window: | October 18 – 29, 2016 |
| Today's call: | Event complete – Congratulations John John Florence! |
| Conditions: | Four-to-Six foot surf (1.2 – 2 metre) |
SUPERTUBOS, Peniche/Portugal (Tuesday, October 25, 2016) – John John Florence (HAW), 22, today clinched the 2016 World Surf League (WSL) Title in dramatic fashion with a victory at the MEO Rip Curl Pro Portugal in Peniche, marking the first time a Hawaiian has held the world surfing crown since the late Andy Irons (HAW)in 2004.
"I honestly can't believe it right now, it's obviously not sunk in just yet," Florence said. "I know my mom and family are watching online right now and I really wish they were here with me. I'm so stoked. I've worked my whole life towards this and I have so many people to thank for this."

 John John Florence (HAW) is chaired up the beach as the World Surf League Champion and winner of the MEO Rip Curl Pro Portugal.
Image: © WSL /  Cestari
Florence's season started out slowly with mediocre results across the Australian leg before posting a victory in Brazil in May. The Hawaiian carried the momentum of his Rio de Janeiro win to strong showings in Jeffreys Bay (2nd), Tahiti (2nd) and France (3rd) while challengers Gabriel Medina (BRA), Matt Wilkinson (AUS), Jordy Smith (ZAF)and 11-time WSL Champion Kelly Slater (USA) failed to maintain consistency, eventually falling out of reach in Portugal.
"It's been a long year, but one of the best years in my life, so many fun events and just having a really good time all together and I've learned so much," he continued. "I was expecting it to go to Hawaii and I was just trying to keep surfing through heats."
A six-year competitor on the elite WSL Championship Tour, the Hawaiian had been threatening the throne since his inception in 2011 having previously finished 4th (2012) and 3rd (2014). Seemingly destined for surfing excellence since stepping foot on board at two years young, Florence has spent the last two decades evolving into one of the most dynamic talents the sport has ever seen.
"My whole life has gone into this, everything I've done but just this year especially, learning so much about competitive surfing, focusing completely on it and having so much help and support, it's been amazing." Florence added. "The title was my goal this year so at this point I'm just going to go out and have fun."

 John John Florence (HAW) takes to the air during the Final at the MEO Rip Curl Pro Portugal.
Image: © WSL /  Poullenot
FLORENCE 2016 WSL CT RESULTS –
Quiksilver Pro Gold Coast: 5th
Rip Curl Pro Bells Beach: 13th
Drug Aware Margaret River Pro: 13th
Oi Rio Pro: WINNER
Fiji Pro: 5th
J-Bay Open: 2nd
Billabong Pro Tahiti: 2nd
Hurley Pro at Trestles: 13th
Quiksilver Pro France: 3rd
Meo Rip Curl Pro Portugal: WINNER
Billabong Pipe Masters: TBD
FLORENCE CAREER WSL CT FINISHES:
2011: 34th
2012: 4th
2013: 10th
2014: 3rd
2015: 14th
2016: WSL CHAMPION
The newly crowned WSL Champion took on rookie Conner Coffin (USA), 23, in an exciting Final where the two surfers adopted different strategies for the final bout of the European leg. Florence took things to the air with numerous massive rotations while Coffin kept chasing the tubes, successfully navigating a deep one for an excellent 8.60. Florence's flair peaked in the Final with a huge alley-oop for a 9.50 and the win. Coffin secured a career-high runner-up spot on the Championship Tour and rocketed to No. 19 on the Jeep Leaderboard.
"This feels amazing, I love Portugal, the waves are so fun and the people are amazing, food's good, it feels kind of like California and I feel right at home here," Coffin said. "Obviously I know John and everyone in his camp from Hurley and Pyzel but I wasn't thinking of his title too much in my semifinal heat. I was focusing on doing my job, I had a lot to do here in this event to stay on tour for next year so that was my goal. "
World No. 3 Jordy Smith (ZAF), 28, couldn't match Coffin's rhythm in their Semifinal clash despite excellent surfing in the Supertubos barrels and was forced out in third position, putting an end to his World Title campaign for 2016.
"I'm really happy with that result, obviously I would have loved to go to Hawaii to fight for the title but I'll take it," Smith admitted. "I started as an injury wildcard this year so I'm just glad to be back surfing at my best and to end with a title shot is really an achievement so I'm happy with this year. I'm still fighting to try to get second so i'll continue up to Pipe. After the season ends I just want to take some time off and regroup and try to improve in every aspect that I can towards next season."
Kolohe Andino (USA), 22, secured his second consecutive Semifinal berth following his performance in France, but once again fell just short of reaching the Final, eliminated in this morning's opening heat by Florence. With a third place in Peniche, the Californian cements his World No.5 position before the final event of the season in Hawaii.
The next and final stop on the 2016 Samsung Galaxy WSL Championship Tour will be the Billabong Pipe Masters in Memory of Andy Irons from December 8 – 20, 2016.
For more information, check out WorldSurfLeague.com
MEO Rip Curl Pro Portugal Final Results:
1 – John John Florence (HAW) 16.67
2 –  Conner Coffin (USA) 9.93
MEO Rip Curl Pro Portugal Semifinal Results:
SF 1: John John Florence (HAW) 13.84 def. Kolohe Andino (USA) 8.47
SF 2: Conner Coffin (USA) 15.00 def. Jordy Smith (ZAF) 14.37
WSL Jeep Leaderboard Top 5 (after MEO Rip Curl Pro Portugal):
John John Florence (HAW) 56,400 pts
Gabriel Medina (BRA) 45,450 pts
Jordy Smith (ZAF) 41,700 pts
Matt Wilkinson (AUS) 38,250 pts
Kolohe Andino (USA) 38,150 pts