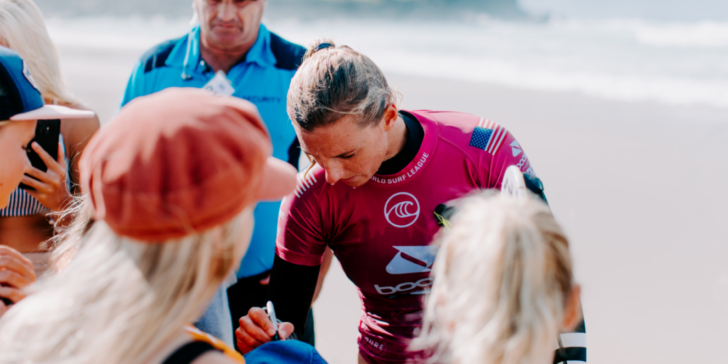 Women's Quarterfinalists Determined
Rookies Moniz and Wright Survive Day's Eliminations
Next Call Friday at 6:30 AM AEST or 930am HI Time
 2018 World Runner-up and defending event winner Lakey Peterson (USA) exits the Boost Mobile Pro early after being eliminated by Sage Erickson (USA). 
Credit: © WSL / Miers
COOLANGATTA, Queensland/AUS (Friday, April 5, 2019) – The Quiksilver Pro and Boost Mobile Pro Gold Coast, the opening stop on the World Surf League (WSL) Championship Tour (CT), continued today with elimination Round 3 in three-to-five foot ( 1-1.5 metre) waves at the event's backup site, Duranbah. To capitalize on conditions, the CT ran the overlapping format for the first time outside of the Billabong Pipe Masters.
Defending Event Winner and World No. 2 Wilson Ousted by Wildcard Heazlewood
Reef Heazlewood (AUS) put the world's best on alert after a captivating performance over Julian Wilson (AUS), World No. 2 and 2018 Quiksilver Pro Gold Coast winner, in Round 3 Heat 5. A mix of powerful carves and high-flying aerial maneuvers sent the event trials winner into Round 4 with an immaculate two-wave score of 16.07 (out of a possible 20).
"I've looked up to Julian (Wilson) for ages, so to take him down is massive for me," Heazlewood said. "I was disappointed to knock Julian out of the competition because I really want him to win a World Title this year, which I think he still can, but also really excited to make it through myself. Since I just lost my major sponsor, making heats here will help me fund my Qualifying Series journey. I feel like it's just been going up and up since I lost my major sponsor last year. I'm just stoked to be here watching the comp and all the pros, now taking them down myself feels pretty crazy."
"Definitely didn't want that result," Wilson said. "Reef's spent plenty of time in the water the past couple of days and he had the rhythm. Out there you can get some rhythm going but on the opposite side of that you can get stuck behind the eight ball as well. He was just right on the button and it was also hard to know the situation. I was hoping to get some higher scores and had that opportunity at the end, but it wasn't my day. He's a Sunshine Coast boy as well so congratulations to him."
 Wildcard Reef Heazlewood (AUS) flies through another heat at the Quiksilver Pro Gold Coast, taking down defending event winner Julian Wilson (AUS).  
Credit: © WSL / Dunbar
Sage Erickson Shatters Lakey Peterson's Dream Start
Two of California's finest faced off in Round 3 Heat 5 with last year's World Title contender Lakey Peterson (USA) taking on injury replacement Sage Erickson (USA). While the early goings yielded multiple lead changes, Erickson took charge and didn't relinquish her lead. Her win eliminates the defending event winner and moves her through the Quarterfinals with some fire.
"I feel bad smiling that I beat Lakey (Peterson), but this was a huge opportunity for me to draw No. 2 in the world," Erickson said. " For me, being the second alternate to get in, I don't get a guaranteed spot with the rule change — the commissioners get to choose my spot. That kind of pissed me off and fired me up, and I wanted to prove myself. I wanted to come out in my first heat and surf confident, but I went back to old habits. It's this new thought process after breaking down my waves, bottom turn to top turn, almost like a video game and I'm excited to be here."
Gabriel Medina Soars to Near-Perfect Heat
A battle with two reigning WSL Champions unraveled between 2018 WSL Champion Gabriel Medina (BRA) and 2018 World Junior Champion Mateus Herdy (BRA) in Round 3 Heat 8. Medina stamped his authority midway through the heat and didn't let up, culminating into an outstanding 19.13 (out of a possible 20) heat total that included two near-perfect rides of 9.80 (out of a possible 10) and 9.33.
"I always start slow and I'm just trying to step it up every year," Medina said. "This year I'm coming in super focused and just want to do really good in Australia. It feels good to get two really nice waves and that was a really fun heat against Mateus. He's coming up and I'm sure I'll see him on Tour one day.
Two-time WSL Champion John John Florence (HAW) put his time into coming back at one-hundred percent for a World Title campaign this year and showed he hasn't lost any of his signature style in a dominant Round 3 bout against last year's event runner-up Adrian Buchan (AUS).
"I think having a break from Tour last year due to injury, made me take a step back and realize how much I love competing — I'm just so happy to be back surfing," Florence said. "The whole reason I'm back here and fighting through these events is because I want to win another World Title so bad. Seeing Medina win last year made me want to come back and try my best to win another Title. I was stoked to see Medina win last year, he's an all-time competitor. It's so good to be back on tour, I missed being apart of the big family we have here."
Brasilian Vets Deliver, Rookies Overpowered
Filipe Toledo (BRA) making a dramatic comeback was one of the day's most exciting moments, earning an excellent 8.33 (out of a possible 10) and 5.60 in the final five minutes over 2019 CT rookie Soli Bailey (AUS), who had him on the ropes throughout the heat. Fellow rookie Peterson Crisanto (BRA) was also dealt a veteran blow from Kolohe Andino (USA) with the San Clemente, California, competitor throwing caution to the wind to mount his comeback.
Italo Ferreira  (BRA) continued his steam from the Red Bull Airborne win yesterday right into a stunning Round 3 win over CT returner Ricardo Christie (NZL) to join fellow countrymen Willian Cardoso (BRA) and Yago Dora (BRA) into Round 4. Also with a notable win, Wade Carmichael (AUS) showed his potential of laying into D-Bah's pristine walls with his vicious forehand.
Seth Moniz (HAW) and Mikey Wright (AUS) are the only 2019 CT rookies who remain in the draw after the first two-surfer heats of the year. They will advance to Round 4.
Women's Quarterfinalists Determined After Round 3 Eliminations
Reigning WSL Champion Stephanie Gilmore (AUS) continues her stride toward an unrivaled seventh Gold Coast event win. The seven-time WSL Champion battled with the experienced rookie Macy Callaghan (AUS) as the winds made their presence known, but Gilmore improved her adaptability from yesterday to take the heat win and advance to the Quarterfinals.
The women's rookie class was dealt another blow after 2018 consistent threat Tatiana Weston-Webb (BRA) eliminated Brisa Hennessy (CRI) in a stout match. The WSL Fan Favorite continued her impressive run from yesterday's jaw-dropping performance with Hennessy drawing the best out of Weston-Webb.
"My coach and I actually set some goals before the start of this season and I'm looking to reach higher," Weston-Webb said. "I don't think I've ever put it out there but I'm definitely looking to do a few more spots better than last year and hopefully bring me to the top. I just watched the event throughout the day and all the boys surfed so amazing I think I just got inspired by every single one of them."
Sally Fitzgibbons (AUS) emerged victorious against Courtney Conlogue (USA). Both have been a part of World Title races in the past and showed that tenacity going wave-for-wave until the final horn.
Joining Fitzgibbons in the Quarterfinals is three-time WSL Champion Carissa Moore (HAW), who survived a close heat against Bronte Macaulay (AUS). Malia Manuel (HAW) finished ahead of Nikki Van Dijk (AUS) in an intense Round 3 battle. Johanne Defay (FRA) capped off a big day of competition with a clutch win over Coco Ho (HAW).
The next call for the Quiksilver Pro and Boost Mobile Pro Gold Coast will be tomorrow at 6:30 a.m. AEST, when event organizers will reassess the conditions to decide the event's location and schedule.

The Quiksilver Pro and Boost Mobile Pro Gold Coast will be broadcast LIVE on WorldSurfLeague.com and Facebook.com/WSL. Also check local listings for coverage from the WSL's broadcast partners.

Boost Mobile Pro Gold Coast Round 3 Results:
Heat 1: Stephanie Gilmore (AUS) 11.40 DEF. Macy Callaghan (AUS) 8.87
Heat 2: Caroline Marks (USA) 13.84 DEF. Isabella Nichols (AUS) 8.73
Heat 3: Tatiana Weston-Webb (BRA) 14.07 DEF. Brisa Hennessy (CRI) 12.67
Heat 4: Malia Manuel (HAW) 15.10 DEF. Nikki Van Dijk (AUS) 14. 67
Heat 5: Sage Erickson (USA) 13.34 DEF. Lakey Peterson (USA) 8.80
Heat 6: Sally Fitzgibbons (AUS) 14.43 DEF. Courtney Conlogue (USA) 12.90
Heat 7: Carissa Moore (HAW) 12.63 DEF.  Bronte Macaulay (AUS) 12.27
Heat 8: Johanne Defay (FRA) 11.26 DEF. Coco Ho (HAW) 11.07

Boost Mobile Pro Gold Coast Quarterfinal Matchups:
Heat 1: Stephanie Gilmore (AUS) vs. Caroline Marks (USA)
Heat 2: Tatiana Weston-Webb (BRA) vs. Malia Manuel (HAW)
Heat 3: Sage Erickson (USA) vs. Sally Fitzgibbons (AUS)
Heat 4: Carissa Moore (HAW) vs. Johanne Defay (FRA)

Quiksilver Pro Gold Coast Round 3 Results:
Heat 1: Filipe Toledo (BRA) 13.93 DEF. Soli Bailey (AUS) 11.50
Heat 2: John John Florence (HAW) 14.83 DEF. Adrian Buchan (AUS) 11.20
Heat 3: Kanoa Igarashi (JPN) 13.14 DEF. Jesse Mendes (BRA) 8.50
Heat 4: Conner Coffin (USA) 11.00 DEF. Jeremy Flores (FRA) 8.70
Heat 5: Reef Heazlewood (AUS) 16.07 DEF. Julian Wilson (AUS) 13.40
Heat 6: Seth Moniz (HAW)  12.60 DEF. Griffin Colapinto (USA) 12.57
Heat 7: Kolohe Andino (USA) 14.10 DEF. Peterson Crisanto (BRA) 11.90
Heat 8: Owen Wright (AUS) 10.14 DEF. Ezekiel Lau (HAW) 5.00
Heat 9: Gabriel Medina (BRA) 19.13 DEF. Mateus Herdy (BRA) 12.23
Heat 10: Yago Dora (BRA) 15.69 DEF. Joan Duru (FRA) 14.57
Heat 11: Jordy Smith (ZAF) 11.27 DEF. Ryan Callinan (AUS) 10.53
Heat 12: Mikey Wright (AUS) 16.53 DEF. Jack Freestone (AUS) 10.47
Heat 13: Italo Ferreira (BRA) 16.53 DEF. Ricardo Christie (NZL) 13.10
Heat 14: Willian Cardoso (BRA) 13.47 DEF. Michael Rodrigues (BRA) 12.13
Heat 15: Wade Carmichael (AUS) 15.50 DEF. Sebastian Zietz (HAW)
Heat 16: Michel Bourez (PYF) vs. Deivid Silva (BRA)

Quiksilver Pro Round 4 Matchups:
Heat 1: Filipe Toledo (BRA) vs. John John Florence (HAW)
Heat 2: Kanoa Igarashi (JPN) vs. Conner Coffin (USA)
Heat 3: Reef Heazlewood (AUS) vs. Seth Moniz (HAW)
Heat 4: Kolohe Andino (USA) vs. Owen Wright (AUS)
Heat 5: Gabriel Medina (BRA) vs. Yago Dora (BRA)
Heat 6: Jordy Smith (ZAF) vs. Mikey Wright (AUS)
Heat 7: Italo Ferreira (BRA) vs Willian Cardoso (BRA)
Heat 8: Wade Carmichael (AUS) vs. Michel Bourez (PYF)