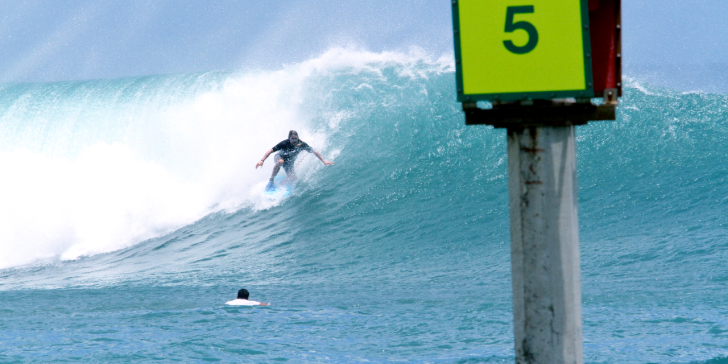 Kellogg's IBA Hawaii Tour with Science BodyBoards
Event Number One / Ala Moana Bowls Challenge
Day One
Great surf, as forecasted, marched into Ala Moano Bowls to the cheers of
an excited bodyboard crowd. Conditions stayed pretty perfect all day long with just a slight breeze affecting some waves durning the finals. Three divisions were completed today in the left hand breaking waves.
        For the first time a Stand Up division was added to the pro tour and it proved to be exciting to watch. Victorious was Dave Hubbard while brother Jeff looked on with a cast on his ankle. Dave was consistent in selecting waves he could do maneuvers on all day. Sets were far between at times but even the smaller ones made for good ramps to show off moves and tube riding. " I have been practicing for the stand up", explained Dave. "I use the same board with some channels in it for stability and it seemed to do the trick. There was a good turn out and awesome performances for the new stand up division so I hope it will grow." Hubbard also won the DK, Drop Knee, final and tomorrow has a chance to take three in the Men's Pro prone.
     The Junior Pro was won by a surfer that has never surfed at Bowls before. "It's not like I have time to catch bus all the way out to Bowls and it's pretty crowded", explained the winner Kawika Kamai. The Waimanalo surfer was happy to have the 2014 Jr. Champion Sammy Moritino step out of the Junior division giving him what he thought was a boost up and certainly now he is the one to beat. "It's good to win the first one. It's the first IBA event I have ever won."
    The contest continues on Sunday with the Pro Womens, Masters and Pro Mens.
Surf is expected to be a bit smaller in the 3-5 foot range. The day should finish up around 4pm with the Awards.