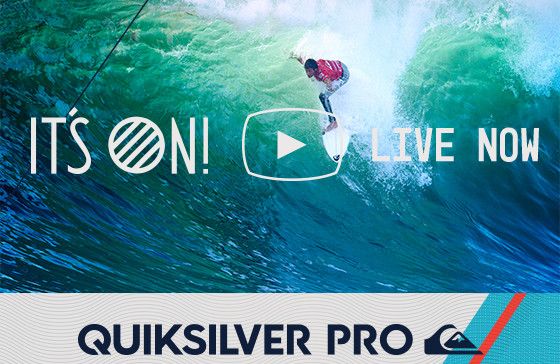 France is 12 hours ahead of us in Hawaii. Surf's firing with 3-6′ surf with offshores and barrels.
Quiksilver Pro France
Roxy Pro France
World Surf League Championship Tour Men's Event
World Surf League Championship Tour Women's Event
Hossegor/Seignosse, Southwest France
6 – 17 October 2015
Solid surf projected over the next several days
GO LIVE HERE
Surf News Network, 6 October, 2015. Hossegor, Landes France  – the world-class beachbreaks of Southern France host the next stop on the 2015 Samsung Galaxy WSL Championship Tour, the Quiksilver and Roxy Pro France.  We recommence this season's hunt for the undisputed world surfing crown as well as the battle for requalification for next year's elite tour.
First to compete will be Kelly Slater (USA), Jadson Andre (BRA), Brett Simpson (USA) OR Bianca Buitendag (ZAF), Tatiana Weston-Webb (HAW), Alessa Quizon (HAW) in the opening heat of Round 1.
Event organizers will reconvene tomorrow morning at 8am to assess conditions for a possible start.
Solid W + WNW swell mix for Wednesday with improved winds and conditions expected on Thursday and Friday. Solid, reinforcing W swell from Joaquin due over the weekend but winds and conditions may be an issue. Surfline.
The Quiksilver and Roxy Pro France will be webcast LIVE on worldsurfleague.com and via the WSL app.
QUIKSILVER PRO FRANCE ROUND 1 MATCH-UPS:
Heat 1: Kelly Slater (USA), Jadson Andre (BRA), Brett Simpson (USA)
Heat 2: Julian Wilson (AUS), Miguel Pupo (BRA), Aritz Aranburu (ESP)
Heat 3: Owen Wright (AUS), Sebastian Zietz (HAW), Dane Reynolds (USA)
Heat 4: Filipe Toledo (BRA), Adam Melling (AUS), Tomas Hermes (BRA)
Heat 5: Adriano de Souza (BRA), Keanu Asing (HAW), Caio Ibelli (BRA)
Heat 6: Mick Fanning (AUS), Michel Bourez (PYF), Maxime Huscenot (FRA)
Heat 7: Gabriel Medina (BRA), Matt Wilkinson (AUS), Dusty Payne (HAW)
Heat 8: Jeremy Flores (FRA), John John Florence (HAW), Alejo Muniz (BRA)
Heat 9: Italo Ferreira (BRA), Adrian Buchan (AUS), Ricardo Christie (NZL)
Heat 10: Nat Young (USA), Bede Durbidge (AUS), Glenn Hall (IRL)
Heat 11: Josh Kerr (AUS), Kai Otton (AUS), Kolohe Andino (USA)
Heat 12: Wiggolly Dantas (BRA), Joel Parkinson (AUS), C.J. Hobgood (USA)
ROXY PRO FRANCE ROUND 1 MATCH-UPS:
Heat 1: Bianca Buitendag (ZAF), Tatiana Weston-Webb (HAW), Alessa Quizon (HAW)
Heat 2: Lakey Peterson (USA), Malia Manuel (HAW), Dimity Stoyle (AUS)
Heat 3: Courtney Conlogue (USA), Coco Ho (HAW), Chelsea Tuach (BRB)
Heat 4: Carissa Moore (HAW), Stephanie Gilmore (AUS), Sage Erickson (USA)
Heat 5: Sally Fitzgibbons (AUS), Nikki Van Dijk (AUS), Laura Enever (AUS)
Heat 6: Johanne Defay (FRA), Tyler Wright (AUS), Silvana Lima (BRA)
GO LIVE HERE