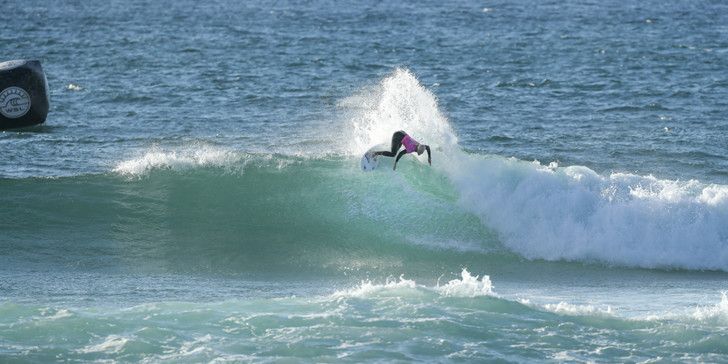 Latest feed coming soon. But for now the heat of the event is JJF vs Toledo…HERE
FEATURED SURFERS : JOHN JOHN FLORENCE, TYLER WRIGHT, GABRIEL MEDINA, LEONARDO FIORAVANTI, COURTNEY CONLOGUE, ADRIANO DE SOUZA, JOHANNE DEFAY AND MORE
Caption: Tatiana Weston-Webb (HAW) will feature in the opening heat of the day in Hossegor.
Image: © WSL /  Poullenot
1. JOHN JOHN FLORENCE (HAW): A thrilling battle played out between World No. 1John John Florence (HAW) and Ryan Callinan (AUS). The pair each took to the air to post big scores and wow the crowds. A barrel followed by an alley-oop from the Hawaiian gave him an early lead. Despite a heat-high 9.13 from Callinan, the Australian is eliminated in Equal 13th place after Florence claimed the win thanks to a 16.80 two-wave total.
2. Tyler Wright (AUS), the current World No.1 wearing the Jeep Leader Jersey, continued her path towards a maiden World Title by advancing into the Quarterfinals of the Roxy Pro France. The Australian stayed busy in the lineup and surfed numerous waves to lock in two good scores and dispatch compatriot Laura Enever (AUS) and Sage Erickson (USA).
3. Courtney Conlogue (USA) did not let the immense pressure of the WSL Title race battle with Wright get to her, and negotiated a tricky Round Three win over Nikki Van Dijk (AUS) and Sally Fitzgibbons (AUS) to make her way into the Quarterfinals as well.
4. Gabriel Medina (BRA) barely escaped a treacherous matchup with giant killerLeonardo Fioravanti (ITA) in Round 3, narrowly defeating the young Italian to keep the title race exciting in France. Medina had a strong start and posted two good scores, but it was a patient Fioravanti who found an absolute gem in the lineup to navigate a great barrel and punctuate the ride with a snap for an 8.57, the heat's biggest score. Fioravanti stayed very picky and as time winded down, tried his luck on a smaller wave with two turns, missing out on overtaking Medina for a mere 0.44.
5. Kolohe Andino (USA/SanClemente): Kolohe Andino surfed a great Round 3 heat defeating emerging Australian Jack Freestone at the Quiksilver Pro in France. Andino posted an excellent 8 point ride early in the heat and used his aerial skills to knotch a second solid score late in the heat to take an easy win.
ROXY PRO FRANCE ROUND 3 RESULTS:
Heat 1: Tatiana Weston-Webb (HAW) 14.00, Johanne Defay (FRA) 11.00, Alessa Quizon (HAW) 9.53
Heat 2: Tyler Wright (AUS) 11.37, Sage Erickson (USA) 10.10, Laura Enever (AUS) 8.46
Heat 3: Courtney Conlogue (USA) 10.30, Nikki Van Dijk (AUS) 10.14, Sally Fitzgibbons (AUS) 6.10
Heat 4: Stephanie Gilmore (AUS) 17.37, Carissa Moore (HAW) 12.66, Coco Ho (HAW) 12.64
ROXY PRO FRANCE ROUND 4 MATCH-UPS:
Heat 1: Johanne Defay (FRA) vs. Sage Erickson (USA)
Heat 2: Laura Enever (AUS) vs. Alessa Quizon (HAW)
Heat 3: Nikki Van Dijk (AUS) vs. Coco Ho (HAW)
Heat 4: Carissa Moore (HAW) vs. Sally Fitzgibbons (AUS)
QUIKSILVER PRO FRANCE ROUND 3 RESULTS TO DATE:
Heat 1: Keanu Asing (HAW) 14.50 def. Adrian Buchan (AUS) 11.40
Heat 2: Adriano De Souza (BRA) 14.50 def. Conner Coffin (USA) 12.80
Heat 3: Matt Banting (AUS) 9.16 def. Italo Ferreira (BRA) 8.80
Heat 4: Filipe Toledo (BRA) 15.93 def. Davey Cathels (AUS) 14.53
Heat 5: Stuart Kennedy (AUS) 11.06 def. Nat Young (USA) 10.76
Heat 6: John John Florence (HAW) 16.80 def. Ryan Callinan (AUS) 15.50
Heat 7: Gabriel Medina (BRA) 13.34 vs. Leonardo Fioravanti (ITA) 12.90
Heat 8: Caio Ibelli (BRA) def. Kanoa Igarashi (USA)
Heat 9: Kolohe Andino (USA) 14.93 def. Jack Freestone (AUS) 8.83
Heat 10: Julian Wilson (AUS) vs. Alejo Muniz (BRA)
Heat 11: Sebastian Zietz (HAW) vs. Miguel Pupo (BRA)
Heat 12: Matt Wilkinson (AUS) vs. Kai Otton (AUS)