12pm Sunday UPDATE
The NNW declined to 3-5′ with good earlier conditions but SW side onshore Konas and rain picked up esp during the last heat. 
Winner 1st Australia's Molly Picklum (1st ever Woman Pipe Master)
2nd Hawaii's Bettylou Sakura-Johnson
3rd USA's Caity Simmers
4th (due to interference) Carissa Moore 
MENS Final Results
1st Place: New York's Balaram Stack wins the Vans Pipe Masters! 100 Grand!
2nd San Clemente's Griffin Colapinto
3rd Ewa Beach's Kaulana Apo
4th Brazil's Joao Chianca
See latest Leader Boards. Catch Replays. Watch Hi-Lites.
Men's and Women's Leader Board HERE
Day 2 & 1 Highlites Below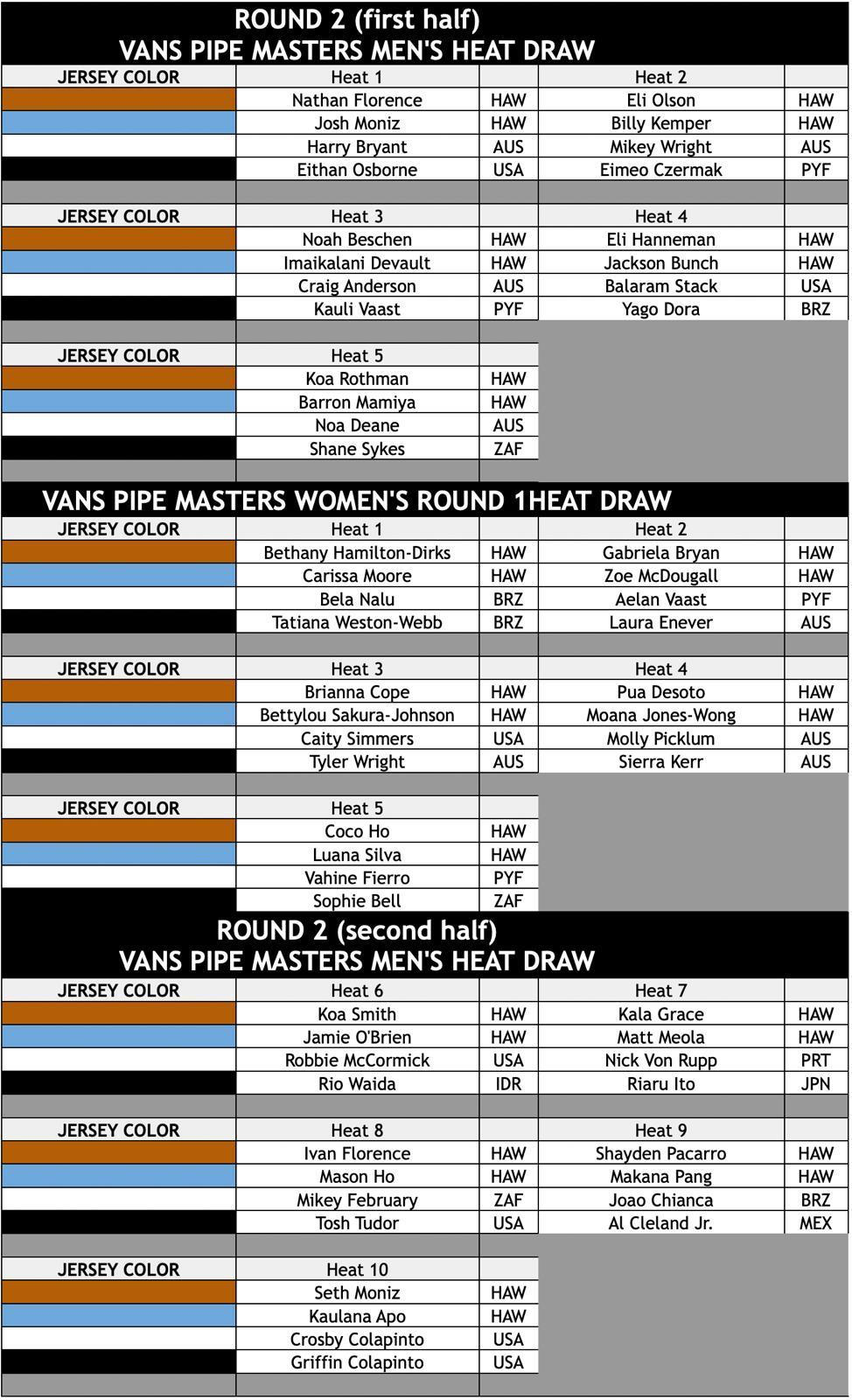 Prior updates  Saturday and Sunday…
IT'S ON: SATURDAY DAY DEC 17th START 8AM
930am call: Women heading out next with 5 heats. Men will return to line up for remainder of Round 2
"Almost" doesn't count at Pipeline… Makua Rothman commentating
7am…The Big NNW has dropped from Friday (now about 8-10′ plus) but some waves are actually lining up bigger than yesterday on the reef.  There's still outer reef action with most lineups still washing through on sets. Pipe had some rip running through early but is cleaning up… still tough to navigate but some crazy good ones. The best so far at Backdoor. 
6am: NW Buoy 11′ 15sec… Hanalei 10′ 15sec… Waimea 7′ 16.
AM Conditions improving with lite N to NE wind flow veering variable but then seabreezy toward lunch into the afternoon. SNN
GO LIVE  HERE
LEADER BOARD HERE
FRIDAY UPDATE:
THE VANS PIPELINE MASTERS…FINALLY, HAS A WINDOW OF GOOD SURF WITH 5-7′ PLUS AT DAWN AND BUILDING THROUGH LUNCH UP TO 10-15′ PLUS. OUTER REEFS AND WAIMEA TO CRACK.
NW BUOY PEAKING WITH 14′ 16 SEC, HANALEI WITH 7′ 17 AND WAIMEA IS 4′ 18 SEC
THERE ARE 3 DAYS OF COMP WITH THE HOLDING PERIOD THROUGH TUESDAY DEC 20th.
FRIDAY, SATURDAY, SUNDAY LOOK LIKE BEST BETS.
WARNING LEVEL NNW SURF FILLS IN EARLY FRIDAY WITH 15′ SETS OUTSIDE IN THE SECOND HALF OF THE DAY THEN IT WILL DECLINE SAT. WITH LIGHT WINDS.
THEN A BIGGER XL 12-20′ NW BUILDS MONDAY-TUESDAY WASHING OUT PIPE ON SETS AND POOR/JUNKY STRONG SW KONAS WINDS PLUS TERRIBLE WEATHER: SNN
PAT CALDWELL MONDAY UPDATE (FREE) (WED AND FRIDAY UPDATES PREMIUM 5.00/MO) HERE