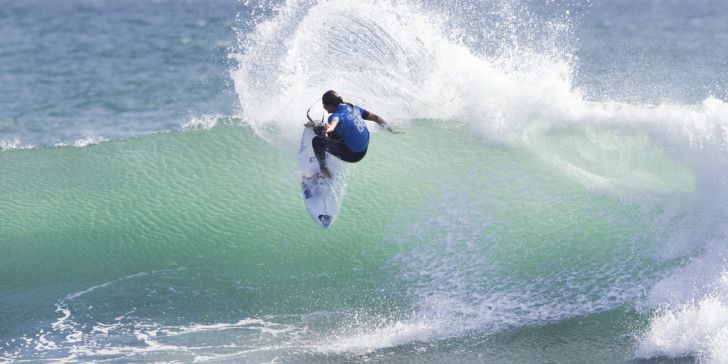 – WOMEN'S ROUND 4 CALLED ON FOR 8:00 AM START(5AM HI TIME)
– COMPETITION TO RUN THROUGH MEN'S ROUND 5, WOMEN'S AND MEN'S QUARTERFINALS
 Six-time WSL Champion Stephanie Gilmore (AUS) will battle current World No. 2 Courtney Conlogue (USA) in Round 4 Heat 4 for one last opportunity to advance to the Quarterfinals of the Swatch Women's Pro at Trestles.
Image: © WSL / Rowland
| | |
| --- | --- |
| Location:    | Lower Trestles, San Clemente, California |
| Event window: | September 7 – 18, 2016 |
| Today's call: | Women's Round 4, Men's Round 5, Women's & Men's Quarterfinals called ON |
| | |
| --- | --- |
| Conditions: | 3 – 5 foot (1 – 1.5 metre) |
SAN CLEMENTE, California/USA (Monday, September 12, 2016) – The Hurley Proand Swatch Women's Pro at Trestles, Stops No. 8 and 7 respectively on the World Surf League (WSL) Samsung Galaxy Championship Tour (CT), will recommence today with women's Round 4 called ON for an 8:00 a.m. start followed by men's Round 5 in three-to-five foot (1 – 1.5 metre) waves. Competition will also witness both the men's and women's Quarterfinal action get underway.
"It is looking really nice out there right now and I think that swell has really held in," WSL Deputy Commissioner, Jessi Miley-Dyer, said. "Obviously yesterday was the lay day, so that gave everyone a chance to have a bit of a freesurf and reset. We are going to be starting with the women today with Round 4, then we will complete men's Round 5. Hopefully we will get both Quarterfinals in as well."
Today, Lower Trestles will determine the Semifinalists and lay the stage for who earns a spot into the final day of competition.
Women's Round 4 Heat 4 will witness an intense clash between six-time WSL ChampionStephanie Gilmore (AUS) and current World No. 2 Courtney Conlogue (USA).
Up first this morning will be Tatiana Weston-Webb (HAW) facing Californian Sage Erickson (USA) for a spot in the Quarterfinals in the opening heat of Round 4 .
For the men, Round 5 Heat 2 will see the all-American match-up between 11-time WSL Champion Kelly Slater (USA) and hometown hero Kolohe Andino (USA).
In Round 1 Heat 1, event wildcard and local favorite Brett Simpson (USA) will be up against CT powerhouse Michel Bourez (PYF).
2012 WSL Champion Joel Parkinson (AUS) will combat Jadson Andre (BRA) in Round 5 Heat 4.
The event is also being carried by the WSL's LIVE broadcast partners Fox Sports Australia, CBS Sports in the United States, ESPN Brasil, Globosat in Brazil, Edgesport, Sky NZ, Sport TV in Portugal, Canal + Deportes in Spain, Channel Nine, MCS France, Starhub in Singapore, and Oceanic Time Warner Cable 250 & 1250 in Hawaii.
For more information, check out WorldSurfLeague.com
Swatch Women's Pro Round 4 Match-Ups:
Heat 1: Tatiana Weston-Webb (HAW) vs. Sage Erickson (USA)
Heat 2: Laura Enever (AUS) vs. Coco Ho (HAW)
Heat 3: Malia Manuel (HAW) vs. Keely Andrew (AUS)
Heat 4: Stephanie Gilmore (AUS) vs. Courtney Conlogue (USA)
Men's Hurley Pro Round 5 Match-Ups:
Heat 1: Michel Bourez (PYF) vs. Brett Simpson (USA)
Heat 2: Kolohe Andino (USA) vs. Kelly Slater (USA)
Heat 3: Stuart Kennedy (AUS) vs. Josh Kerr (AUS)
Heat 4: Jadson Andre (BRA) vs. Joel Parkinson (AUS)