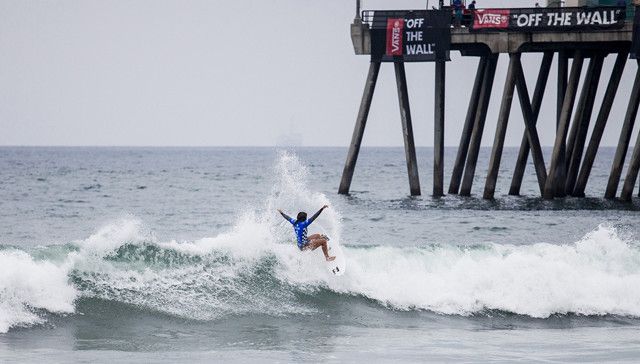 Photo: Alessa Quizon © WSL/Rowland
Vans US Open of Surfing
WSL QS10000 Men's Event WSL Women's Championship Tour Event WSL JQS Men's Event WSL JQS Women's Event The Pier, Huntington Beach California 25 July – 2 August 2015
Surf News Network
, 29 July, 2015. Huntington Beach – Competition continued Wednesday at the Vans US Open of Surfing, Stop No. 6 on the 2015 Samsung Galaxy World Surf League (WSL) Women's Championship Tour (CT), and ran through Rounds 2 and 3 in two-to-three foot surf at Huntington Beach. The field of 18 was narrowed to 12, with four surfers earning the direct advance to the Quarterfinals. Defending event winner
Tyler Wright
(AUS) suffered a heavy Round 2 elimination at the hands of
Alessa Quizon
(HAW). An early 8.20 from Quizon put her in a strong position, leaving Jeep Leaderboard no. 5 in need of a near-perfect 9.70 as the clock ticked down. Victory today marks only the second heat win of the season for the Hawaiian and the first ever Round 2 exit for Wright in her CT career. Quizon wasn't able to maintain her momentum into Round 3 and will look regain her winning form in Round 4 tomorrow. "I was watching in the first heat and the lineup looked really confusing," said Quizon. "I knew it would be difficult and I had to rely on hunting waves. It feels really good to finally get a win again. It's frustrating when you keep losing and you get stuck in that rhythm." "I found it really tricky out there," said Wright. "Alessa's wave selection was really on point. I'm definitely bummed that I didn't get through. I definitely would have liked to put on more of a performance. At the end of the day I'm stoked for Alessa to get through. I'm happy no matter what happens. It's all experience, and that's what I'm here for – learning and enjoying myself."
Carissa Moore © WSL/Morris
Lakey Peterson
(USA), 2012 Vans US Open of Surfing champion, looked unstoppable in the varying conditions at Huntington Beach. Peterson defeated Sage Erickson (USA) in Round 2 before earning a direct pass into the Quarterfinals with a win over Quizon and Bianca Buitendag (ZAF) in Round 3, finding critical section hits and using her experience to her advantage. "I hate surfing against my best friend (Erickson) after she's been surfing so well," Peterson said. "I had to not get caught up in what she's doing and I was just trying not focus on her so much. I have a really good board right now and you just have to search for the best waves. We were lucky, we had a lot of waves and it wasn't too lully. Having experience here definitely helps — of course the banks change but it's all pretty familiar in terms of getting a big turn on the outside and finish on the inside." Jeep ratings leader and two-time WSL Champion
Carissa Moore

 
(HAW) faced wildcard Chelsea Tuach (BRB) in Round 2 Heat 3. Two big scores from Moore were too much for her opponent who was left in a combination situation while the Hawaiian moved through to Round 3. Tuach was eliminated in equal 13th place but will surf again in the Women's Pro Junior Semifinals on Saturday, August 1. "I warmed up this morning to try and get a good feel for the lineup. Huntington is really tricky and I get nervous before every heat out here because if you don't get the waves it can be really tough," Moore said. "Chelsea is a really great surfer and I think she's got an amazing future ahead of her."
Bianca Buitendag © WSL/Morris Moore's top form continued in Round 3 where she chased down fellow Hawaiian Coco Ho (HAW) to steal the win in the dying minutes and move straight into the Quarterfinals. "It was a tough heat," Moore said. "We had waves in the beginning, there was a lull and I was going through a lot of different things in my head. The score took a while to come in and I'm just stoked I made it."
Malia Manuel
(HAW) put on an incredible performance in Round 3, taking down current Jeep Leaderboard no. 2 and Huntington Beach local Courtney Conlogue (USA) in decisive fashion. Manuel posted an excellent 9.17 and heat total of 17.17 to advance, despite the distraction of a possible interference call down the beach on Conlogue and Silvana Lima (BRA). Manuel heads directly to the Quarterfinals while Conlogue and Lima will surf again in Round 4 tomorrow. "I was paddling back out near the pier and saw that happen and they were having some vibes out there," Manuel said. "It could've easily been me. After they had that situation I knew to just stay focused on myself and hunt for waves away from them. I'm just trying to stay strong to keep up with all these girls and have a strong technique. I think style comes from technique and I'm always working on little things."
Sally Fitzgibbons

 
(AUS), back from some time out of the water after suffering a perforated eardrum during the Fiji Women's Pro, looked confident and comfortable, taking the win over Keely Andrew (AUS) in Round 2 and Nikki Van Dijk (AUS) and Tatiana Weston-Webb (HAW) in Round 3 to earn her place in the Quarterfinals.
Kanoa Igarashi © WSL "It was a tricky month off and I've been trying a long-term solution to dealing with perforation," Fitzgibbons said. "I can't hear with all the gear and it's a little disorienting and uncomfortable but as long as I'm in the water I'm happy." Following the conclusion of the Women's competition the action continued with the Men's WSL Qualifying Series (QS) 10,000 event, which took to the water for Round 2, Heats 1 – 6.
Adam Melling
(AUS) showed he is a force to be reckoned with, looking ferocious on his backhand, posting an excellent 9.17 and an 8.33 backup. The Australian is well adapted to the ever-changing lineup at Huntington Beach and looks to have found his form despite the bumpy afternoon conditions. "I started off sitting a bit further away from the pier and got a six straight off the bat," Melling said. "I moved over a bit closer to the wall then just got back-to-back bombs so I was happy to get those waves. It feels good to get in a bit of a rhythm out there today and be in a solid position — you just have to take each day as it comes, the waves could be totally different tomorrow." Huntington Beach native
Kanoa Igarashi

 
(USA) had the field in a combination situation sixteen minutes into his Round 2 heat after lighting up his second wave right next to the pier. Igarashi maintained his dominant lead until the final horn sounded, matching Melling's 17.50 heat total. The young local continues to make his presence known here at the Vans US Open of Surfing, marking himself as a serious threat in the competition.
Michael Rodrigues © WSL "Not many people want to do two turns in front of the pier because if you fall you'll probably smash your board or yourself," Igarashi said. "I've done it a thousand times and feel really comfortable going big in front of the pier. You always want to get off to a quick start and my first two waves were pretty bad so I reset and stayed away from everybody." "This is the one contest where I was able to watch all the pros and they all came to my house," continued Igarashi. "I'd watch Kalani Robb and Kelly Slater free surfing then always come out to freesurf with those guys and try to talk to them and see what they were riding. It's funny now because I'll be out after the contest and see the groms doing the same thing."
Freddy Patacchia
(HAW) led the charge over an all goofy-footed affair in Round 2 Heat 5, keeping the field comboed until the end of the bout with an impressive 17.43 heat total. The Hawaiian CT surfer was in top form today, posting an excellent 9.10 en route to victory. "Once I got priority I felt like I fell into a great rhythm," Patacchia said. "There was an outside chop that let me in early and everything came into place for that heat. It's been a tough year for me so being here at Huntington and making a couple of heats is great. I'm just trying some different things and everything's going well for me so as long as I'm making heats there's a smile on my face." Competition will continue tomorrow at 7:30 a.m. with the remaining heats of Men's Round 2 followed by Women's Round 4 and Quarterfinals. Each year, the Vans US Open of Surfing features the best in the world tearing up the storied break at Huntington Beach. Along with competitions for skate and BMX and dozens of on-site sponsors, the nine-day festival features four separate surf contests, including Junior Tour contests for men and women, a high-stakes men's Qualifying Series battle, and a women's Championship Tour contest for the Top 17. With so much to see, get a glimpse of some of the standouts from 2014, and ones to watch for the year ahead.
Women's Round 3 Results:  Heat 1: Lakey Peterson (USA) 15.07, Alessa Quizon (HAW) 11.44, Bianca Buitendag (ZAF) 8.73 Heat 2: Carissa Moore (HAW) 16.03, Coco Ho (HAW) 15.97, Johanne Defay (FRA) 15.67 Heat 3: Malia Manuel (HAW) 17.17, Courtney Conlogue (USA) 14.10, Silvana Lima (BRA) 7.34 Heat 4: Sally Fitzgibbons (AUS) 15.03, Nikki Van Dijk (AUS) 14.86, Tatiana Weston-Webb (HAW) 10.57 Women's Round 2 Results:  Heat 1: Bianca Buitendag (ZAF) 12.50 def. Dimity Stoyle (AUS) 9.66 Heat 2: Alessa Quizon (HAW) 14.93 def. Tyler Wright (AUS) 9.70 Heat 3: Carissa Moore (HAW) 16.44 def. Chelsea Tuach (BRB) 11.34 Heat 4: Sally Fitzgibbons (AUS) 16.10 def. Keely Andrew (AUS) Heat 5: Lakey Peterson (USA) 16.53 def. Sage Erickson (USA) 14.60 Heat 6: Silvana Lima (BRA) 12.80 def. Laura Enever (AUS) 12.17
Women's Round 4 Match-Ups:  Heat 1: Alessa Quizon (HAW) vs. Johanne Defay (FRA) Heat 2: Coco Ho (HAW) vs. Bianca Buitendag (ZAF) Heat 3: Courtney Conlogue (USA) vs. Tatiana Weston-Webb (HAW) Heat 4: Nikki Van Dijk (AUS) vs. Silvana Lima (BRA) Men's Round 2 Results:  Heat 1: Adam Melling (AUS) 17.50, Joan Duru (FRA) 16.70, Patrick Gudauskas (USA) 13.77, Tiago Pires (PRT) 9.23 Heat 2: Michael Rodrigues (BRA) 13.74, Nathan Yeomans (USA) 13.70, Michael Dunphy (USA) 12.53, Santiago Muniz (ARG) 10.04 Heat 3: Kanoa Igarashi (USA) 17.50, Marco Fernandez (BRA) 12.96, Alejo Muniz (BRA) 12.73, Parker Coffin (USA) 9.43 Heat 4: Timmy Reyes (USA) 15.27, Carlos Munoz (CRI)13.97, Nathan Hedge (AUS) 12.87, Ian Gouveia (BRA) 12.07 Heat 5: Freddy Patacchia (HAW) 17.43,  Ryan Callinan (AUS) 14.57, Ramzi Boukhiam (MAR) 10.50, Heitor Alves (BRA) 8.20 Heat 6: Hiroto Ohhara (JPN) 16.50, Mitch Crews (AUS) 15.00, Davey Cathels (AUS) 12.57, Steven Pierson (PYF) 4.50   Upcoming Men's Round 2 Match-Ups:  Heat 7: Filipe Toledo (BRA), Caio Ibelli (BRA), Granger Larsen (HAW), Beyrick De Vries (ZAF) Heat 8: Miguel Pupo (BRA), Connor O'Leary (AUS), Alex Ribeiro (BRA), Cooper Chapman (AUS) Heat 9: Frederico Morais (PRT), Maxime Huscenot (FRA), Aritz Aranburu (ESP), Jadson Andre (BRA) Heat 10: Dion Atkinson (AUS), Charles Martin (GLP), Krystian Kymerson (BRA), Adrian Buchan (AUS) Heat 11: Tomas Hermes (BRA), Kolohe Andino (USA), Jack Freestone (AUS), Nat Young (USA) Heat 12: Dane Reynolds (USA), Tanner Hendrickson (HAW), Billy Stairmand (NZL), Joshua Moniz (HAW)