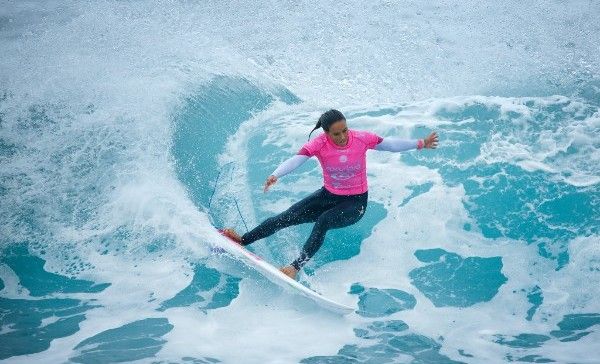 Surf's larger but chunkier today in the double to near triple overhead range.
– WILKINSON CONTINUES 2016 CHARGE AS JEEP FRONTRUNNER
– FITZGIBBONS, MOORE, CONLOGUE AND DEFAY THROUGH TO THE QUARTERFINALS

Sally Fitzgibbons (AUS) showcased her rail-to-rail surfing to advance through Rounds 2 and 3 to solidify a spot in the Quarterfinals of the Rip Curl Women's Pro Bells Beach.
Image: WSL / Sloane
| | |
| --- | --- |
| Location:    |   Bells Beach, Victoria/AUS |
| Event window: |   March 24 – April 5, 2016 |
| Today's call: |   Competition called ON |
| Conditions: |   3 – 5 foot (1 – 1.5 metre) |
BELLS BEACH, Victoria/AUS (Saturday, March 26, 2016) – The world's best surfers put in a marathon day today at Victoria's historic Bells Beach as the remaining six heats of men's Round 1 as well as women's Rounds 2 and 3 were completed at the Rip Curl Pro.
The second stop on the World Surf League (WSL) Samsung Galaxy Championship Tour (CT), today's Rip Curl Pro Bells Beach saw clean, lined-up conditions for the world's best surfers and the red-hot surfing and surprising results that have defined this season early on were in full flight once again today.
Current Jeep Leaderboard World No. 1 Matt Wilkinson (AUS) is off to a solid start at Bells, taking the lead in Heat 9 against Kolohe Andino (USA) and Miguel Pupo (BRA). Andino challenged Wilkinson with his air-game, but it was not enough to close the 1.10 point gap.
"Hopefully I can keep the Jeep WSL Leader jersey for a while," Wilkinson said. "That kind of success early in the year shows what the hard work can do, and I want to keep doing it. We will see how well I can do this year."
Joel Parkinson (AUS) will continue his hunt for a fourth Rip Curl Pro Bells Beach Title, as he will advance to Round 3. Injury replacement Sebastian Zietz (HAW) and CT veteran Taj Burrow (AUS) will be sent to elimination Round 2.
"Bells is one of those places where you have to surf safe enough to get a score," Parkinson said. "If I had to find another one of those waves, I'd lose the heat because I might not have gotten another opportunity. You just have to be on the best waves. Seabass [Sebastian Zietz] is probably a little more inexperienced here, but his surfing at the moment is unbelievable. If he was on the waves I had, he probably would have won the heat."
Eleven-time WSL Champion Kelly Slater (USA) was knocked to Round 2 by CT veteranKai Otton (AUS). Slater struggled to find the waves to combat Otton's 13.60 two-wave combined score. 2016 WSL rookie Alex Ribeiro (BRA) fought to advance to Round 3, but like Slater, fell short and will battle in Round 2.
"Any heat you have with Kelly you have to bring your A game," said Otton. "Especially in these conditions today, it was pretty incredible out there. The heat just went really lully and that benefited me. Kelly can get a 7.5 any day of the week so that fact that the waves cooperated for me, I was blessed."
In non-elimination Women's Round 3, competitors went all out to battle for first position and the right to skip Round 4 and advance directly into the Quarterfinals.
Carissa Moore (HAW), reigning World Champion and last year's event winner, battled against Bianca Buitendag (ZAF) and Malia Manuel (HAW) for a spot in the Quarterfinals. Moore continued her dominance at Bells with a 15.27 two-wave combined score. Buitendag tried her luck at Rincon, but was unable to find the waves that would challenge Moore. Manuel battled hard to combat Moore's power surfing, but could not break the combination.
"Having three women out there and figuring out priority – with trying to get enough waves to display what they are made of – is tricky at times," said Moore. "Sometimes I get caught up in the last priority in the beginning of the heat, but I am stoked."
A tight race between current rankings leader, Tyler Wright (AUS), Johanne Defay (FRA) and injury replacement Bronte Macaulay (AUS) saw limited waves throughout the heat. Defay snuck in the winning ride and will advance to the Quarterfinals. Wright could not find the waves to combat Defay and Macaulay's scores, and she will be sent to Round 4 for the first time this year.
"I was going crazy because I was thinking I needed to go to Rincon, and then all of a sudden the girls were paddling the other way, and then I saw there was a set, and then I thought I should go back to Rincon," said Defay. "I just kept doing this the whole heat. I knew I only needed to get one point, so I decided to just do the best I could."
Sally Fitzgibbons (AUS) is heating up in this competition, as she cruised through Round 3, defeating Stephanie Gilmore (AUS), six-time World Champion and three-time event winner, and Alessa Quizon (HAW). Fitzgibbons showcased her new and improved flow by surfing with drawn-out rail moves and strong turns. Although Gilmore had a strong performance in her Round 2 head-to-head match-up against Laura Enever (AUS), she could not find the waves to defeat her fellow Title contender. Gilmore and Quizon will battle in Round 4 to stay in contention for a win at Bells Beach.
"I was really looking forward to the match-up," Fitzgibbons said. "Alessa has been in great form, and I've never had a three-woman heat with Steph. I thought I would try to surf that really smart and it is a challenging day. It was a rewarding feeling to move straight to the Quarters."
Courtney Conlogue (USA) blazed through Round 4 against 2015 Rookie of the Year,Tatiana Weston-Webb (HAW), and local favorite Nikki Van Dijk (AUS). The women went wave for wave in this match-up, but it was Conlogue who delivered the two highest scores of the heat. Weston-Webb and Van Dijk will battle in elimination Round 4 to stay in contention for a win at Bells Beach.
"I know Bells loves patience," said Conlogue after her heat. "You just pick the waves when you get priority where you can maximize and I just had to keep good scores, so that is what I was trying to do out there. My wave count was definitely low, but with higher scores."
Event organizers will reconvene tomorrow at 8am local time to assess conditions for a possible start tomorrow morning.
The Surfline forecast is calling for:
Solid on Sunday with overhead to double overhead+ sets, while moderate SW-SSW winds prevail. Plenty of surf lining up for all next week as well, with possibly a another sizable pulse next weekend the 2nd-3rd. Wind generally from the southerly direction for the next several days.
High Res Images from this event available for editorial use via Reuters
Highlights from the Rip Curl Pro Bells Beach will be webcast LIVE atWorldSurfLeague.com.
For more information, log onto WorldSurfLeague.com
Rip Curl Pro Bells Beach Remaining Round 1 Results:
Heat 7: Kai Otton (AUS) 13.60, Alex Ribeiro (BRA) 8.44, Kelly Slater (USA) 7.17
Heat 8: Joel Parkinson (AUS) 15.33, Sebastian Zietz (HAW) 13.87, Taj Burrow (AUS) 8.80
Heat 9: Matt Wilkinson (AUS) 13.40, Kolohe Andino (USA) 12.30, Miguel Pupo (BRA) 12.24
Heat 10: Nat Young (AUS) 12.10, Adrian Buchan (AUS) 11.53, Ryan Callinan (AUS) 9.50
Heat 11: Wiggolly Dantas (BRA) 12.00, Matt Banting (AUS) 11.90, Josh Kerr (AUS) 8.87
Heat 12: John John Florence (HAW) 14.50, Jordy Smith (ZAF) 11.10, Jadson Andre (BRA) 9.10
Rip Curl Pro Bells Beach Round 2 Match-Ups:
Heat 1: Italo Ferreira (BRA) vs. Tim Stevenson (AUS)
Heat 2: Jeremy Flores (FRA) vs. Mason Ho (HAW)
Heat 3: Kelly Slater (USA) vs. Timothee Bisso (GLP)
Heat 4: Josh Kerr (AUS) vs. Dusty Payne (HAW)
Heat 5: Jordy Smith (ZAF) vs. Adam Melling (AUS)
Heat 6: Adrian Buchan (AUS) vs. Alex Ribeiro (BRA)
Heat 7: Kolohe Andino (USA) vs. Sebastian Zietz (HAW)
Heat 8: Taj Burrow (AUS) vs. Miguel Pupo (BRA)
Heat 9: Caio Ibelli (BRA) vs. Ryan Callinan (AUS)
Heat 10: Stuart Kennedy (AUS) vs. Matt Banting (AUS)
Heat 11: Conner Coffin (USA) vs. Jadson Andre (BRA)
Heat 12: Keanu Asing (HAW) vs. Michel Bourez (PYF)
Rip Curl Women's Pro Bells Beach Round 2 Results:
Heat 1: Nikki Van Dijk (AUS) 13.60 def. Chelsea Tuach (BRB) 7.00
Heat 2: Alessa Quizon (HAW) 10.67 def. Sage Erickson (USA) 10.50
Heat 3: Sally Fitzgibbons (AUS) 12.67 def. Brisa Hennessy (HAW) 8.73
Heat 4: Stephanie Gilmore (AUS) 12.10 def. Laura Enever (AUS) 10.50
Heat 5: Tatiana Weston-Webb (HAW) 14.00 def. Coco Ho (HAW) 11.83
Heat 6: Bronte Macaulay (AUS) 11.57 def. Keely Andrew (AUS) 11.50
Rip Curl Women's Pro Bells Beach Round 3 Results:
Heat 1: Sally Fitzgibbons (AUS) 11.66, Alessa Quizon (HAW) 10.40, Stephanie Gilmore (AUS) 4.77
Heat 2: Carissa Moore (HAW) 15.27, Malia Manuel (HAW) 8.60, Bianca Buitendag (ZAF) 6.30
Heat 3: Courtney Conlogue (USA) 14.50, Nikki Van Dijk (AUS) 11.10, Tatiana Weston-Webb (HAW) 6.76
Heat 4: Johanne Defay (FRA) 7.10, Bronte Macaulay (AUS) 6.36, Tyler Wright (AUS) 4.83
Rip Curl Women's Pro Bells Beach Round 4 Match-Ups:
Heat 1:  Alessa Quizon (HAW) vs. Bianca Buitendag (ZAF)
Heat 2: Malia Manuel (HAW) vs. Stephanie Gilmore (AUS)
Heat 3: Nikki Van Dijk (AUS) vs. Tyler Wright (AUS)
Heat 4: Bronte Macaulay (AUS) vs. Tatiana Weston-Webb (HAW)