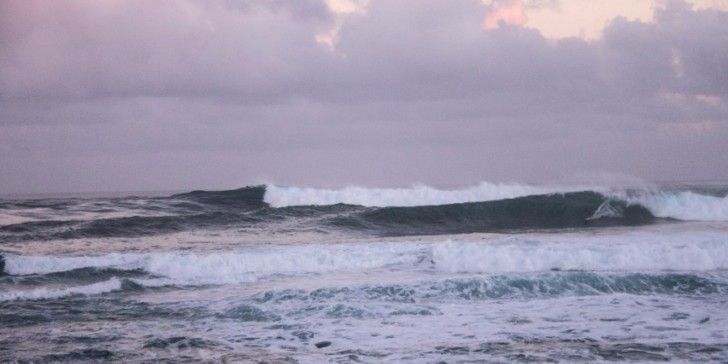 – ROUND TWO WILL COMPLETE TODAY IN 8-12′ LOCAL SCALE WAVES WITH OCCASIONAL 'TOO BIG' SETS. NW TO PEAK BY MIDDAY WITH SOME OUTSIDE REEFS NEARING 20′ (BUOY 1 IS 14′ 16 SEC, WAIMEA 10′ 17 SEC SO SWELL IS STILL FILLING). GOOD SIDE OFFSHORE ENE TRADES WILL FILL 15-25 MPH BY 11AM. SNN. 
Extra large surf fills the lineup at Haleiwa this morning. Image: WSL / Chlala
| | |
| --- | --- |
| Location:    |      Haleiwa Ali'i Beach, North Shore, Oahu                                                 |
| Window: |      November 12 – 23   |
| Today's Call: |      Round Two Heat 3 in the water at 8am HST |
| Conditions: |      10-12+ft. NW swell |
HALEIWA, Oahu/Hawaii – (Monday, November 14, 2016) — The Hawaiian Pro, a World Surf League (WSL) Qualifying Series (QS) 10,000 event, has been called ON this morning at Haleiwa Ali'i Beach with Round Two Heat 3 beginning at 8am Hawaii Standard Time. Heats 3 – 16 will finish today along with the opening heat of Round Three."It's really solid, it's the biggest we've seen Haleiwa in a while," said Travis Logie, Deputy Commissioner. "At the same time it's holding and there are some great opportunities out there. It's even supposed to pick up a little bit so we're going to keep an eye on it and hopefully it doesn't get too big. But at this stage it looks great and safe for an exciting day of surfing."
Hitting the water first this morning is the international matchup with Deivid Silva (BRA), Mihimana Braye (PYF), Charles Martin (GLP), and Granger Larsen (HAW). Watch for top names like Ricardo Christie (NZL), who dominated Day 1 of the Hawaiian Pro, Eli Olson (HAW), newly crowned Regional Hawaii Champion, and Nathan Hedge (AUS), Championship Tour veteran and precision surfer as they take on the double over-head surf at the infamous wave.
Both a regional and international video news feed will circulate around 3pm HST and an official press release and image gallery will be distributed after the competition ends today.
The WSL Men's QS10,000 Hawaiian Pro is scheduled from November 12 – 23, 2016 and runs in conjunction with the Vans Triple Crown of Surfing specialty series along the North Shore of Oahu. For all results, photos, video highlights, press releases and LIVE webcast, log on to worldsurfleague.com or the WSL mobile app.
Round 2
HT1
4.94Avg Wave Score
+
Round 1
4
M. McNamara
Interference
0.96