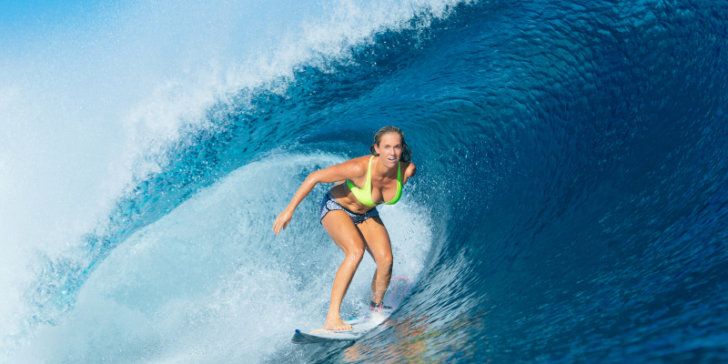 The World Surf League (WSL) Men's Pipe Pro Junior has been called ON today, Wednesday, March 22, in firing, clean conditions. A new WNW swell filled in at Pipeline with offshore easterly winds grooming the lineup for both Backdoor and Pipe. Wave faces are in the 6-8ft. range with sets up to 10ft. providing epic barreling rides.
A Men's Junior winner will be crowned by 3pm this afternoon with the Wahine Pipe Pro looking at a start tomorrow morning. All eyes are on Barron Mamiya (Round 1 Heat 4) as he looks to secure a third win this season after coming off a victory in Tahiti at the Papara Pro Junior last week.
First to hit the water at 8am is Cody Young (HAW), Conor Kennedy (HAW), Luke Swanson (HAW) and Kyle Tester (USA) in a 25-minute 4-man priority format.
Please anticipate an official press release with links to the image gallery and VNR after the event concludes for the day. A final highlight edit will be uploaded to the
Pipe Pro Junior
and
Wahine Pipe Pro
event pages on WorldSurfLeague.com after both events are completed.
Cheers to an action-packed day of surfing!
Media & Communications Manager
BETHANY HAMILTON AWARDED WILDCARD 
– BARRON MAMIYA ON A WINNING STREAK, RIDES INTO WSL PIPE PRO JUNIOR
– MAHINA MAEDA BACK TO DEFEND TITLEABSOLUTE TONS OF WNW TO NW SWELL TO CHOOSE FROM…THE 2 DAY EVENT COULD RUN WED-THURSDAY 3/22 ON AT 5-7′ WNW WITH ENE TRADES 10-25mph. WINTER CALIBER EPISODE SUNDAY 10-12+. SNN.
Bethany Hamilton surfed Cloudbreak at last year's Fiji Women's Pro and earned an impressive third place finish. Image: WSL / Sloane
| | |
| --- | --- |
| Rating:    | Women's QS1,000; Men's JQS1,000                                                   |
| Location:       | Pipeline, North Shore, Oahu |
| Event Window:        | March 21 – April 3   |
| | |
Haleiwa, Oahu, HAWAII – (Monday, March 20, 2017) — Inspirational surfer and phenom Bethany Hamilton (HAW) was awarded the wildcard slot for the World Surf League (WSL) Wahine Pipe Pro, her competitive debut for 2017, while North Shore notable Barron Mamiya (HAW) returned home for the Pipe Pro Junior event after clinching his second win of the season at the Papara Pro Junior Tahiti just last week. The holding period for the combined surfing events is March 21 – April 3, with a possible start tomorrow at 8am local time.
Hamilton, who earned legendary status after overcoming a shark attack in 2003, went on to fulfill a professional career in surfing and gained even more notoriety after beating the world's best athletes as a wildcard in the 2016 Fiji Women's Pro. Currently, her focus has been on her film Unstoppable, which releases this summer, and raising her toddler on Kauai.
With an insatiable energy for achievement, Hamilton was enthusiastic about her wildcard entry and the prospect of surfing world-famous Pipeline with only a few others. "Oh my goodness, I'm just looking forward to surfing good Pipe with the girls!" she said in an email interview. "And barrels!" The event will help prime her for other upcoming competition, including another appearance in the WSL Championship Tour (CT).
"I'm hoping to surf in Fiji this year again," continued Hamilton. "Pipe will be great practice to surf heats, but really for me it is a passion event to surf Pipe!"
Mamiya, who had his first professional victory at the Sunset Pro Junior in January, now sits at the top of the WSL Hawaii/Tahiti Nui regional junior ratings by 500 points ahead of No. 2, Finn McGill (HAW), also in the Men's Junior draw. With a little more experience under his belt after two weeks and a win in Tahiti, Mamiya is focused on the events ahead and overall improvement for the year.

Barron Mamiya took the win at the 2017 Sunset Pro Junior for committment like this. Image: WSL/Freesurf/Heff
"I've got the Pipe comp and then I go straight to California for a 1,500," said Mamiya. "I just want to get better at all-around surfing. I feel like I lack a few things for sure, and before I get into the big QS's I want to keep working to get better so when I get there, I know I'll be able to make heats and feel more confident. So I'll just take it little by little and do 1,000's for now."
A bevvy of other familiar names fill the roster along with fresh faces including 11-year-old MaiKai Burdine (HAW) and Luana Coelho Silva (HAW), 12, the two youngest competitors in each division. A total of 64 athletes will gather at Pipeline for the two best days of the holding period, and with a good forecast on the horizon, an immediate start looks likely.
"There's a decent mid-range swell forecasted for the first few days of the waiting period," said Marty Thomas, WSL Tour Manager and Event Director. "Only needing two days of quality surf to complete both events, we'll be looking to choose the best days of swell and conditions to run the events. The surf on hand will dictate whether we kick things off with the Women's QS or the Men's Pro Junior so all competitors should be ready to go."
Defending Wahine Pipe Pro winner Mahina Maeda (HAW) returns home after a string of events in Australia, including the Anditi Women's Pro QS6,000 in Newcastle where she placed 9th, and the Girls Make Your Move Women's Pro QS6,000 where she finished 25th. Maeda placed second in the World Junior Championship after qualifying for a slot from her win at the Turtle Bay Pro Junior in October and is focused on securing a top slot in the international QS rankings for potential CT qualification.

En route to a win at the 2016 Wahine Pipe Pro, Mahina Maeda looks forward to defending her title in proper Pipe conditions this week. Image: WSL/Freesurf/Heff
"My overall year goal is to qualify," said Maeda. "I missed the cut two years ago by two spots when I was at the age of 16 and last year I missed it by a couple spots. 2017, I am more driven to step up my mental game and prove to myself that I really want to be up there." She currently sits in the 34th position on the international QS, but a solid finish at the Wahine Pipe Pro could boost her toward the top for a chance to represent Hawaii on the CT.
Maeda also looks forward to the waves and with a new/reinforcing WNW-NW swell already pulsing through the lineup, conditions look favorable and exciting for the contest.
"Every girl has a passion for bigger and hollow waves, and all of us are so excited to surf empty Pipe," continued Maeda. "Hopefully we will have some awesome surf and great competition."