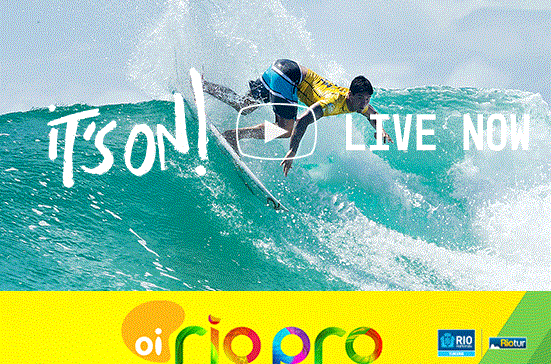 rounds one done for men and women
Oi Rio Pro
WSL Championship Tour Men's Event
WSL Championship Tour Women's Event
Barra da Tijuca, Rio de Janeiro, Brazil
11 – 22 May 2015
Womens event ON as of 7am HI Time
 Surf News Network, 12 May, 2015.  Barra da Tijuca – Round 1 of the Oi Rio Pro has been called on this morning in solid four-to-six foot (1.5 – 2 metre) surf at the primary site of Barra da Tijuca.
Event No. 4 on the 2015 Samsung Galaxy WSL Championship Tour, the Oi Rio Pro recommences this season's hunt for the world title with Brazilian Adriano de Souza sitting atop the Jeep Leader Board. Men's Round 1 commences at 7:15am with Women's Round 1 on standby for a possible start later today.
"Great conditions on offer this morning and we've called men's Round 1 on for a 7:15am start," Kieren Perrow, WSL Commissioner, said. "We have clean winds and have seen some nice waves this morning. We'll continue to monitor conditions throughout the day and have placed the women on standby for a potential start this afternoon. Good luck to all our competitors today."
Gabriel Medina (BRA) – Reigning World Champion Medina takes a good Round 1 heat win defeating Fred Patacchia (HAW) and Alejo Muniz (BRA). Medina advances straight to Round 3 and is popular in front of his home crowd.
Adriano de Souza (BRA): Current number 1 on the rankings and wearing the Jeep leader yellow jersey, De Souza was in fantastic form scoring a 9.77 barrel ride to take a high scoring heat win over Kai Otten (AUS) – De Souza advances to Round 3.
Kelly Slater (USA) : 11-time World Champion and current WSL No. 9, was in unparalleled rhythm in the shifting beachbreaks, threading barrels on both his forehand and backhand to collect the day's high heat total of a 19.27 out of a possible 20. – Action and IV
Sebastien Zietz (HAW): Wins his Round 1 heat  defeating Jordy Smith (ZAF) and fellow Hawaiian Keanu Asing. Zietz was the only Hawaiian to win today and advance to Round 3, while Florence, Patacchia and Asing go to cut throat Round 2.
Matt Banting (AUS): Lead the Australian charge late in the day – the rookie Australian defeated Brazilian Miguel Pupo and fellow Australian Julian Wilson in late day tricky conditions. Banting through to Round 3 with Bede Durbidge who also won his heat in the early afternoon.
Matt Wilkinson (AUS): Was the third Australian to win through in a surprising day. The more fancied Australians in Mick Fanning, Joel Parkinson, Owen Wright, Josh Kerr and Julian Wilson all go to Round 2.
Jeremy Flores (France): Winning Round 1 Heat 1 at the Oi Rio Pro in Brazil defeating Brett Simpson (USA) to advance directly to Round 3 – Action and Colour
Women's Round 1 Heats were called on during the afternoon and highlight women's VNR's will be added.
Oi Rio Men's Pro Round 1 Results:
Heat 1: Jeremy Flores (FRA) 12.17, Brett Simpson (USA) 12.07, Taj Burrow (AUS) 6.30
Heat 2: Kelly Slater (USA) 19.27, Adrian Buchan (AUS) 12.06, Ricardo Christie (NZL) 11.76
Heat 3: Wiggolly Dantas (BRA) 15.97, John John Florence (HAW) 10.66, C.J. Hobgood (USA) 9.94
Heat 4: Gabriel Medina (BRA) 12.33, Freddy Patacchia Jr. (HAW) 7.77, Alejo Muniz (BRA) 4.90
Heat 5: Italo Ferreira (BRA) 14.07, Mick Fanning (AUS) 9.33,  Alex Ribeiro (BRA) 2.47
Heat 6: Adriano de Souza (BRA) 17.90, Kai Otton (AUS) 11.60, David do Carmo (BRA) 5.67
Heat 7: Jadson Andre (BRA) 14.04, Josh Kerr (AUS) 11.97, Dusty Payne (HAW) 10.03
Heat 8: Sebastian Zietz (HAW) 12.06, Jordy Smith (ZAF) 10.67, Keanu Asing (HAW) 10.60
Heat 9: Bede Durbidge (AUS) 14.84, Glenn Hall (IRL) 11.94, Nat Young (USA) 6.17
Heat 10: Filipe Toledo (BRA) 16.27, Kolohe Andino (USA) 11.93, Adam Melling (AUS) 8.40
Heat 11: Matt Banting (AUS) 9.76, Miguel Pupo (BRA) 9.26, Julian Wilson (AUS) 9.10
Heat 12: Matt Wilkinson (AUS) 14.96, Joel Parkinson (AUS) 13.47, Owen Wright (AUS) 10.34
Oi Rio Women's Pro Round 1 Match-Ups:
Heat 1: Lakey Peterson (USA), Bianca Buitendag (AFR), Alessa Quizon (HAW)
Heat 2: Sally Fitzgibbons (AUS), Johanne Defay (FRA), Laura Enever (AUS)
Heat 3: Carissa Moore (HAW), Dimity Stoyle (AUS), Luana Coutinho (BRA)
Heat 4: Tyler Wright (AUS), Coco Ho (HAW), Keely Andrew (AUS)
Heat 5: Courtney Conlogue (USA), Silvana Lima (BRA), Sage Erickson (USA)
Heat 6: Malia Manuel (HAW), Tatiana Weston-Webb (HAW), Nikki Van Dijk (AUS)