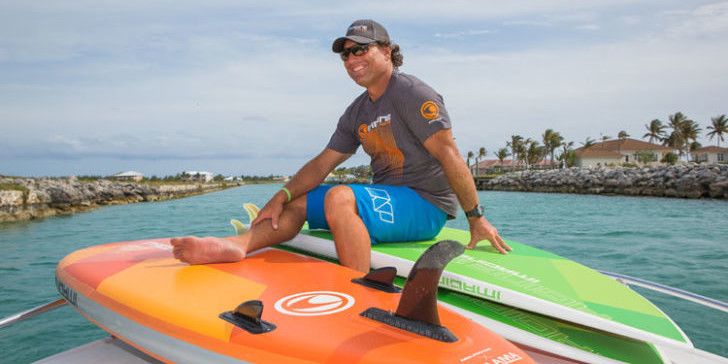 Legendary Hawaiian waterman Dave Kalama lands on NP Surf team
Surf News Network, 24 April, 2015. Yesterday Np Surf announced the signing of legendary Hawaiian waterman Dave Kalama to the NP range of waterwear and accessories.
Dave is an all around waterman who comes from a lineage of surfing champions. He started as a world champion windsurfer and has evolved into one of the premiere big-wave riders of our time, one of the pioneers of tow-in surfing and, most recently, stand up paddle surfing and racing.
"I'm really excited to collaborate with NP technical apparel and push the boundaries of performance in paddle racing and fitness clothing," said Dave Kalama. "Just like well designed boards and paddles can make all the difference in your performance, so does what you wear. I look forward to what's possible given NP's access to top technology and manufacturing capabilities."
Marco Leconte, NP Brand Manager had this to add: "We are very excited to have a waterman of Dave's caliber on our team. He is not only a champion waterman but also very involved with the products he rides with. He will be of tremendous help with our product development."
Dave is a world record-setting champion paddleboard racer. He annually competes in noteworthy races and channel crossings, finishing in the top three and going toe-to-toe with much younger champion athletes like Connor Baxter and Kai Lenny.
World-renowned surfer, Gerry Lopez, describes Dave's style in and out of the water: "He started at the bottom, paid his dues and worked his way to the top. In many ways he's like a throwback to surfers of yesteryear, but he also takes the whole surfer's image we are accustomed to and kind of blows it all away. He's not just a longboard, wind or tow-in surfer; he's everything you can be or do in or around the water, and he does them all well."
Dave's tow partner, Laird Hamilton, has experienced Dave's poly-dimensional abilities up close: "I would say probably of any surfer I have watched, he has evolved and improved consistently at a higher level, greater than anyone I have ever seen. He's done some of the greatest surfing in the history of big-wave riding. He's always been one of the main guys setting some benchmarks out there and pushing it to a higher level," says Hamilton.
In 2005, Dave launched KalamaKamps—a customized, one-on-one training program that embodies Dave's training regimen. "It's a way for people to experience an authentic waterman's lifestyle," says Kalama.
Recently, Dave partnered with PaddleFit, a comprehensive SUP and outdoor fitness coaching system. Kalama will bring his vast SUP and coaching knowledge to PaddleFit to create elite level coaching experiences and coaching tools as well as events to continue the growth of the sport.
Dave has been involved with Pryde Group since 2012 as a brand ambassador and designer for Imagine Paddle Surf.